South Africa
personal experience
I have visited South Africa several times. The first time was part of two months travel in southern Africa. I had the opportunity to go there when the flight prices came down, due to the lifting of apartheid. (That tells you how long ago it was!). The most recent visit was in March/April 2018 and December 2018.
the country
South Africa is the continent's most developed country, with the largest economy. However, many things are still very good value for the foreign visitor, especially with the exchange rate of the dollar to the South African rand. The country still has a bad reputation for personal safety, so be careful when in the big cities such as Johannesburg, Cape Town and Durban. 
Compared to most other countries in Africa, there are two distinct advantages. One, the set up is very good, with great facilities (fences that keep the animals out at night! except for bush babies and jackals?). Two, you can hire  your own car and go at your own pace, stopping when and where you want.
places to go..
Durban, Richards Bay and Hluhluwe-Imfolozi Park. This part of the coast is very pretty, and well known for it's cool rich waters and SCUBA diving. Inland, there are various state and private game reserves, including the famous Hluhluwe-Imfolozi Park.
There are other great places to visit. If entering the country via it's southerly centre, Cape Town is a pretty town and is a nice 'rest' from Africa further north. Of course most people visit Table Mountain for the views. On the other side at the base of these mountains is Kistenbosch Botanical Gardens. 
While in the region, birders can stay slightly out of town at Avian Leisure. Also in this area is a great place to see African Penguins and other sea birds, called 'the Boulders'. 
the Garden route. You can follow the coast east of Cape Town and head through many settlements and parks and enjoy great views along the way. This is known as the Garden Route. Along some parts of this coast is temperate rainforest. The settlements here include Knysna and Nature's Valley where there are beautiful walks and nice accommodation.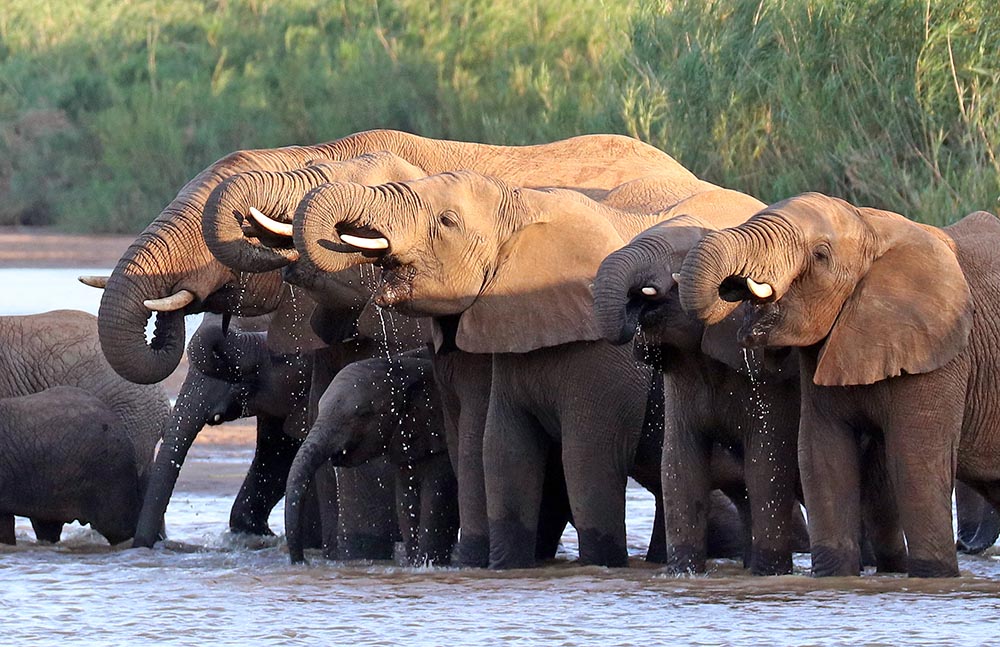 If you have a pool, don't let the African Elephants near it, they will drink it all (Hluhluwe-Imfolozi Park, South Africa)
Search this website and google:

---