Poring Hot Springs
Sabah, Malaysia
personal experience
I visited here in early 2012.
generally...
There are usually quite a few day trippers there betweeen about 10 and 5pm, but then it is quiet for the rest of the afternoon, the night and in the early morning. But there was nice forest, excellent insects and other interesting invertebrates, and good frogging! 
There are number of small activities here that when added up, easily fill in a few days.
Orchid garden
There was very little flowering here that I could see.
Butterfly garden
This is an area of planted flowers, (mostly weeds, such as the neotropical 'snake weed') that do attract a lot of the local butterflies. And inside here is an avairy with about half a dozen species of butterfly, including the different coloured sexes (making it seem like there are more), including a couple of Birdwings and spectacular Papilio; good for photographs, but it is better in the morning before it gets to warm and they get too active, and they are too fast to photograph..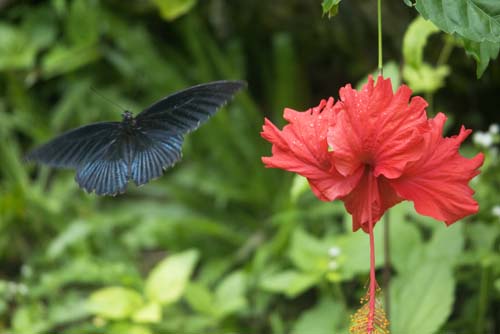 Canopy walkway
This is fun, but short. It is nice and wobbly, and many of the knots are noticeably loose, but that only adds to the scarey fun. Unfortunately, like most bloody canopy walks, it is only open from 8am to 4pm, missing out on the best times for birds and willdife; morning, afternoon and night! (when will these guys get this?)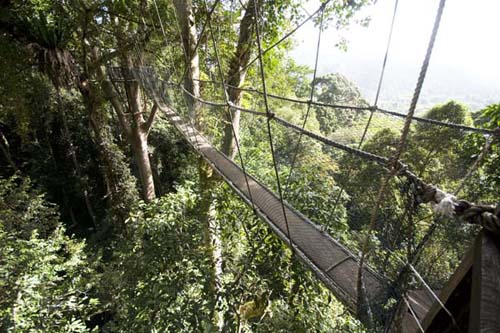 the rainforest canopy walkway at Poring is anything but boring! (image by Damon Ramsey)
Rafflesia
One of the main reasons to go to the Poring area is to see Rafflesia. I was there in February of 2012, and there was 3 specimens flowering. The biggest local species is the Rafflesia keithii, which is the second largest after the Sumatran species Rafflesia arnoldii. If you stick around for a couple of days, you might get lucky. If they are flowering in the national parks gardens, than there will be a sign at the centre.
In the immediate surrounding area, many of the local farmers have had good luck getting them to grow and flower, and when they do they put out signs. Some of these are close to the park, others you will see on the ride in, and the taxi will be happy to stop for a couple of bucks. It usually then costs about U$5-10 to see the flowers.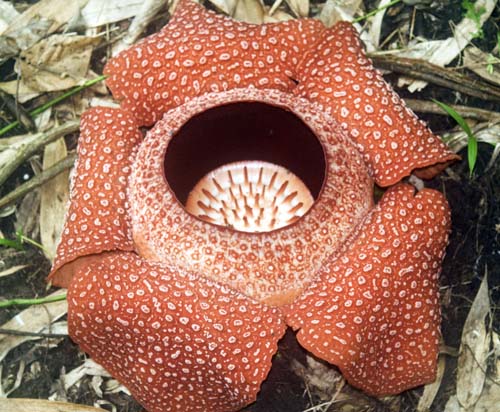 the biggest flower in the world! contrary to popular belief, they don't stink; that's another large tropical flower called Amorphophallus titanum, (Damon Ramsey)
Waterfall Walk
You can wander around the park area, for example, up to the orchid gardens or to the canopy walkway, but there is only one proper major 'hike' that goes into the rainforest. There are two waterfalls that you can walk to. The track to both is the same as that goes to the butterfly garden and canopy walk. The first waterfall, Kipungit, is only about 10-15 minutes part the canopy walk. The walk to the Laganan waterfall takes 2 - 3 hours one way, depending on how many times you stop. If you are a naturalist or a photographer, there are plenty of plants and insects to stop for, including the chunky Pill millipedes which are quite common. This means the return trip is 5-6 hours, so it is best to make this a full day trip, so you can relax and enjoy it; there are plenty of streams to stop and cool in on the way. Don't forget to write in at the book at the gate (although I suspect no one checks this until you don't check out of your room). The waterfall at the end of the track is very tall and quite spectacular (the photo doesn't do it justice) and seems some 50 or 60 metres high at least...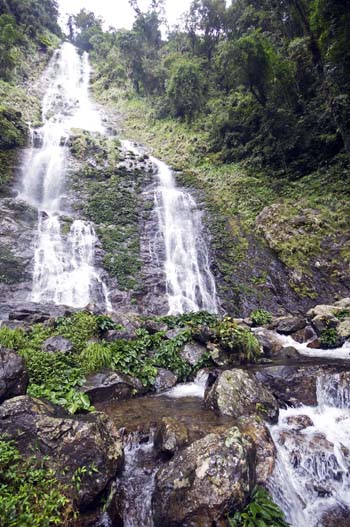 other incidental nature and wildlife...
After Mt.Kinabalu HQ, I must admit I was a little bit disappointed in the lack of obvious and striking birds around the place. As a lowland area, it certainly has the potential to have a lot of birds. It may be that Kinabalu HQ HQ is just really, really good, or there wasn't as much flowering around the sites to attact the birds. I saw Yellow Wagtail at the waterfall, and the White-crowned Shama is often a noisey bird within the forest, even early on.
The area is rich for frogs, even around the centre. There were at least 4 or 5 species that I could hear calling just around the site. There were several species that I saw with relative spotlighting ease, including one of the wonderful 'Horned Toads'.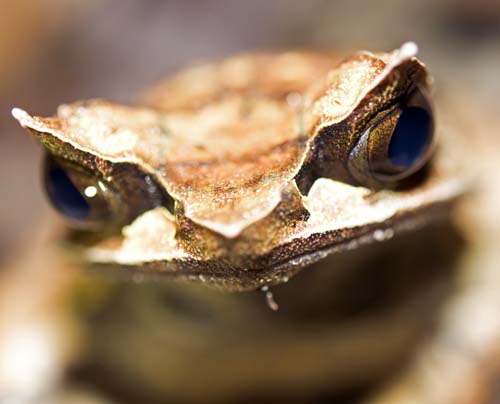 Horned Toad (Damon Ramsey)
The best aspect of Poring in terms of wildlife is definitely it's insects, spiders and other invertebrates. Because you are so close to the fairly thick lowland jungle, you get a good range. You can find these in two ways: going for a spotlight, or checking out the walls around lights all around the centre...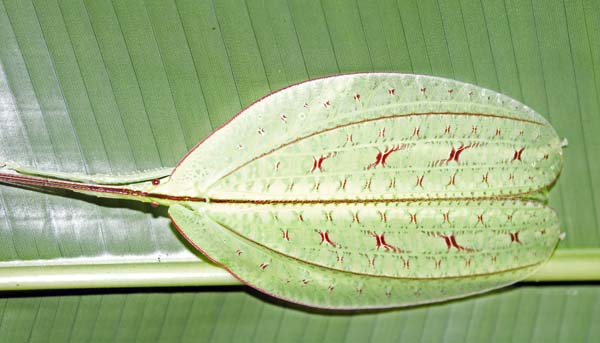 On the forest floor you have a good chance of seeing the giant pill millipedes searching for food...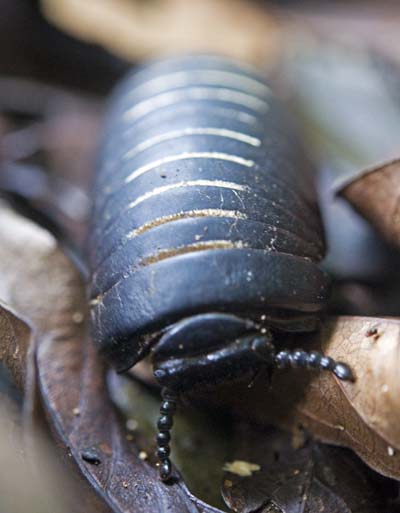 giant pill millipede (image by Damon Ramsey)
As soon as you get too close, they roll themselves up into a small ball, which is really HARD, and they roll down the hill of the track like a marble, (if you gave them a nudge, which of course I wouldn't do)...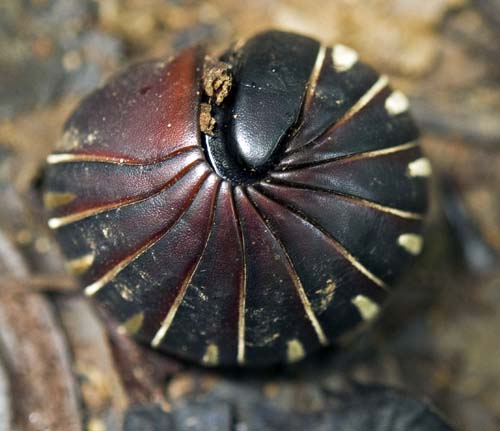 giant pill millipede in 'marble mode' (Damon Ramsey)
access:
Poring Hot Springs is on the edge of Kinabalu National Park. To get to Malaysian Borneo, get to Singapore or Kuala Lumpur first. From there, there are many cheap flights through Air Asia or Tiger Airways to KK (Kota Kinabalu), capital of Sabah. If you are in Borneo already, you can approach Mt. Kinabalu from Sandakan or KK. It is about 220 ringitt for your own taxi, or get a bus to the town of Renau, and then a taxi from there.
Accommodation
Unlike Mt. Kinabalu HQ, it is not that necessary to stay in the park. The cheaper accomodation outside the park is only a few hundred metres away and you can walk straight in. The lodges might be nice if you have loads of money, but if you are budget traveller the hostels are not that much closer or further to the rainforest than the lodges inside the park. I had already paid and got a discount because I was staying at so many different spots across the national park, so I didn't stay outside the park, but I would consider it; the Tropicana Lodge looks good. And they have fast free internet in the restaurant, which also looks over the river (which is what I am doing as I type much of this!)
Organized tours...
There are plenty of tours from KK that include the Poring Hot Springs in their itinerary, but it is not as much fun to be there when everyone else is...
Search this website and google:

---