search google and this website:
Possum Valley




Queensland, Australia



Possum Valley offers very good value and comfortable accommodation on the edges of highland rainfrest, with a range of wildlife viewing. The valley is at high altitude, about 1,100 metres.
my personal experiences...
Many years ago I used to take small wildlife tours there. (However, most of the people that I took, and indeed most of the people that stay there, probably don't appreciate the wonderful opportunities for high altitude rainforest wildlife there.) I also have been there with a documentary crew for the discovery channel, and later I made a series of visits to get more photographs for the Ecosystem Guides book "Rainforest of tropical Australia", and footage for my own DVDs on rainforest.
a possum hanging from the rafters (Damon Ramsey)
background
The owner Paul Tredgget has folders he has written inside the cottage that detail (with great wit) the history of the area, from grazing through war games to tourism. Today, 'Possum Valley' comprises of two self contained cottages hand built by the owner Paul. In fact, Paul has made everything you see, from the sturdy cottages themselves, to the hydro-electrical supply.  The cottages have several rooms, bathroom, wonderful verandahs that you'll spend most of your time on, and kichen facilities. You can bring your own food, or dine in nearby Ravenshoe.
nature and wildlife watching
This is an aesthetically pleasing as well as biologically beautiful spot. There is a creek that passes through the property that you will cross as you come into the valley. This creek goes right past Black Bean cottage. There are two main dams on the property. One of those has a small boat you can paddle around in.
There is a network of walking tracks throughout the property. These are labelled with different colours; so for example, there is a 'purple' track with purple markers on trees along the trail. The trails are not hard to follow. There is a 'cardiac' trail that goes up the hill in the direction of the access road, a trail down to the main dam with the row boat, and various connecting trails.
However, you'll probably tend to spend a lot of time on the cottage porches, as this is where you can see a lot of the animals, and it is also so relaxing....
mammals
In may of 2010, there was a platypus cruisng the creek almost all day, three indvidual possums visited Black Bean Cottage, and pademelons (rainforest wallabies) fed on the lawn, and I spotlighted Coppery Brushtail Possums, Herbert River Ringtail Possums, and Lemuroid Possums around the property. In February of 2013, the platypus were no longer in the bottom creek, but I spotlighted Tree Kangaroo on the access road.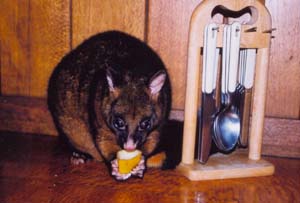 A brushtail possum pops into the cottage for a snack
rare highland birds
Possum Valley is also one of the best and most accessible places in north Queensland for highland birds. Last time I was there Brush Turkeys scavenged on the lawn, I saw Golden Bowerbird at the top of the access drive, a flock of Satin Bowerbirds fed on the Alphitonia outside the cottage, White-browed Scrubwren, Mountain Thornbill, White-throated Tree-creeper and Grey Fantail flitted around the bushes, and Lewins Honeyeater came in to steal food from my hand.
And even though it was 'autumn', the 'Whirring tree frog' Litoria revelata was heard in grasses reeds near the dam. In February 2013, there were calling Mixophyes Barred Frogs and tiny microhylid Cophixalus ornatus.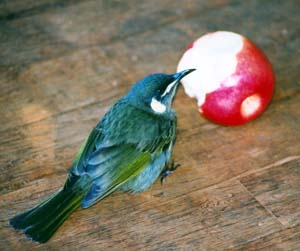 Lewins Honeyeater
access and bookings
You can contact Paul through his Possum Valley website
 

Some of the photographs I took at Possum Valley ended up in my book:
"Rainforest of tropical Australia"