Daintree Discovery Centre
Queensland, Australia.
personal experience
I have taken many groups to this place, both educational and biology groups, and day tours. I have used this place quite a bit for taking photographs for my book "Rainforest of tropical Australia". I have also taken footage here for my documentaries on the rainforest, especially utlising the height of the walkways and the staff's comments on the structure and ecology of the forest. The chapter "what is a tropical rainforest?" was filmed almost entirely here. (The last time I was here was probably around 2012?)
location...
The Daintree Discovery Centre is located in the Daintree, about 20 minutes along the Cape Tribulation road north of the Daintree River.
nature experience and wildlife viewing
The centre has a multi-storey tower which allows you to walk to the top of the rainforest. Surrounding the tower are various elevated walkways. At the base of the tower there are several displays of live fish and reptiles, and there are also various interastive computer displays. At the entrance is a well stocked shop specializing in local and rainforest merchandise, and a cafe.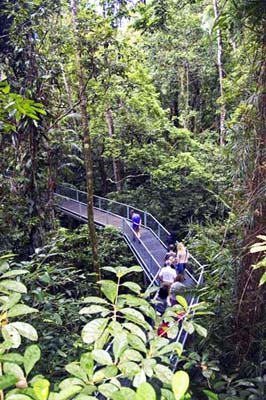 The staff there are made up locals, all of who live in the rainforest, with bats, rats and owls in their homes! Most of them knowledgeable on the plants and critters of the rainforest. However, the only time the staff run guided tours of the rainforest are for groups. There are various day tours from Cairns (such as Down Under Tours and Tropical Horizons), that go in there and have conducted walks. For the regular person walking in, there are personal 'electronic' guides that you listen to as you walk through the forest. 
They also have great coffee!
---
Thinking of travelling again after everything settles down? One of the first expeditions I am booked to work on is the NZ sub-Antarctics with Silversea Expeditions and Australia with Coral Expeditions. And here is a shortened version of one of my lectures in a warmer part of the world.