Cairns Esplanade
Queensland, Australia
Many tourists are disappointed when they first get to Cairns, for they expect beautiful sand white beaches to be outside their hotel. Instead, there is a expanse of sloppy mudflats!
But this makes the place perfect for bird-watchers looking for waders and shore birds. 
Personal experience...
When I was based in Cairns, I guided various birdwatching and wildlife groups along the esplanade. I have also taken a fair few photos down there, particularly for the Ecosystem Guides book "Tropical Seashores of Australia".

Background...
The Cairns esplanade is an artificial system to some extent. Earlier last century the local council started pulling out mangroves out, to reduce the incidence of mosquitoes and disease. They continue to do this now, probably more for the expansive views that we are used to more than anything else.
There are now many interpretative boards along the walk. There is a bit of an urban myth that "there used to be a beach there", which is partly true; like many estaurine areas there is often sand dumped in the higher tide area, and finer sediment in the intertidal area and shallows. The modern esplanade has been built over the previous sand area and its edge now runs along where the mud is. So several years ago the local council tried to re-create a beach along the foreshore, much to the chagrin of birdwatchers, but it has been difficult to maintain an attractive beach.
More recently a pool complex has been constructed at the southern city end. This has resulted in a great balance: a pool for the more superficial tourists and families, and the mudflats remain for the bird and wildlife watchers.
Today, the esplanade is a real community focal point for both locals and visitors to picnic, BBQ, swim, shop, eat, exercise, and birdwatch. It is a great example of a balanced community area.
Nature & wildlife watching...
In terms of species diversity and convenience for watching tropical shore and wading birds, it doesn't get much better then Cairns esplanade.
It has a long walkway with many access points, and there are numerous benches and walkways. The tide pushes waders right up to the sea wall, with the newly outgoing tide the best time. There are cafes where you can get a coffee as you bird watch.
The necessary trade-off is the amount of passing traffic: people will invariably feel the need to comment, and the area also suffers from the occasional pushy policeman and noisy drunk locals. But you will also get other birders keen to swap information. (If someone annoys you, just hang your tongue out and tell them you are using your scope to check out the bathers in the Cairns esplanade pool, and they should scurry off).
Some of the birds I have seen include:
Australian Pelican,Australian White Ibis, Royal Spoonbill, Great Egret, Intermediate Egret, Little Egret, White-faced Heron, Mangrove/Striated Heron, Brahminy Kite, Pied Oystercatcher, Black-fronted Dotterel, Greater Sand Plover, Lesser Sand Plover, Pluvialis Plover, Masked Lapwing, Whimbrel, Eastern Curlew, Bar-tailed Godwit, Black-tailed Godwit, Grey-tailed Tattler, Great Knot, Sharp-tailed Sandpiper, Curlew Sandpiper, Red-necked Stint, Terek Sandpiper, Common Greenshank, Caspian Tern, Crested Tern, Gull-billed Tern, Silver Gull, etc.
There are also many species in the gardens along the esplanade, including Rainbow lorikeets, Figbirds, Double-eyed Fig Parrots (hard to see, but often heard flying overhead), Magpie Larks, Willie Wagtails, Pied Imperial pigeons, Bush Thick-knees, and this is also one of the easiest places to see Varied Honeyeaters. Many of the larger long legged waders such as Ibis and Egret roost for the night in the trees across the road from the esplanade, particularly around the city Library, with the birds coming in as the bats are leaving, which makes for some fun.
On the mudflats next to the birds, there is also a lot of other life; particularly a huge population of large mudcrabs, fiddlers, as well as mudskippers.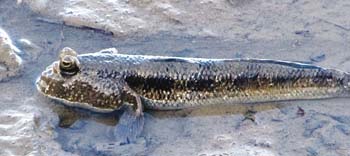 Search this website and google:

---
For more information on the birds, crabs, mudskippers and other intertidal and shore creatures, check out the Ecosystem Guides book: 'Tropical Seashores of Australia".