Broome
Australia.
Personal experience...
I visit Broome a few times a year when working on ships along the Kimberley coast. The beaches and mudflats were important areas to me for getting photographs for the book: "Tropical Seashores of Australia".

General geography...
In the north-west of Australia is the small but growing town of Broome. This settlement, and the surrounding country, is dominated by the bright red pindan soils. It can be reached by road from Darwin (a day or two drive) and Perth (leave a few days at least for no stop driving) and has an airport that connects with a few other domestic airports such as Kununnurra/Darwin and Perth.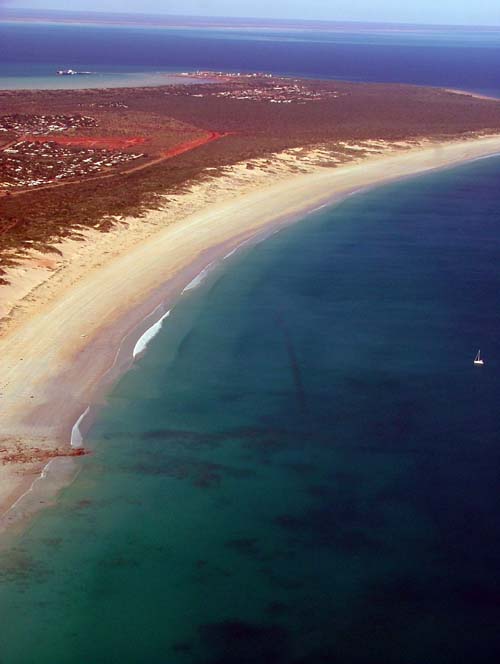 Activities...
There are various points of interest in and around the town.
Within the town, a small boardwalk that goes into the mangroves is often a good place to see near-endemic mangrove species such as Mangrove Grey Fantail and Mangrove Golden Whistler, as well as good views of fiddler crabs and mudskippers. 
Just slightly out of town, the 'town beach' and many of the other fine sand and mud beaches are great for looking for intertidal life, due in part to the extreme tides that occur there. 
The town is sometimes known as the 'pearl capital of the world', but more importantly, the local area is becoming recognized as the most important wading bird area in Australia. Just out of town, Roebuck Bay is a huge expanse of mudflats that provides food for thousands of arctic breeding shorebirds that arrive here to feed and fatten up. This is where with the Birds Australia Broome Bird Observatory is also located.
Broome is also considered the western gateway to the most spectacular of Australia's tropical shorelines, the Kimberley coast.


Search this website and google:

---