Michaelmas Cay
Great Barrier Reef, Queensland, Australia
This is a tiny treeless coral cay island with thousands of nesting seabirds, and coral reef. It is visited by day boats from Cairns.
my personal experience
I guided and escorted various groups a few times a year for over a decade to Michaelmas Cay. It was also an important site for many of the photographs and observations for the bird chapter of the Ecosystem Guides book "Tropical Seashores of Australia".
Background
Michaelmas Cay is located about 40 kilometres north-east from Cairns. It is only a small island, covering 1.8 hectares and reaching a height of three and a half meters above sea level. Its main attraction and value is due to the fact that it is an important nesting site for many species of sea birds.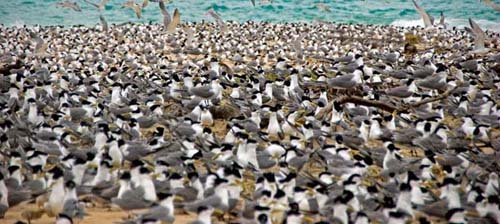 The Cay has so far survived quite a few potential disasters, including egg collection for pastry cooks on the mainland, and its use as target practice by aircraft in World War 2. Today, only a very small part of the northern beach is open to visitors.
Nature appreciation and wildlife watching
This cay is considered the fifth biggest such colony of seabirds on the Great Barrier Reef. Sooty Terns are the most numerous birds on the island, with a peak of 10,000 breeding pairs recorded over the summer. The Common Noddy, the Crested Tern and the Lesser Crested Tern may also nest there in the thousands. I've also seen Ruddy Turnstone, Brown Booby, Black Noddy, Black-naped Tern and of course Silver Gulls.
Only a very small area of the island is roped off for visitor access, but even this allows great close up looks at the birds, and the chance to watch their behaviours. The birds recognize the boundaries as well, sitting right on the ropes and nesting right up to the marker poles.
a crested tern looks after it's egg, Michaelmas Cay (image by Damon Ramsey)
And of course another feature of Michaelmas Cay is the snorkelling in the surrounding coral reef.

Getting there
A few different reef operators have access to the Cay, with Ocean Spirit being the best known regular operator to the island. They are the only company I have been out there with, but I believe there may be another one or two cheaper 'backpacker style boats that visit the island during the day.

This information and images includes edited extracts from the Ecosystem Guides book:
"Tropical Seashores of Australia"

Search this website and google:

---