Prince Frederick Harbour


including Hunter River



Kimberley, Australia
One of the biggest and pristine mangrove systems in the world...
personal experience...
I have been exploring Prince Frederick Harbour most years since 2004. The best way has been when driving zodiacs off expedition ships. I have driven at least a hundred zodiac cruises there, and I still regularly see a species or behaviour I have never seen before 

background
Prince Frederick Harbour is located midway along the Kimberley coast of north-west Australia. It is a huge area of islands and mangrove-lined rivers, with a background of savanna woodlands and patches of monsoon rainforest. The two major rivers that feed into here are the Roe and the Hunter River. It is the latter that provides access into mangroves below steep escarpment country.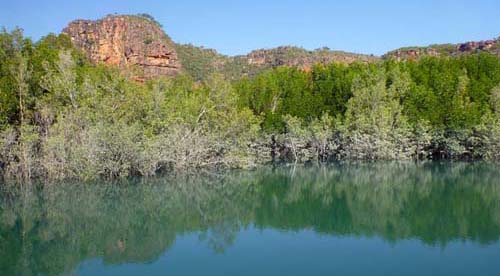 wildlife...
Because of its isolation, the ecosystems here are quite pristine, with predators being common, including salt-water crocodiles, and white-bellied sea eagles.
a salt water crocodile (Damon Ramsey)
low tide and high tide
It's fascinating to spend a whole day here and explore the river at the low tide and the high tide extremes of the day. The whole ecosystem changes, from a drowned forest at the high, and steep exposed mud banks at the low. Different wildlife is seen at the different tides.
At high tide, fish come in and swim through the mangrove tree tops. Species include Yellow-tailed/Diamond Scale Mullet, Pop-eye Mullet, Mondactylus Diamond fish, Spadefish (Batfish as juveniles), Archer fish, Snub-nosed and other garfish.
At low tide, the expansive mudflats are revealed, and another very different type of fish is revealed. At this time you can see large populations of various mudskippers, including the wonderful 'Blue-spotted Mudskippers'...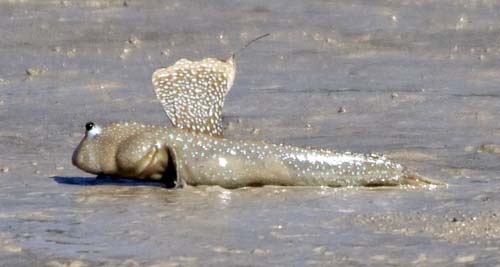 A blue spotted mudskipper with an erection...of it's dorsal fin.
There are other marine invertebrates, including jellyfish (moving up the creek) various crustaceans, such as mud crabs, broad-fronted mangrove crabs (with purple carapace), and several species of fiddler crabs (the bright red flame fiddlers and others) ...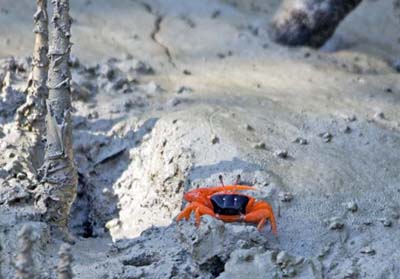 a flame fiddler crab (Damon Ramsey)
birds...
The small creeks in the mangroves off Porosus Creek at high tide in the morning are good for various small and hard to see birds, including various kingfishers...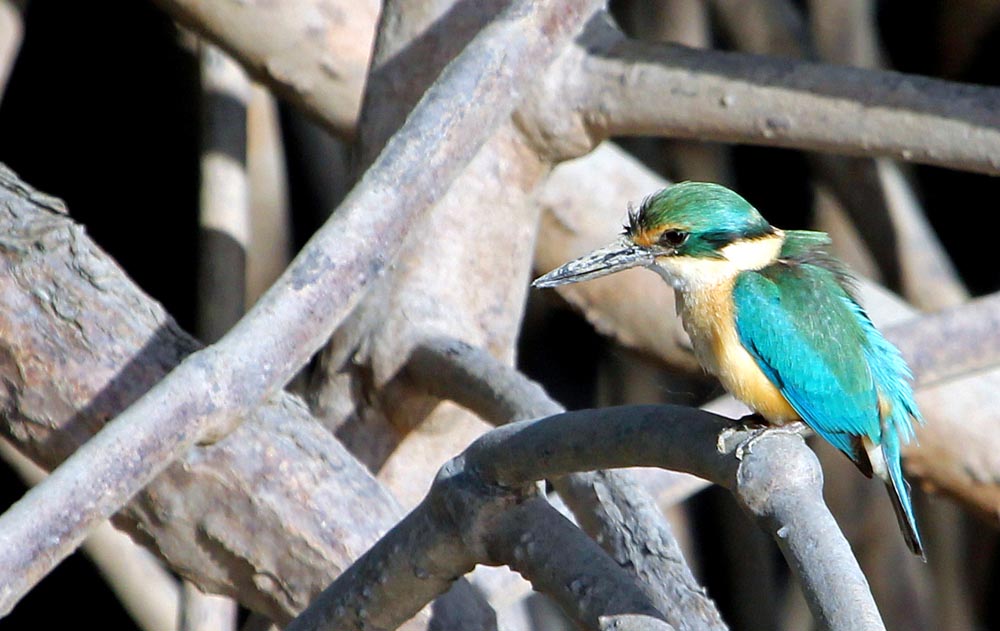 Sacred Kingfisher (Damon Ramsey)
the stunning but very small Azure Kingfisher (Damon Ramsey)
Red-headed Honeyeater, Brown Honeyeater, Little Friarbird, Yellow White-eyes, Mangrove Robin (with a mournful double descending whistle), White-breasted Whistler and Mangrove Golden Whistler (both with enthusiastic and familiar whip like calls), Mangrove Grey Fantail (looks very similar to the Grey Fantail). These last 5 birds are hard to find species that are pretty much endemic to mangroves.
There are also the usual larger birds of the mangroves and shore, including: Great, Intermediate, Little, and Eastern Reef Egrets, Great-billed Heron, Mangrove (striated) Heron...
a Great-billed Heron (Damon Ramsey)
Mangrove (striated) Heron
There are birds of prey such as Osprey, Brahminy Kite and White-bellied Sea-eagle...

History
This area was surveyed by Philip Parker King in 1820 on board the Mermaid. There are several islands, such as Naturalist Island and Boongaree island, the latter named after the Aboriginal on board of the same name who had also sailed with Mathew Flinders. Philip Parker King named the Hunter River after the surgeon on board, and several other landmarks such as 'Indian Head' and the the 'Nine Pins'.
access:
There are several companies that visit the region. Many come here to utilize Naturalist Island and the beach to take helicopter rides up to the Mitchell Plateau. While this is going on, some of the expedition cruise style companies explore the rivers in their tenders. For example, Coral Expeditions will often do their fishing tours here, and an early morning bird cruise, while Lindblad, APT/Noble Caledonia, Ponant and Silver Sea expeditions will have their zodiacs going out to look for crocodiles & other wildlife on the mud bank. These companies usually go up the Hunter River, and will frequently search the banks of Porosus Creek, and there is some expansive mudflats here and a good crocodile population.

a croc having a sneaky peek (Damon Ramsey)
Search this website and google:

---