Gam Island
Rajah Ampat, New Guinea, Indonesia 
I visited Gam Island on a Coral Princess Cruises "West Papua and Spice Islands" trip in april 2014, and was lucky enough to watch the Red Birds of Paradise. 

the Red bird of Paradise....
Gam Island is located in the Rajah Ampat region of Western (Indonesian) New Guinea. On this island, there is a very small resort and village on the southern side of Tanjung (Cape) Besir, which has a track leading to a place to see the Red Bird of Paradise.
This species is unique to just a few islands in the region. It is in the genus Paradisaea, which includes half a dozen other similar birds of paradise, including the Ragianna, the Lesser, and the Greater Bird of Paradise. They all look quite similar, but the 'Red Bird of Paradise' has much larger, stiffer and slightly curled tailed feathers. 

To see this bird, there is a trail from the small Gam Island resort. This steep walk climbs up over the closest ridge, into the next gully, and then onto another smaller ridge. The track goes over sharp limestone, and may be slippery when wet. It takes about 30 minutes. At the end of the track, there is a large tree where a number of Red Birds of Paradise display. Below the tree is a small clearing with some seats, as well as a small hide 5 or so metres in height.
The birds display in the canopy, so they are very high up!
But binoculars and/or a good lens should allow views through the gaps, especially if they display or mate on bare branches, as they did in my visit. You have to get there early, as the birds only display for about an hour; from about first light at 6am to about 7am. This means you should leave the resort at 0530 to leave enough walking and observing time.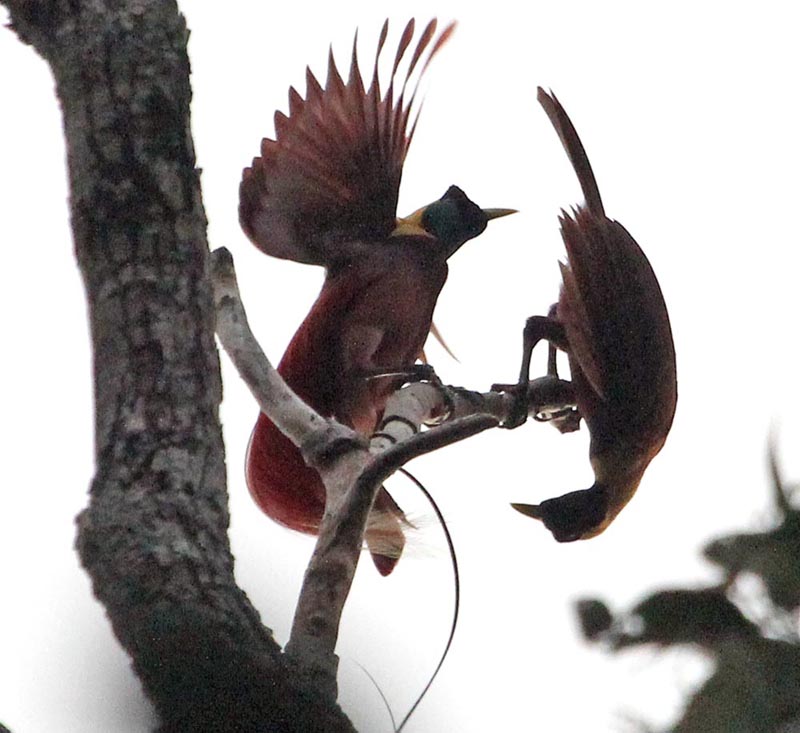 a female checking out a male...what is she looking at?
Search this website and google:

---