Jahoo Gibbon Camp
Cambodia
A small accommodation within the Keoseima tropical rainforest area.
the camp
The camp is quite small, and doesn't have capacity for more than a dozen people. Most people that stay are probably doing guided tours with Sam Veasna. The safaris style tents are comfortable and the lack of hot water is not a problem in the heat. There is a small central structure where meals and coffee is served. There is no wifi, and you are just slightly out of mobile phone range (but it is accessible about half an hour away on the main road). There is a network of trails through the rainforest where the gibbons live, although you are not supposed to explore this unaccompanied. 
the gibbons
As suggested by the name, the main attraction here are the gibbons. The local rangers are habituating two groups, and visitors wear bright yellow jackets so the primates know we are coming and get comfortable with us.
The species here was called the 'Yellow-cheeked Crested Gibbon'. These gibbons are found in Vietnam and Laos, but Keoseima rserve is believed to be where most live. It has now been split into two species, and I presume this one is the northern one.
Gibbons are always hard animals to spot and watch. We had a good viewing of a large family group, including the blacker males and the females with young. But even then it is through gaps in the forest canopy, and photographs were taken with a long lens. If you are with a Sam Veasna guide, they will probably have a scope.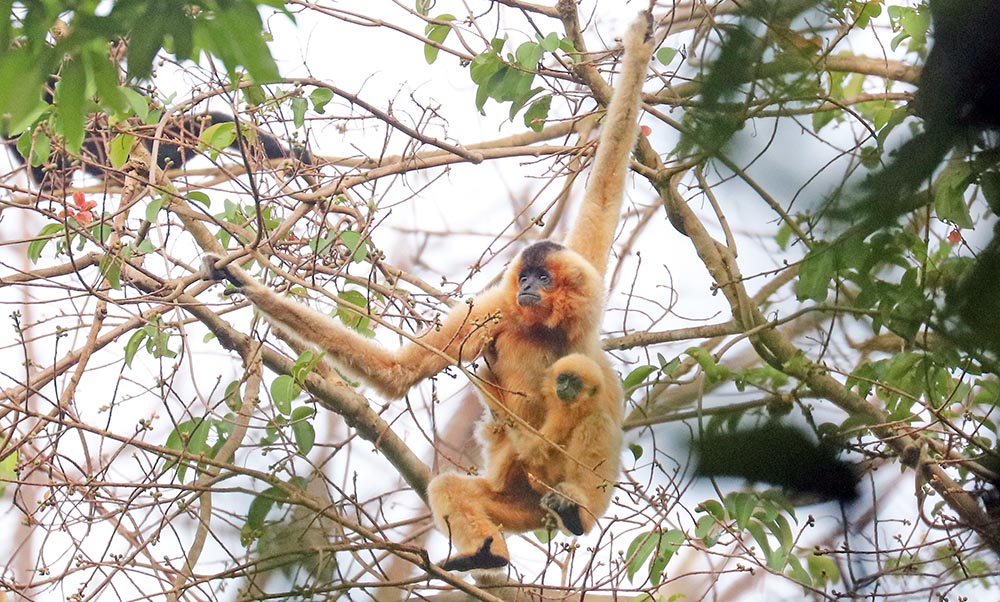 Mama gibbon with young (image by Damon Ramsey)
The main reason I came to this part of the world was specifically to see and photograph Black-shanked Douc,  and they are also on the property in numbers. However, they seemed to be shy in the rainforest. and you can generally get better views on the main road running through Keoseima.

There are also Pig-tailed Macaques, also quite shy compared to their brothers in Thailand that pull down coconuts. 
Other mammals frequently spotted include a few types of squirrels, including the spectacular 'Giant Black Squirrel', of which I saw three, and managed to only get perfectly focused photos of big fluffy tails and nothing else. We were also very lucky and saw a young Binturong perched on the end of a thin branch trying to hide.
Birds
Birds are difficult to see once in the rainforest on the trails. It is easier to see them along the edge. In fact, sitting at the small dining area, you can get good views of rainforest edge species. Birders often target rainforest floor species here such as peacock pheasants and pitta. My bird highlights in the rainforest were great views of Dusky Broadbill. I even managed to get shots of them. Normally you don't want to be underneath birds in the rainforest, but with broadbills this accentuates their ridiculous 'Donald Duck' bills, and that along with their huge eyes, helps make them such a weird looking and distinctive Asian rainforest bird.
Dusky Broadbill (image by Damon Ramsey)
reptiles
As the wet season was just starting to kick off while I was there, reptiles, frogs and insects were starting to become obvious. The guides had two snakes species visit their tent with 24 hours! 
Plants
The plants included the common Careya, with the flowers being most perfect in the morning when they first drop, after a night of being pollinated.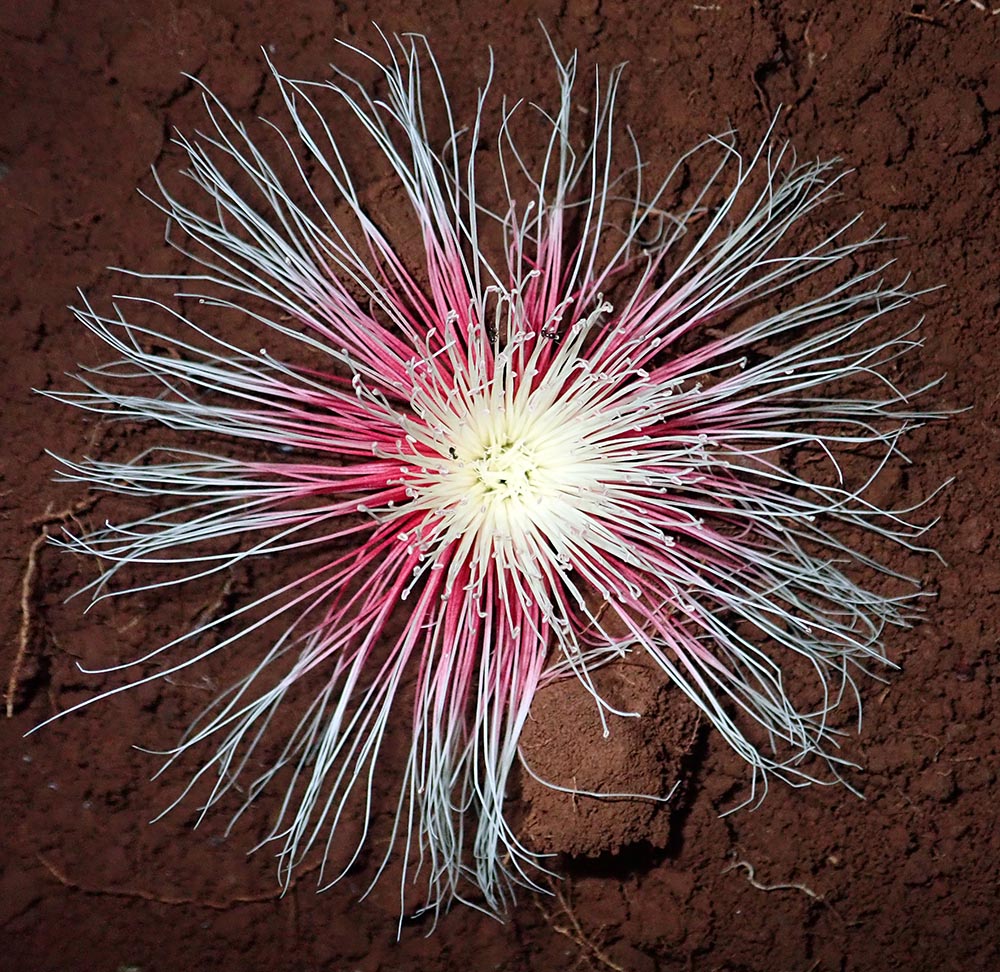 Careya
Search this website and google:

---