the Snares (Islands)




New Zealand



personal experience...
I have visited the Snares in 2010 and 2011, working as a biologist guide, lecturer and zodiac driver, as part of the expedition team on board Orion. It remains one of my favourite wildlife experiences.

the region
New Zealand is already an amazing country, with fantastic scenery and some fascinating animals and beautiful plants. But the best part of the country is little visited and hard to get to - the Subantarctic Islands. These are a chain of remote islands that stretch from the end of the South Island well into the Southern Ocean. They are full of wildlife such as seals and penguins. Some have huge colonies, and every island groups has a different set of species, and sometimes even their own endemics. 
wildlife
The Snares are the closest subantarctic islands to the New Zealand mainland. But they are still remote, and quite small. No landing is permitted, but great views of these steep rocky islands and the wildlife, both on the land and in the water, can be made from zodiacs. The most numerous birds here are the endemic Snares Island Penguin.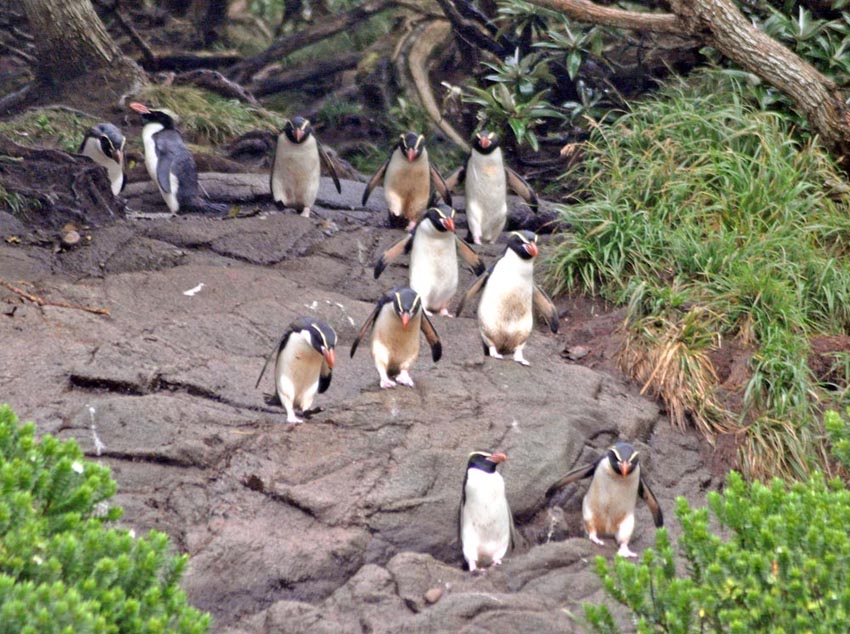 the Snares Island Penguins waddle down the rocks to go for a swim (Damon Ramsey)
other subantarctic islands
The other islands south of New Zealand and Australia include: Auckland Islands, and Campbell Island and Macquarie Island.
Search this website and google:

---