Ningaloo Reef
Australia
Ningaloo Reef is an easy to access reef growing right along the shore of Western Australia... 
personal experience
I visited this reef, and stayed there for a week during covid times of 2020.
Ningaloo Reef
Ningaloo is a large example of a fringing reef. Instead of growing way off shore or around remote islands, it is right there along the coast. It is some 260 kilometres long, and thus there are various access points (see below). It is a world heritage area.

Green Turtle (Lakeside, Ningaloo, Australia)
access to the reef
Ningaloo is 1200 kilometres north of Perth. But there is not much traffic and people drive fast in WA, so it doesn't take as long to get there as you would think!
There is plenty of accommodation, however the cheaper hotels and caravan parks get booked out and crowded, especially in the insane school holidays. You can camp at a few spots very close to the reef in the national park, but you need to book these spots well in advance. The accommodation is mostly in the town of Exmouth, which is a twenty minute drive away. This town has hotels, caravan parks, supermarkets , restaurants and other shops. I stayed at Lighthouse Caravan Park halfway between Exmouth and the national park, which was a pleasant area and not as crowded, although the onsite cafe is limited in food and hours.
Another popular place to stay and experience the reef is Coral Bay (one to two hours drive south of Exmouth), and here the reef is only a few minutes walk away. 
Most people enter the reef along beaches near car parking points along the Cape Range National Park. From the beach you simply swim out to the coral.  Some of the spots include famous places like Turquoise Bay. I found the best to be Lakeside, although see comments below...
schools of Snapper (Lakeside, Ningaloo, Australia)
quality of the reef
Be aware, this is not the Great Barrier Reef. The coral is close to the shore and therefore there is some run-off (even though the land is relatively arid). The area also experiences bigger tides and thus water flow. So the result is the water is murkier (as you can see from my pictures). The water is also considerably colder than the central and northern Great Barrier Reef!
Also, the species diversity is much lower than the east coast, with 'only' 500 species of fish. However, you may see some Indian Ocean species, and even some more restricted north-western Australian species. On the plus side, because the ocean bottom drops off much closer to the mainland here than elsewhere in Australia, there are also many larger pelagic fish that come in here, and often in spectacular large schools.

Trevally, (Lakeside, Ningaloo, Australia)
things to do...
...at Ningaloo!
On land, there is the impressive Cape Range National Park running right along the coast right behind the reef. Here, there are great walks, scenery, flowers, and good chances of seeing dingoes and Black-footed Rock Wallabies.
Of course, the most famous thing to do here is to go on a day boat and try and swim with the whale sharks. This is most easily done between April to August. It is quite expensive compared to similar experiences in Donsol Philippines. There are also swims with manta rays and whales from July to November.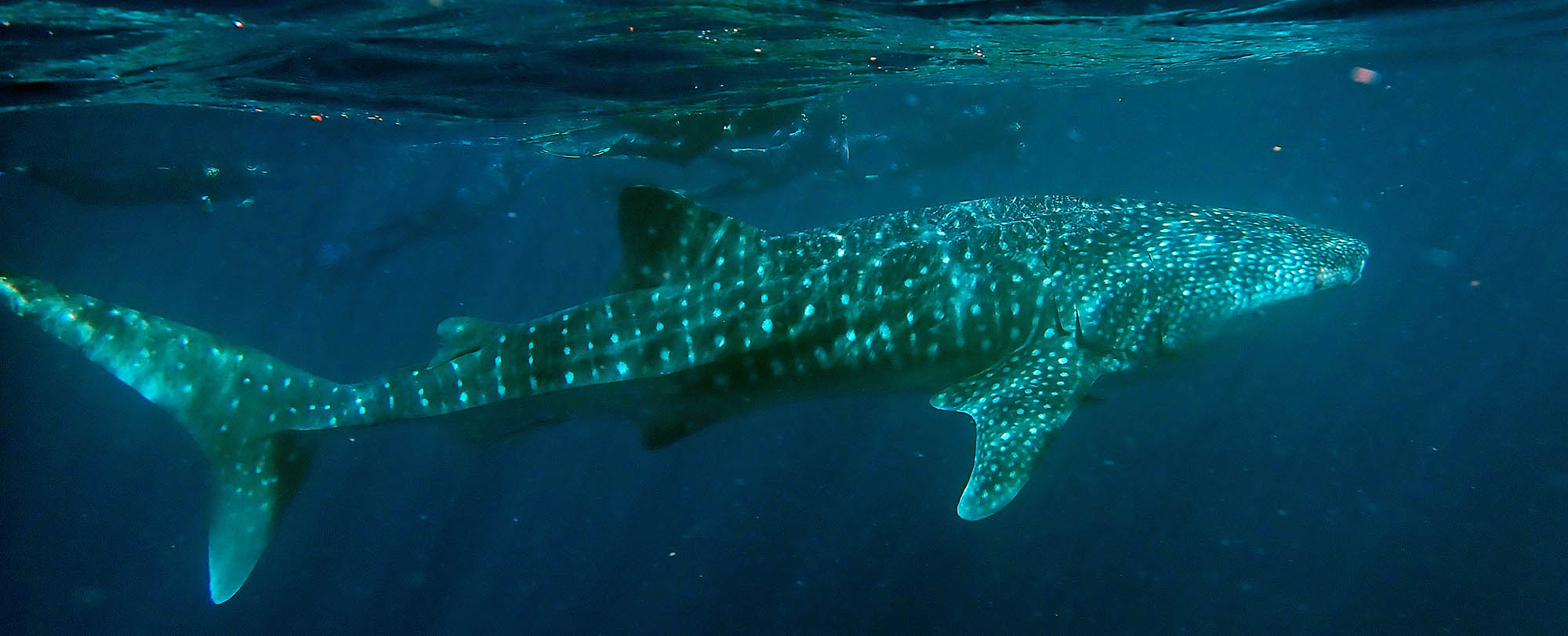 swimming with whale sharks is a thing to do at Ningaloo (image by Damon Ramsey)
Search this website and google:

---