Prek Toal Bird Sanctuary
Tonle Sap, Cambodia
personal experience
I visited the area with Sam Seasna in March 2019.
Tonle Sap
Tonle Sap is the largest freshwater lake in south east Asia, and a major geographical feature of Cambodia.  When you are on the lake, you can not see the other side. At the end of the dry season when I was there, we had trouble crossing a part of the lake due to the shallow depth. In the wet season it expands some five times in area.
It feeds the river the Tonle Sap that goes across the country. This river is infamous for it reversing direction in the wet season as water pushes upstream from the Mekong to fill the lake. It meets the Mekong River near the capital of Phnom Penh, and then crosses the border into Vietnam to drain out through the Mekong Delta to the South China Sea, south of the city of Ho Chi Minh.
Most people visit the lake to do a tour of the people living in their villages on the lake's edge. 
For birdwatchers, a reserve called Prek Toal has been set up on the northern side of the lake. 

Birds along the waterways
There are loads of birds to be seen along the edge of the water, and obviously species composition and numbers vary depending on the time of the year. Species I photographed included Brahminy Kite, Grey-headed Fish Eagle, Indian Cormorant, Great Cormorant, Spot-billed Pelican, Great Egret, Grey Heron, Chinese Pond Heron, Black-headed Ibis, Asian Openbill, Lesser Adjutant Stork, Black-winged Stilt, and Whiskered Terns 
Asian Openbill
Racket-tailed Treepie
fish
The Mekong River system has, or did have, very high biodiversity. As well as a small population of Irrawaddy Dolphins, the river is famous for it's diversity of very large fish. The species being tossed by a cormorant below, might be a type of Probarbus 'Barb'. They can grow to enormous sizes.
Cormorants feeding
 Another fish being caught by Cormorants appear to be catfish. There are thought to be over 90 species of catfish in the Mekong River systems. The largest freshwater fish in the world is the Mekong Catfish.


A cormorant catches a catfish
the hides and the breeding colony 
There are several hides in various locations that reflect that different seasonal water levels.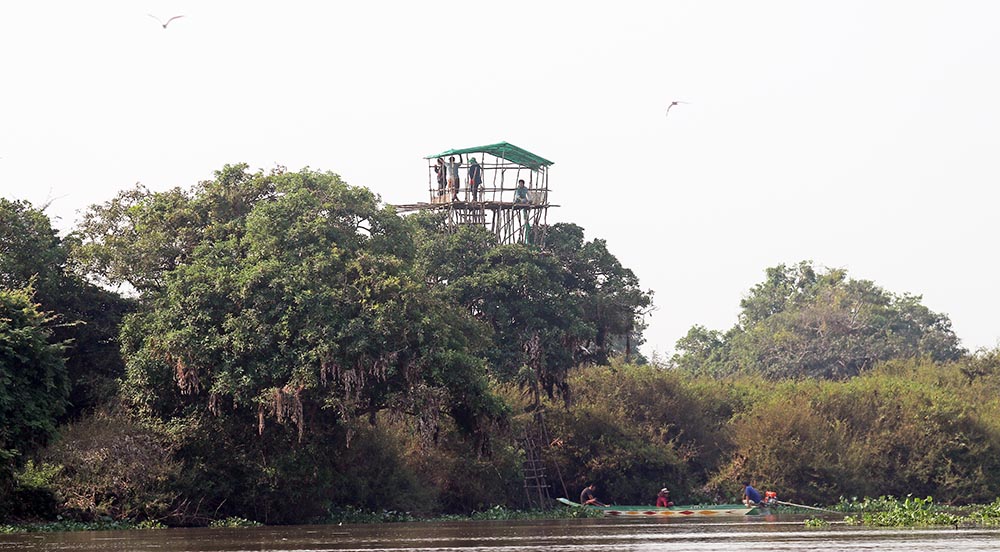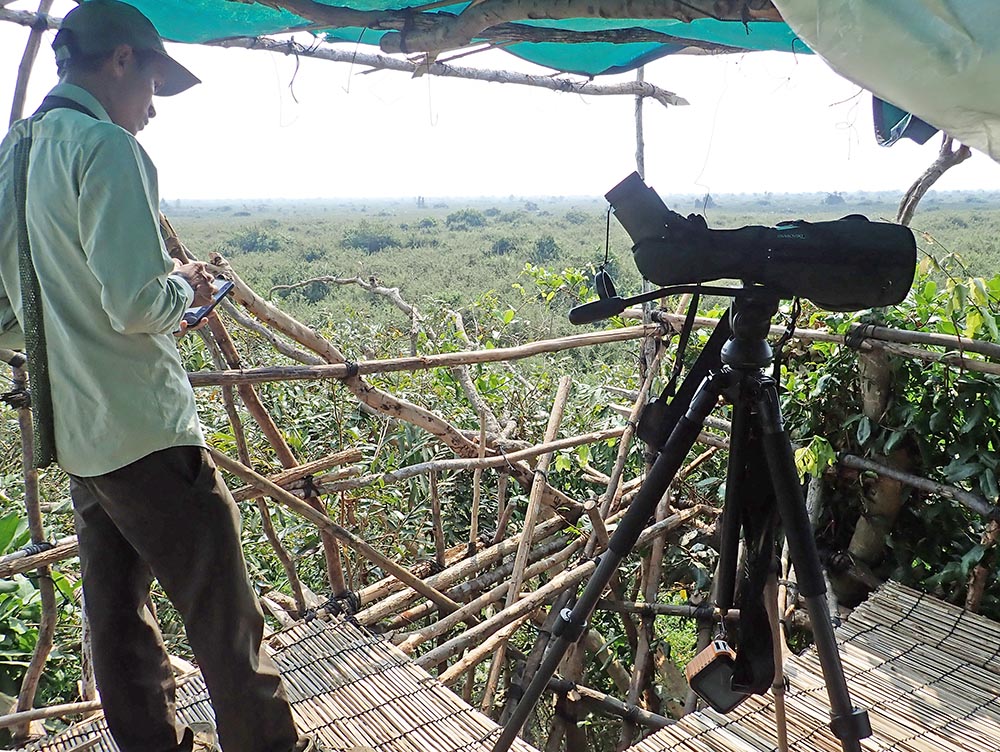 Tour Guide Hat with scope at the top of the tall bird hides
 Some of the hides look over colonies of hundreds of breeding storks. These mostly include the beautiful Painted Storks, but also include Lesser Adjutant, and Milky Stork. 

access
Tonle Sap is less than a hour drive from Siem Reap. From the jetty most tourists visit the floating villages. However, if you want to see the bird reserve, it is another hour or so to the northern part of the lake, first crossing in a larger boat, and then up into the bird reserve in a smaller motorized canoe. 
Search this website and google:

---