Damon Ramsey
Note - this is written by me, but in the third person for websites, articles, etc. 
(Hey, I gotta make myself sound good!)
Damon Ramsey is a species-ophile - his personal obsession in life is to see as many types of plants,  animals and ecosystems as he can. His professional aim is to interpret all this nature and wildlife through his books, articles, videos, lectures, guiding and website.
He completed his Biology degree very slowly at Charles Darwin University, Northern Territory, and James Cook University at Townsville and Cairns, north Queensland. However, he was disappointed not to see either Mr. Darwin or Mr. Cook on the campus. Previous to this, he gained his qualifications in Outdoor, Adventure and Interpretative Guiding in the Blue Mountains, south-eastern Australia. These courses led to a range of research assistant experiences, including bandicoots, bats, butterflies, birds and blossoms.
The shekels he earns go back into various educational projects run through "Ecosystem Guides". This included publishing a series of ecosystem-based guide books. He was the author and photographer of titles on Rainforest, Oceans, and Tropical Seashore. Once he weans himself off red wine, he may publish several more in the series. He has also produced a series of videos exploring and bumbling his way through the Tropical Rainforest. But all of that is too expensive, so now his main non-paid project is running a free access website which explores the plants and animals of the great ecosystems of the world. 
For a living, Damon has worked as a guide, since 1998 (before the turn of the century!), including overnight jungle hikes, rock art tours, documentary film shoots, 4WD safaris, coral reef cruises, cycle tours, wildlife & bird-watching tours, and biology, ecotourism & other study programs. He was also one of the directors for ETA, an educational company in Australia.
For the last decade most of his work has been as a guide and lecturer on a dozen different cruise and expedition ships around the world. He has written over 130 different lecture titles, mostly illustrated with his own photographs, and jokes he has stolen from other people. The subjects include astronomy, geography, geology, botany, insects, reptiles, fish, birds, mammals, and even one on a James Bond movie.
His work and travel has taken him to over 50 countries across all 7 continents, from the Arctic to Antarctica, and the tropics of Africa, South America, Asia, and Australia in between. These days he is based mainly in Thailand as he can't afford to live in Australia.
Currently, due to the coronavirus, he is stuck in the south-west of Western Australia, homeless and jobless in a camper car. But at least there are flowers and birds to look at.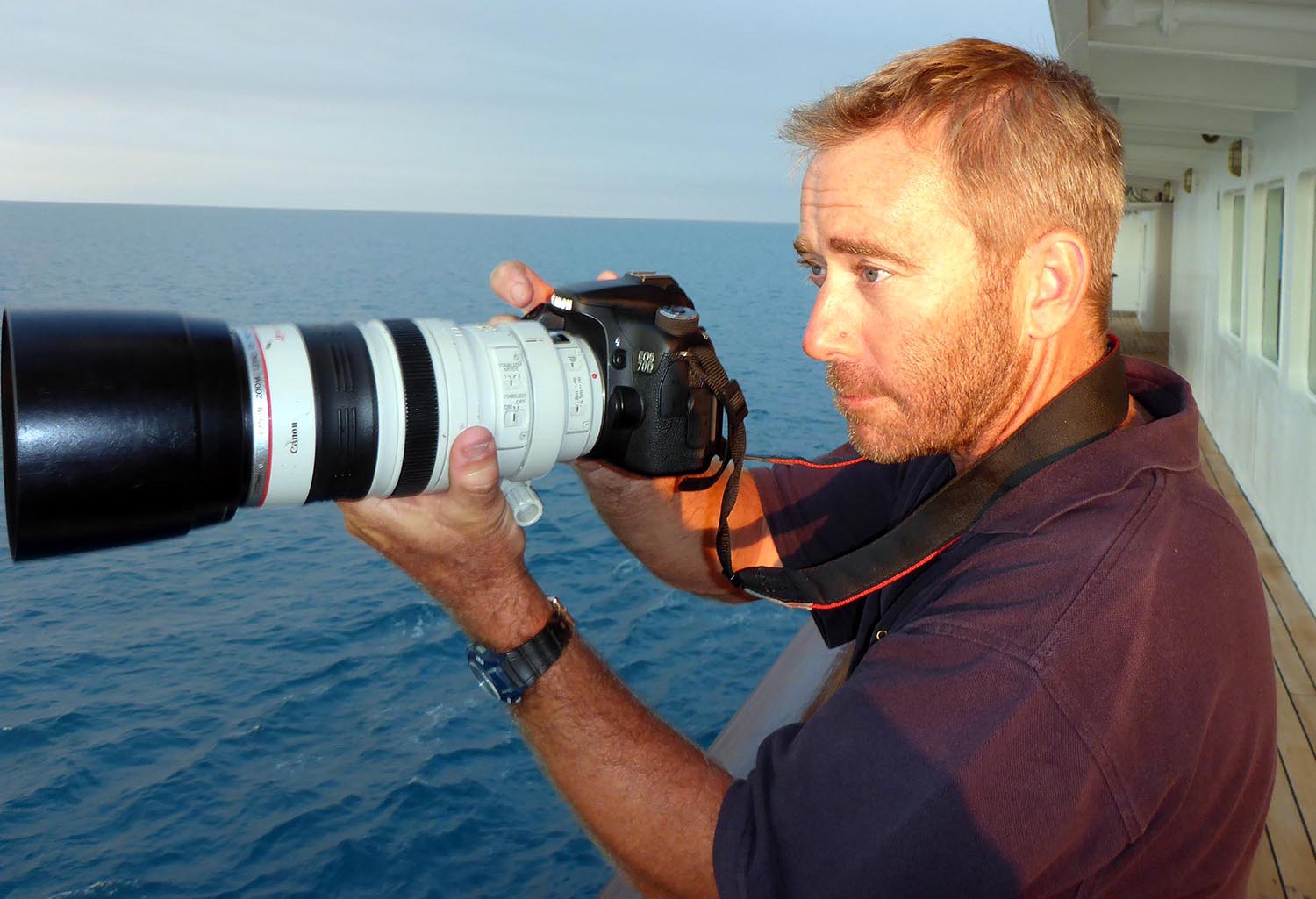 You think this photograph of Damon Ramsey is bad? You should see the photographs we didn't use..! (Thanks to Fran Kelly for being the photographer)
Damon's current location...
You can always check where I am and what I am doing on this page: future schedule of Damon Ramsey.
links to other pages about Damon Ramsey
Click on the following links for more information...

Qualifications of Damon Ramsey

Work History

Travel experience

Publications
---
Thinking of travelling again after everything settles down? One of the first expeditions I am booked to work on is the NZ sub-Antarctics with Silversea Expeditions and Australia with Coral Expeditions. And here is a shortened version of one of my lectures in a warmer part of the world.