Damawewe Caves
Papua New Guinea
This large caves hidden away in the rainforest of south-east New Guinea, are the best place I have found to find giant 'bird-eating spiders'...
Personal experience...
I have visited this caves just once, accompanying a tour group off Orion cruises. I could only spend a short time there, due to the discomfort of the other two other cruise passengers! But I would love to go back at my own time and pace...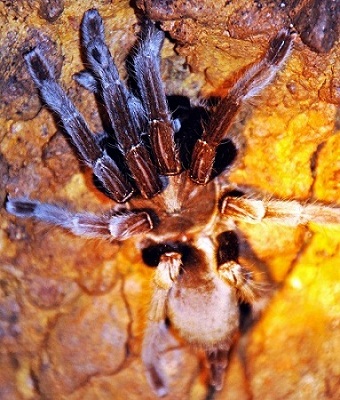 Access to the caves...
To get there, you need to have a driver/guide, and it takes about half an hour or so from the port of Alotau, Papua New Guinea. From there, the caves are a short but steep walk through the jungle. The caves have a mouth that requires getting a bit dirty getting into, but once you are in, they are large. There are several species of insect-eating bats hanging from the roof of the caves. On the ground below you should regularly see 'bird eating spiders'. These animals probably feed on insects in and around the guano, and may even consume the occasional baby bat that falls off its perch... 

Search this website and google:

---