Etty Bay
Queensland, Australia
personal experience
I have visited Etty Bay a number of times, mainly to get reliable footage of cassowary for my 'ecosystem guides' documentary series of Tropical Rainforest of Australia.
access
You get to Etty Bay by driving south along the main highway (the Bruce) to just past Innisfail, and follow the turn off to Etty Bay. From there it is 10-15 minute drive through some country urban areas with some absurdly large houses and their manicured lawns, and then up a lovely rainforested hill and down into the secret little Etty Bay.
facilities
This is a pretty little spot. I had heard a little about it, but not much; it seems to be known amongst locals and a few of the caravaners. The accommodation is in a little caravan park, where you can camp, with or without power, or rent a caravan or unit. The park is right on the beach. The couple that run it are real friendly and take pride in their place. They know a lot about the local cassowary population. There are well maintained outdoor toilets if you are camping, a cafe with a great view onto the beach, a small shop, and Innisfail with all it's facilities is only 15 minutes drive away.
nature & wildlife
The beach is in a small secluded bay. You can walk over the rocks north to a couple of other smaller beaches, where there is wonderful rainforest along the beach, including Hibiscus, Cerbera manghas, Pandanus and White Apple. The beach is great for drift seed, with loads of mangrove propagules, including piles of the stubby cigar looking Bruguiera seeds, and probably three different types of the long Rhizophora seeds. There are often ghost crabs and bubbler crabs (they are the ones that make the little sand balls) running along the beach. There are various birds, including the occassional Beach Thick Knees on the beach, as well as laughing kookaburras at the campsite, and heaps of Imperial pigeons in the forest. The surrounding jungle has loads of spiders and insects (including many mosquitoes; don't camp too close to the rainforest edge, get more towards the beach where the sea breeze should blow them away).
but it is the cassowaries that draws the naturalists to this spot...
I have seen and photographed a lot of individual cassowaries in North Queensland over the last decade and a half. But I have recently found this to be the best and most reliable place to see cassowary. There are several individuals that visit. At certain times of the year (when I went in spring 2010) the males were on the nest and only females were around, but that still meant that the resident girl was walking up and down the beach and coming through the van park a couple of times a day. Unusually, these birds seem very calm and remarkably non-aggresive, considering they are walking past people all day. The mangers explain this is because they are used to people. They discourage feeding, which is absolutely essential if the animal is to maintain it's good behaviour. 
no dogs!
I think it also helps that they absolutely don't allow that most vile of all pests; the dog.
If you are a dog owner, take your mutt and GO SOMEWHERE ELSE!  
On the other hand, if you want to see a cassowary, just plant yourself at the cafe and have a coffee and wait (they have good coffee!). You might want to mention to the owners that you want to see one, so they will tell you when they walk past, otherwise they are so used to seeing them they won't think anything of it and won't point it out!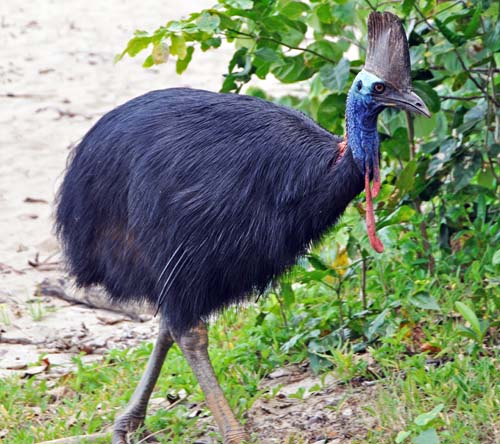 the Southern Cassowary, Etty Bay (Damon Ramsey)
extra information
My youtube channel includes the cassowary footage I filmed here. Photographs and information about cassowary can be found in my Tropical Rainforest book.
Check out the Ecosystem Guides book "Tropical Seashores of Australia"
Search this website and google:

---