search google and this website:
NEOTROPICAL Tropical & Subtropical Moist Broadleaf Forest
places
Amacayacu National Park, Amazon, Colombia.
Amazonia Lodge, Peru.
Angel Paz bird reserve, Refugio Paz de Las Aves western Andes cloud forest, Ecuador.
Antonios Jungle Lodge, the Amazon, Brazil

Cock of the Rock Lodge, Peru.

Iguazu Falls, Brazil/Argentina.
Machu Picchu, Peru.
Manu National Park & Biosphere Reserve, Peru.
Manu Paradise Lodge, Peru.
Villa Carmen Lodge, Peru.
Wayqecha Lodge Manu, Peru
A beautiful and peaceful lodge perched in the highland cloud rainforest of Peru. I visited this lodge in late 2017.
This lodge is one of three run by the Amazon Conservation Association. The other two are Villa Carmen and Los Amigos, the former of which I visited. As with the other station, the service and food here is great.

You can pay extra and get a very nice and large room by yourself, or for about half the price you can stay in dorms. This is a pretty quiet station, so you may find yourself in the shared rooms by yourself, but the private cabins have great views and you can spread your stuff out.
There is a variety of walks based around a loop from the station that go down the slope. But as with many lodges, some of the best bird views are just around the grounds, or walking along the road. They do lock the entrance, so you might have to ring the bell a lot to get back in. 

One of the highlights of this area is the canopy walkway. This is located a few kilometres up the road from the lodge. You might have to arrange access with the guys running the lodge. Apart from the ocassional group dropping by, you may have the place to yourself. It is a half an hour walk from the entry gate, and a dramatic, high and swinging experience.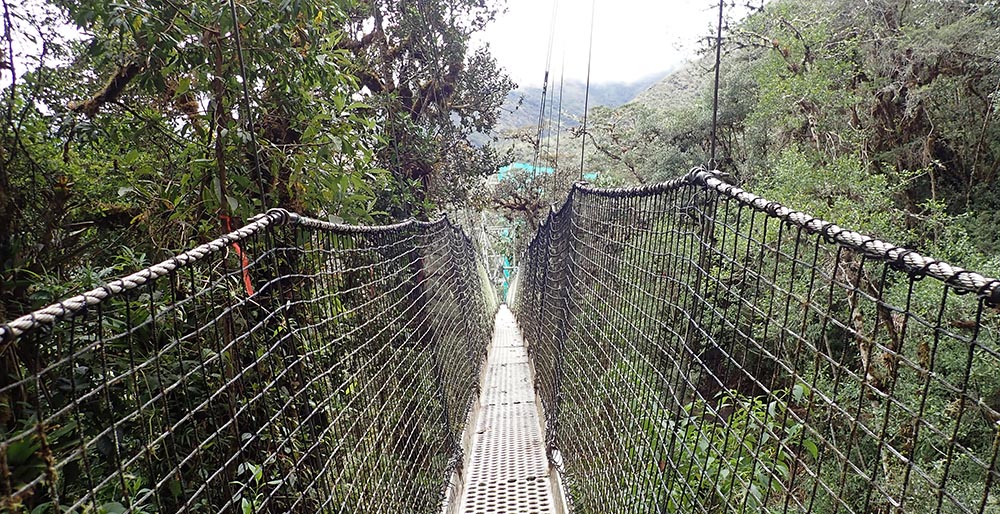 Wayqecha Lodge Manu, Peru
The surrounding forest is highland cloud forest. It is regularly misty, and thus there are many epiphytic mosses, lichens and orchids.
There are many species of orchids in the highlands of the tropical Americas. There are over 200 species of orchids recorded here at Wayqecha. This is of course the most diverse family of plants on the planet, but what is really amazing is their variety of flowers types and shapes... 
Being in a rainforest, there are of course lots of insects to be seen. Along the road many butterflies can be spotted, especially where there is some poop on the ground. There are also moths that look like dead leaves. There are all sorts of other amazing insects to be seen, including the bizarrely beautiful 'Hedgehog Flies' There are other insects to be seen at night, and many of these are attracted to the lights at the restaurant, so you don't have to go far to see them! 
And of course there are birds to be seen! There are not as many as there are in the mid-altitude rainforest, but enough to keep you busy for a few days. I found the birding easier along the road outside the lodge, as there are open areas, and there is not a lot of traffic. I didn't realize how many birds I had seen until I had gone through all my photos years later. I think the Tanagers are my favourite group of Neotropical birds, and there are plenty of species to be seen in these mountains. And of course, being a good Neotropical lodge, there are hummingbird feeders to hang out at. and you don't have to wait long until they land on a nearby branch and you can get a more 'natural' looking shot! 
Access is via the Manu road from Cusco. This is one of the first lodges (if not the first) on the Manu road after the Manu sign. You could jump on a public bus heading from Cusco to the Amazon. I booked a private car from Cusco through the (ACA) Amazon Conservation Association, the same group that runs the lodge itself. 

Wildsumaco Lodge, Ecuador
I stayed here for 5 days in November of 2015.
Like most of the lodges in Ecuador, this is well set up, comfortable and good value. The lodge has a great position, and the biodiversity reflects this. It is in a high altitude rainforest, with the surrounding slopes leading down to the Amazon. There is a nice central lounge, dining area. The porch just outside this has great views of the valley, and this is where you will see a lot of the bird and insect life. As with most lodges in the Ecuadorian cloud rainforest, there are hummingbird feeders, and these allow good views and photographic opportunities for a number of different species. The food here is excellent and well presented 'rainforest gourmet'. They generally try to set up a nice ambience. And this particular lodge seems to have the best hot showers in Ecuador!
There is quite a network of trails here. Most leave at various points from the road outside, which means also good birding on the way. There is a map available at the bar in the lodge. Because of the diversity of altitudes, habitats and trails exploring them, there are lots of plants and animals to be seen here.
If you go on night walks, which I encourage anyone to do in any rainforest, you should several frogs, insects, and spiders. In fact, this was one of the best places in South America to find large spiders, such as tarantulas. But you don't have to go far to see nightlife. As usual, some of the best stuff hangs around the lodge. At night, the hummingbird feeders supply food for tiny and very fast bats. They are very difficult to get photographs of, as they are even faster than hummingbirds! When the lights are left on in the dining room during dinner, many insects are attracted to the windows along the main verandah. The result is a stunning range of colourful and often large moths and other insects.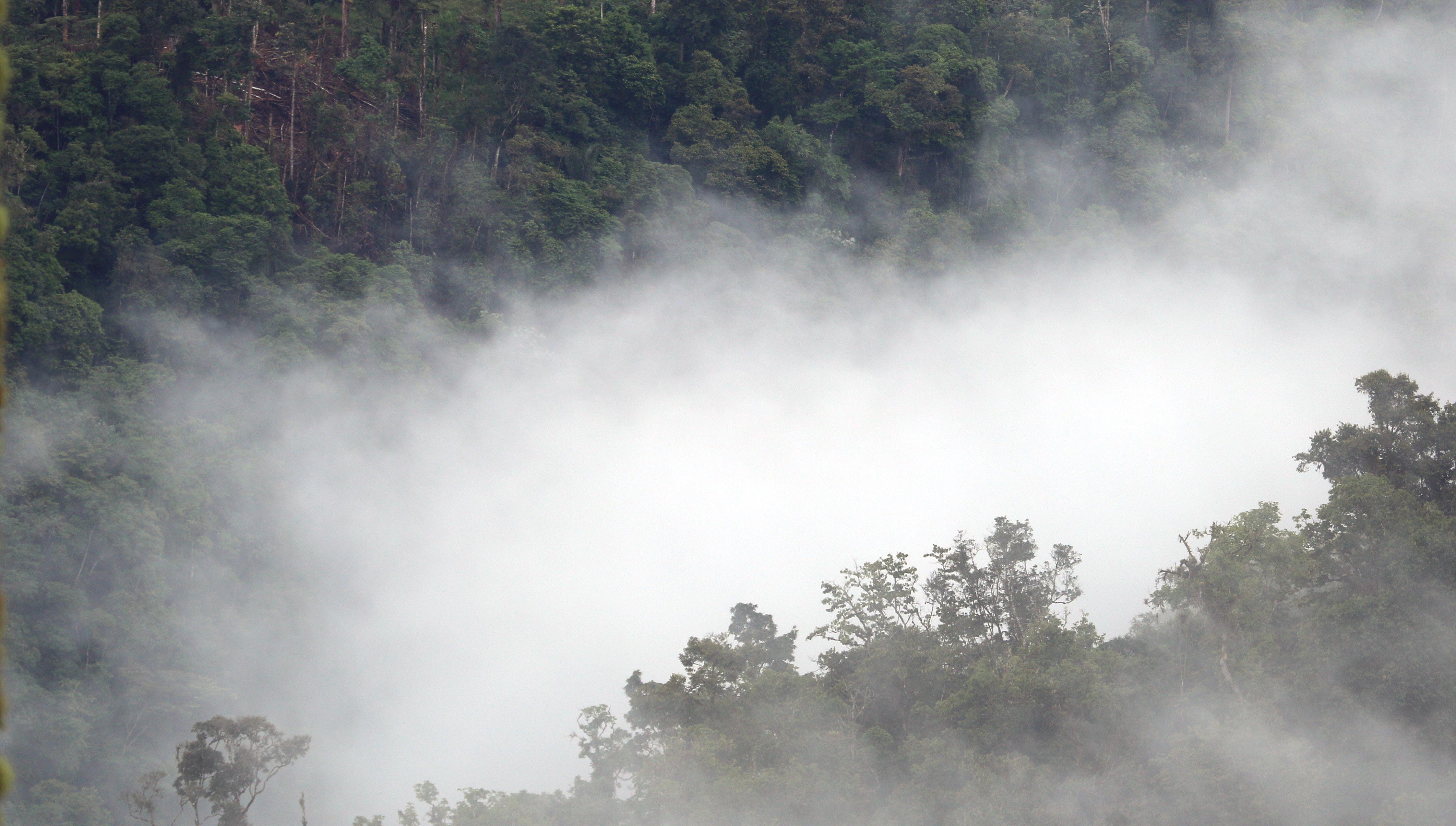 View from Wildsumaco Lodge (Ecuador)
Yarina Lodge, the Amazon, Ecuador
A beautiful (and cheaper!) Amazon lodge. I stayed at this lodge for 5 days in November 2015.
As with most lodges in the Amazon, regardless of the country, when you stay in accommodation in the region, it is part of a package. This means you are with a guide who determines the type and timing of activity. However, if you are lucky enough to have a small group you can influence your itinerary somewhat. And at Yarina you can always dip out and spend some time by yourself birding around the lodge or canoeing. 
Yarina Eco Lodge is one of the cheaper lodges in the Amazon. However, it has great cabins, hot showers and filling meals. There is currently no internet, although you can sometimes get range on a mobile phone on the surrounding hills. Electricity is limited too; usually the generator runs between 6pm and 10'ish. There are no driers for clothes, so drying in the sun is the usual challenge for muddy clothes. Also, be careful of the water. I was a ill after a day or two, and it might have been washing my teeth with the tap water.  
The lodge is accessed via Coca. Most people these days book their Amazonian Lodge & Tour packages in Quito (or even overseas before they arrive) and a return plane transfer between Quito and Coca is included. The flight is very short but very scenic, providing great views over the Andes, the jungle foothills, ridges and valleys, and the Amazon. 
Although wildlife is hard to see, it is out there. The longer you are there and the more you walk and canoe around, the more likely you are to see animals. The guides here are usually good at spotting the elusive stuff, particularly tarantula holes, and identifying plants. Of course different guides have different skills; some may be good spotters, while others will know all the specific species beyond just "a toucan'.
There are several mammals here. There used to be tapir at the lodge, that were being looked after, but it has been released into the wild.  There is often a Black Agouti that comes onto the grounds to be fed. The most primate common is the Common Squirrel Monkey. Other primates include Titi Monkey.
In terms of birds, there are several that hang around the lodge grounds. To see other birds, the best places are the wetlands; the one with cement walkways behind the lodge, and another just down the creek, accessible by boat. In the latter wetland you can usually easily see the unique Hoatzin. Along the main river Napo along open areas you may spot the Limpkin. the Yellow-tufted Woodpecker. the kingfisher-like (white-eared) Jacamar.
Reptiles are generally harder to see. There are often some lizards around the lodge by day. There are other occasional species in the rainforest if you keep looking long enough. Night is when you can see some very interesting creatures in the rainforest. It is worth going out at least once with your guide, and then try to head out every night after that. You will see different things every time. You can also canoe at night. I didn't see a lot on the creek at night, but the highlight was a snake.
At night many species of frog can be found. During the day, your guide might be lucky enough to find poison arrow frog.
Night is also good for spotting many varied creepy-crawlies. There are always a few species of spiders and other arachnids.  One night, we got very lucky with several types of whip-scorpions.
Of course, being located in lowland tropical rainforest, the most diverse habitat for plant species, means there are lots of interesting flowers, fruits and plants to be seen. Some of the guides will know these well, even recognising scientific names so you can identify them or relate them later on. Others will only know the common name and maybe a local use.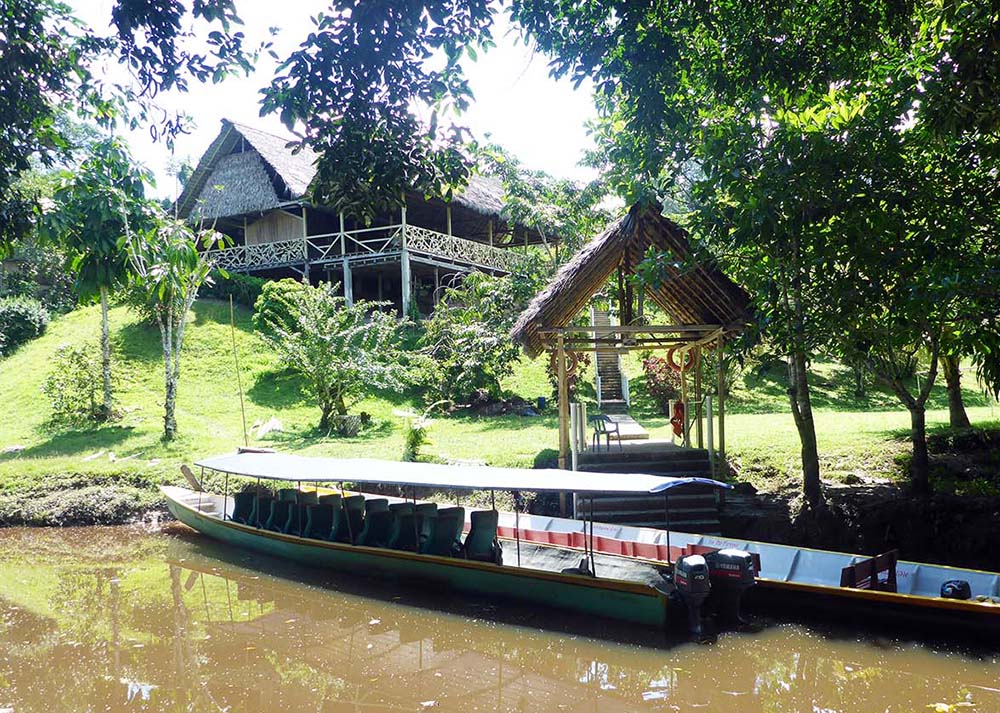 Yarina Lodge, the Amazon, Ecuador
Updates
Well it looks like my first trip after the virus now might be as an Expedition leader in Tasmania with Coral Expeditions
. If you can't go travelling until everything settles down, then until then, here I am doing online
guided walks for Noble Caledonia and online lectures for Silversea.
---
---