Bonaventure Island


Canada

A place to walk next to a huge breeding colony of Northern Gannets...
the area
The Island of Bonaventure is located in the Gulf of Saint Lawrence in northern Canada, opposite the town of Perce and the scenic arch. To visit the colony you need to take a boat from the jetty at the village of Perce to Bonaventure Island. You then need to do a walk of about an hour along a track. Along the way, there are trees, flowers, fruits and birds to look at. The track ends at a large colony of Northern Gannets on the other side of the island.

Of the three Gannet species that live in temperate seas around the world (Australasian Gannet, Cape Gannet and Northern Gannet), these are the largest. They are distributed mostly in the Atlantic, and are not currently breeding in the North Pacific, nor do they occur further north in the Arctic as the summer is too short for the 26 - 30 weeks needed to mate, nest and bring up young.
This is not the largest colony of Northern Gannets, but it is large and busy. There were some 60,000 pairs in 2009 and 51,700 pairs in 2011 in the breeding colony. There are railings and rope that separate you just a few feet from the birds.  This allows easy photography and observing of varied behaviours. During the summer months, you can see adults displaying, mating, building nests, protecting eggs, feeding chicks and taking off and landing. At the colony it is easy to see males and females touching bills, this movement is performed when mated pairs greet each other. A bit like those weird cheek kisses French people do every morning.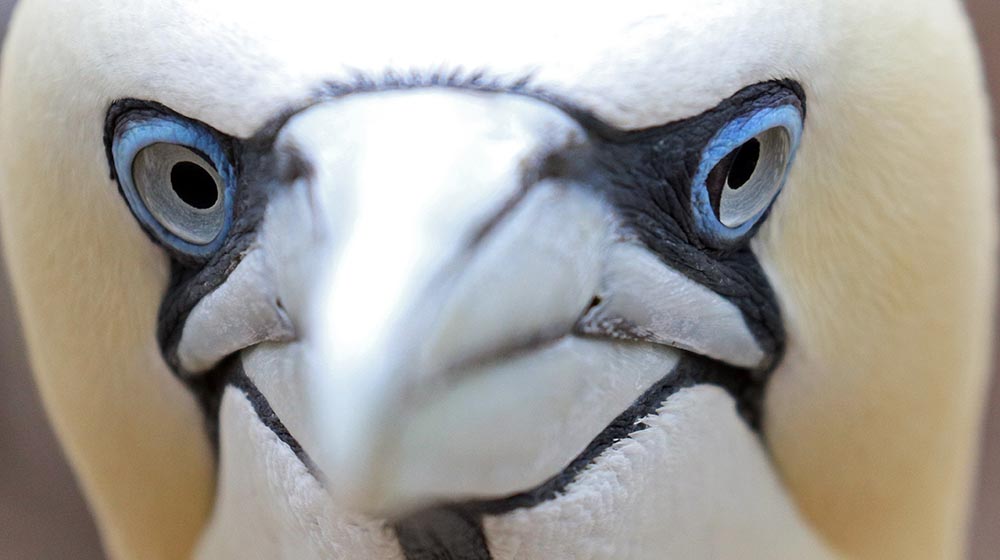 Search this website and google:

---