Masoala
Madagascar
The wettest and most diverse place in Madagascar.
personal experience
I visited a few different spots around the Masoala peninsula several times in late 2018, on Silver Discoverer. 
Common Leaf-tailed Gecko, Damon Ramsey
overview
Many of the other 'rainforest' sites in Madagascar, such as Andasibe,  are slightly drier seasonal forests, but this area is covered in very wet dense rainforest. This is beautiful jungle and a good place to hunt down several of Madagascar's endemics.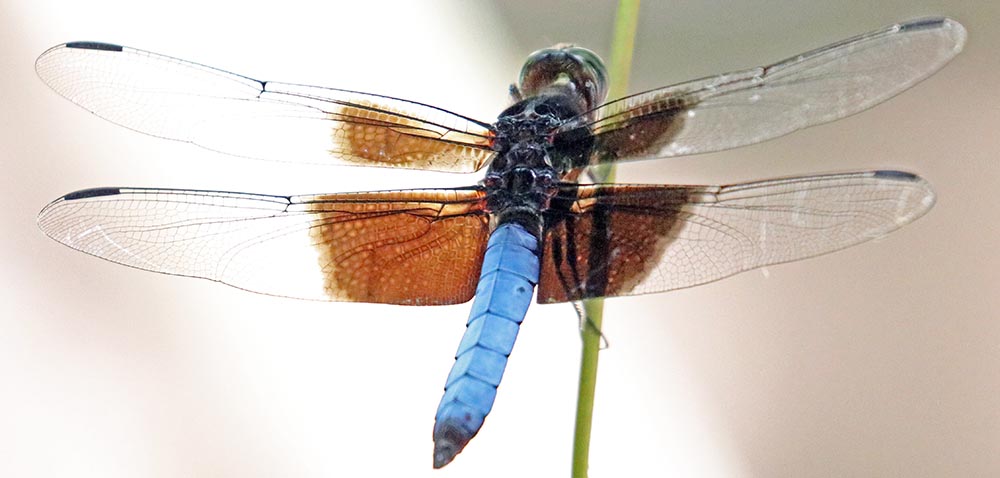 Dragonfly
general geography
The Masoala peninsula includes several different protected areas, including Nosy Mangabe Island reserve, and marine reserves such as Tampolo. Collectively, this is the largest protected area in Madagascar. The Masoala National Park itself is some 2,300 square kilometres, with another 200 kilometres in marine parks.
Callophyllum Tree leaning right over the sea
Being located in the north-east, this area is also the wettest part of Madagascar, with rainfall of some 5 - 6 meters a year. The least wet time of the year is the end of the dry up to Christmas, but this is relative, so expect to get rain at any time of the year.
Pond Skaters are common on the surfaces of small creeks in the rainforest
The Masoala peninsula is the largest area of remaining lowland tropical rainforest in Madagascar. It is also thought to have the highest diversity of species in the country. Some surveys suggest that despite being only about 2% of the country, it holds some some 50% of it's biodiversity.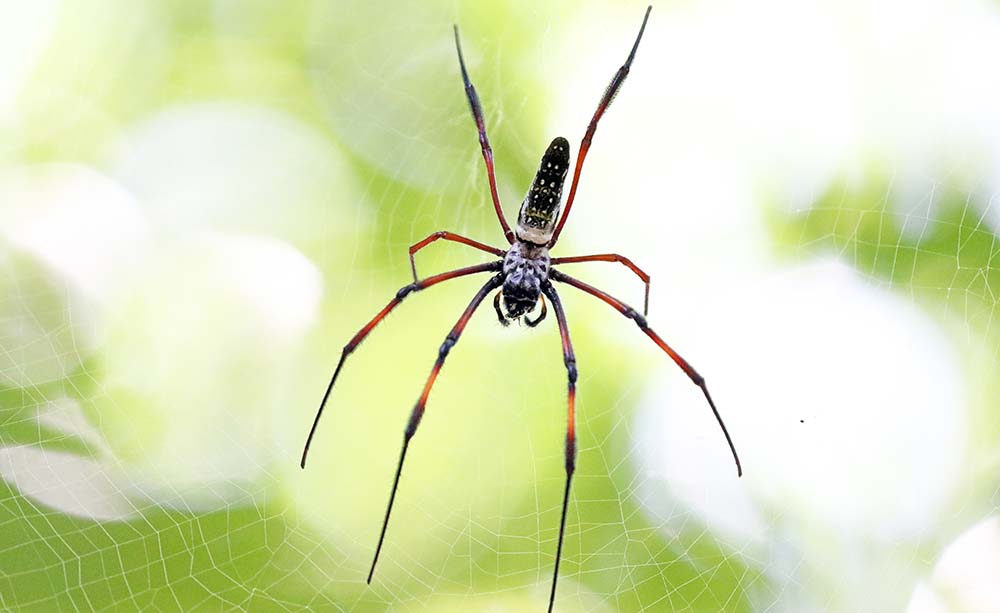 Lemurs
The area is known for several distinct species.
There are some ten species of lemur that could be seen here, including Aye-Aye. More commonly seen are the Red-ruffed lemur, and on Nosy Mangabey, Black and White Ruffed Lemur and White-fronted Brown Lemurs.
BIrds
There are several species of birds that are best seen here, including the ubiquitous Madagascar Paradise Flycatcher.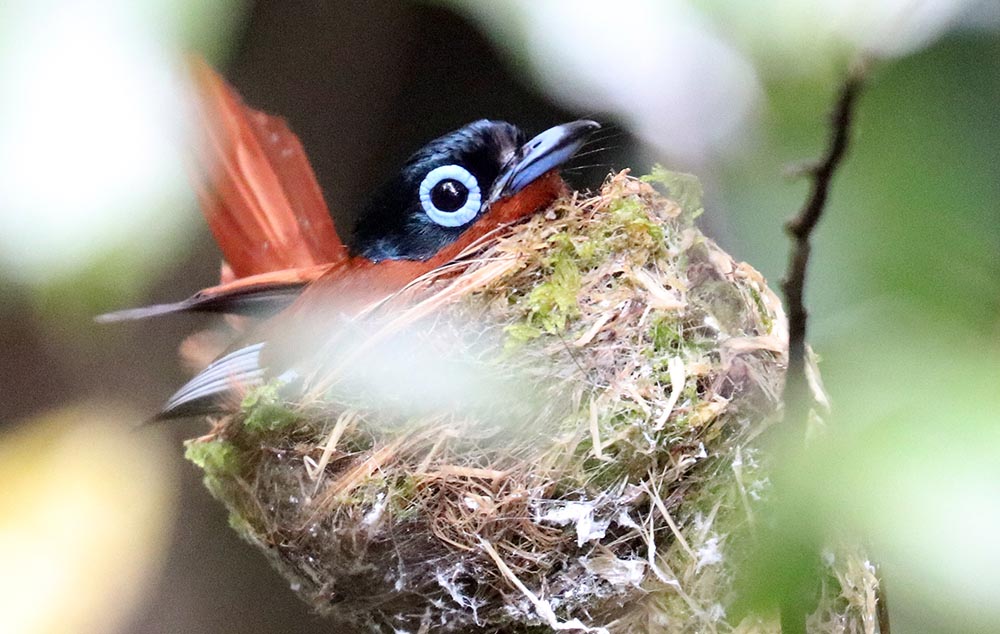 Along the coast is the Madagascan Pratincole. 
It is also known as one of the best places to see Helmet Vanga.
Reptiles
Being Madagascar, there are always reptiles to be found. 

Plated Lizards scuttle loudly in the leaf litter of the forest floor
And as with most sites in this country, Chameleons are always lurking about, keeping at least one eye on  you...
This is also the place to several species of 'Leaf' of 'Micro Chameleons', among the smallest reptiles in the world. By day, they forage in amongst the leaf litter. However, they are so small and cryptic, you will need a local guide to find them!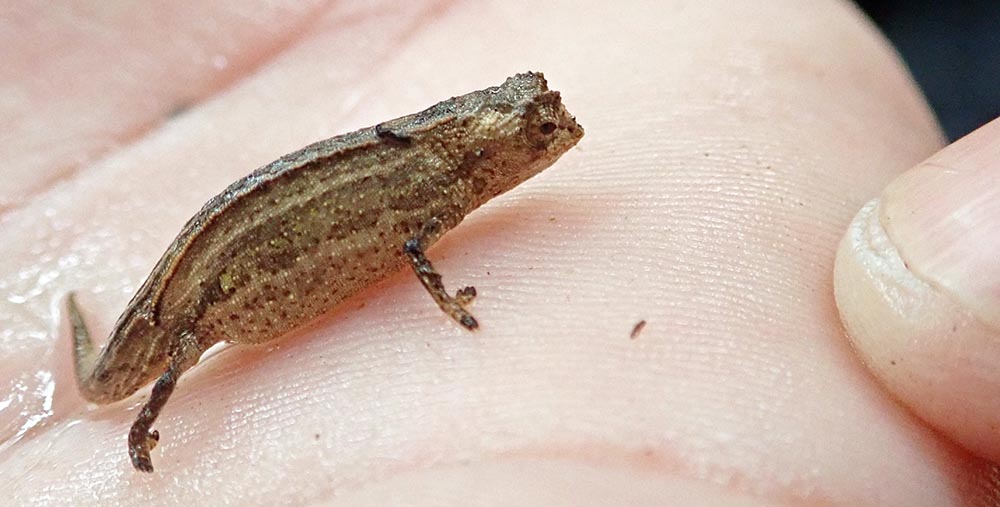 Other reptiles include the huge 'Common Leaf-tailed Geckos'. These animals are usually seen pressed flat against a tree trunk with their head down. There are at least four types of very large leaf tailed Geckos in different habitats in different parts of Madagascar. This species is Uroplatus fimbriatus.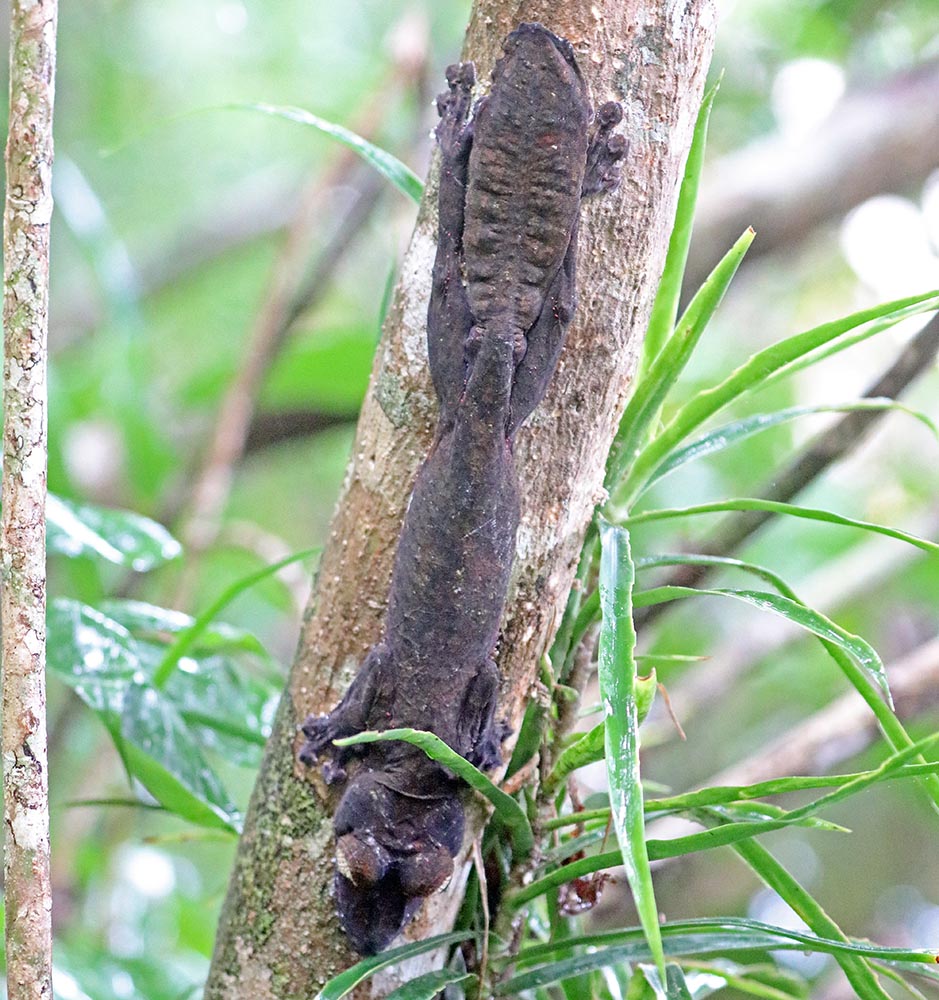 Common Leaf-tailed Gecko.
access
This area is quite hard to access. There are a few small accommodations in and around the park, and these are very basic. At the other end of the spectrum there are also some very expensive lodge options. However, the park is difficult to get to.
the rainforest
The area is dominated by steep hills covered in rainforest, which grows right down to the sea. There are various trails that can be explored (always with a guide in the national parks in Madagascar). In the forest, there are many insects, flowers and fruits to be photographed.  
Ficus with the largest clumps of fruit growing on trunks I have ever seen. I still have not identified the species.
Nosy Mangabe
Nosy Mangabe is an island located off the coast of Masoala, and it includes several trails. One longer trail goes to a beach called Plage des Hollandais with rock inscriptions left by Dutch sailors during the 16th century (I did not get there). Another walk climbs up into hills to the local tombs; I did this walk with a group and it takes about half an hour to get to the top.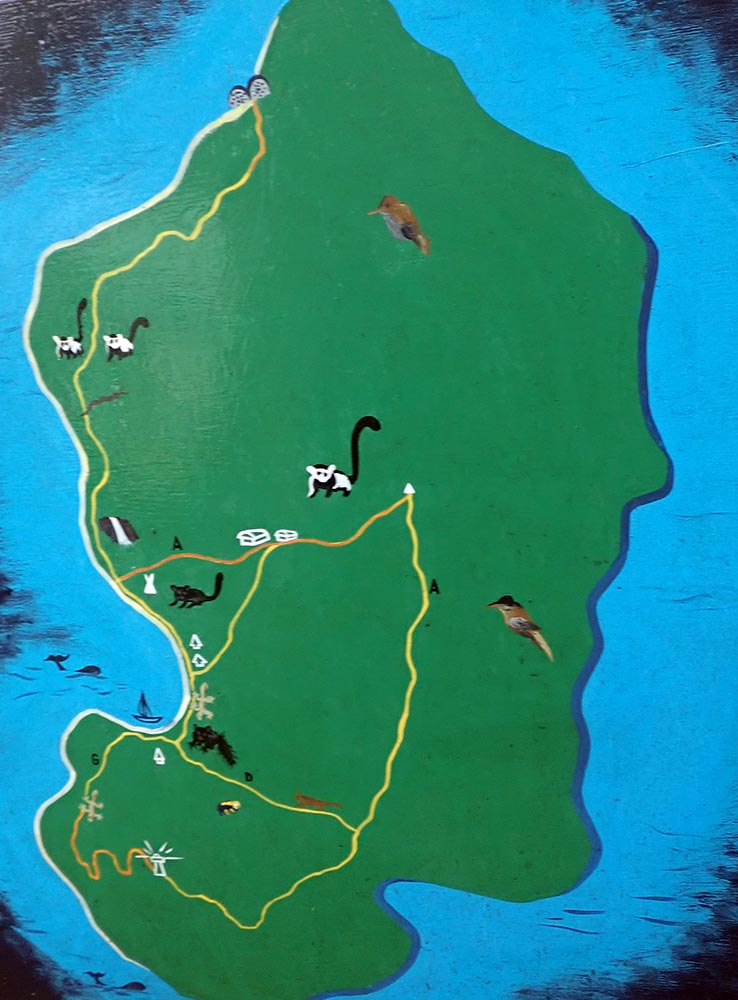 Search this website and google:

---