Taman Negara (National Park)
Malaysia.
A huge park full of pristine tropical rainforest....
personal experience
I have visited and travelled this park about 5 times in the last 15 years. I went most recently in 2009 to photograph plants and animals for an upcoming book in the Ecosystem Guide series on the "Tropical Rainforest of South-east Asia". This is one of my favourite spots in tropical Asia, due to the combination of beautiful and wild rainforest, but with easy access, cheap and handy accommodation, and good trails. I love it.
background
Taman Negara is over 4000 square kilometres in size, making it by far the largest national park in peninsular Malaysia. It was originally set up as a game reserve in 1925. Then in 1939 it was established as a national park, the King George V Park. After Malaysia gained its independence, it was renamed Taman Negara, which literally means Park National in Bahasa.

activities
Activities include the canopy walk. However, as with most canopy walks, times are restricted to the daytime hours.
the rainforest canopy walk, Taman Negara (Damon Ramsey)
There is lots of beautiful fairly pristine rainforest. Much of it is very tall forest and obviously hasn't been logged for some time. There is lots of wildlife, but it is often subtle and hard to see, but it is there. You have a better chance seeing animals if you spend time in the hides, but there are some good birds and other animals around the HQ and hotel grounds.
long-tailed macaques are common around the open areas and will steal your food and shit all over your sleeping bag if you are not careful. That happened to...errrr...a friend of mine.(Damon Ramsey).
wildlife...
Many regular backpackers come here expecting to see tigers and elephants, but that is just not going to happen.  I've seen elephant and tiger tracks near caves a couple of days hike away from the centre, although that was a fair number of years ago. There could be less wildlife around the lodge over the years...?

getting there
Half the fun is getting there.
First you generally leave from the Malaysian capital of Kuala Lumpur (KL) or neighbouring city/country Singapore by road or train (the train connections are fun, but tend to arrive at awkard hours, requiring an overnight stay at Jerantut). These days you can get a bus from KL all the way to Kuala Tahan, on the river just opposite the entrance, but the better way is to get to Kuala Tembeling and from there travel up river on one of the boats.
There is a seat on the floor for two with a mat, and you can stretch your legs out somewhat and enjoy the beautiful ride for a few hours. Many regular tourists fall asleep, but this is a great journey, where you can sometimes see water buffalo, monitors, kingfishers and birds of prey, and get great shots of the edge of the tropical rainforest.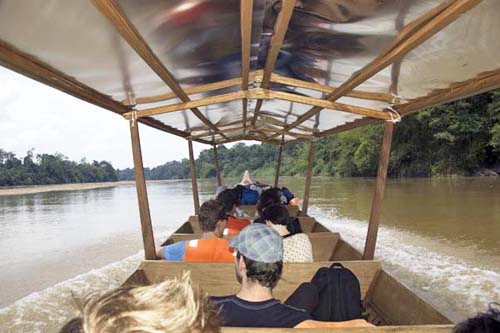 getting there... (Damon Ramsey)
accommodation
Over the last few decades development has been sneaking closer and closer to the park, and there is now a small town and accommodation right at the parks border, on the non-park side of the river. This is good and bad.  Bad in that there is pressure directly on the park, but good as it allows easy access for the tourist and offers very cheap good accommodation right there.
The accommodation at the HQ is an expensive resort. They do have bunk beds in hostel accommodation; this is also expensive, but at least it gets you into the park, without having to try to cross the river at dawn. There are also camping sites, but you need your own tent. 

Search this website and google:

---