Bwindi Impenetrable National Park
Uganda
Bwindi Impenetrable National Park is a beautiful protected area of tropical African rainforest most famous for it's mountain gorilla tracking...
Personal experience
I explored the national park over three days in November 2019.
the National Park
This national park is about 320 square kilometres in size. Part of the border is alongside the Democratic Republic of Congo
the Rainforest
The rainforest here is beautiful. It includes some of the most accessible high altitude rainforest in Uganda, perhaps Africa. A main road passes through the park and offers great views. You have to pass through gates to drive along the road, so access is restricted for the usual Ugandan traffic of big slow trucks, zooming motorbikes, screaming kids and yelling men.  
Places to stay
There are various places to stay at in the national park, including on the edge of it, and a little further away. I stayed at three different lodges at various distances. 
Some people stay at Lake Mutanda. I stayed here, but it is about a hour drive from the park. 
I stayed at another Lodge called Gorilla Valley Lodge, right on the edge of the park.
My favourite place was Broadbill Forest Camp. This is quite a cheap lodge, and gives the best access to the higher altitude rainforest.
Mammals
A drive or walk along the main road should reward you with views of a few mammal species...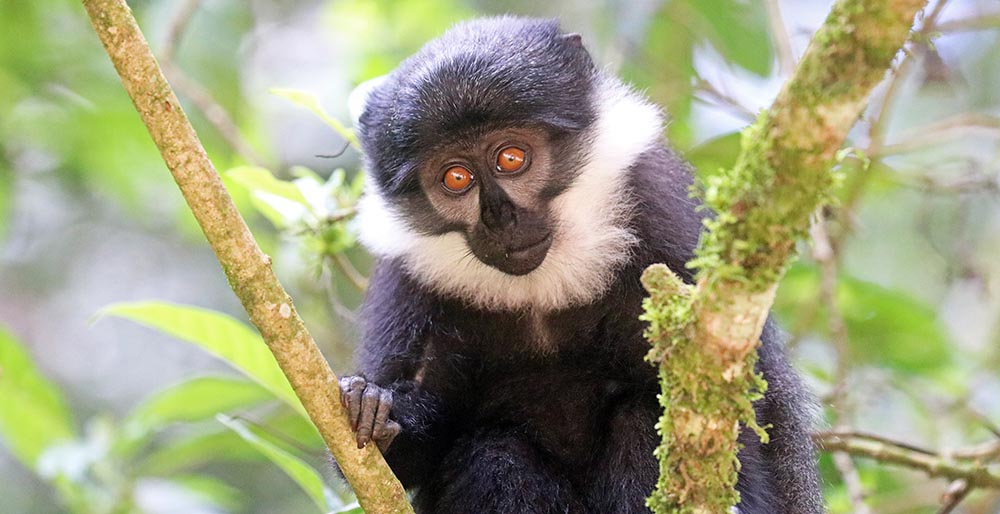 L'Hoest's Monkey (image by Damon Ramsey)
Birds
There is good rainforest birding along the main road. Unfortunately my lens was starting to die on this day, so I did not get as many photographs as I should have. 
Other activities
Of course the most famous thing about Bwindi and the reason most people visit, is to track the Mountain Gorillas.
Search this website and google:

---