Cairns Tropical Zoo




Australia
Personal experience
I used to go there with the occasional tour or student group.
Background
This place used to be called "Wild World", and when I first went there I remember the performing cockatoos riding a little scooter! Of course that is not the done thing now, so these days they still have performing animals, but they are based much more on natural behaviours, including crocodile and bird-of-prey feeding.
Cairns Tropical Zoo is located on the Captain Cook highway at Palm Cove. There are several local 'sun buses' that go past there, however, this service can be a bit unreliable. It is about a half hour drive north of Cairns city centre if you are thinking of a taxi. There are some tours that include it. Best of all, hire a car and enjoy the drive and other features of the area.
Nature and wildlife experience
It is quite a small zoo. Most regular tourists and families will probably work their way through in half a day, but you also need to allow time for the shows.
The entry ticket allows you re-entry for the next few days. If you are local Cairns resident, don't forget to ask for your locals discount, but bring your I.D. If you are a photographer or naturalist of course you will spend some more time here, and may want to use the multi-day option.
There are the usual larger tropical australian captive animals, such as crocodile, cassowary, dingo. There is a reptile house with quite a few species of local snakes and lizards.
As with many zoos these days, one of the best things is the availability for close proximity to certain animals, such as the frogmouth...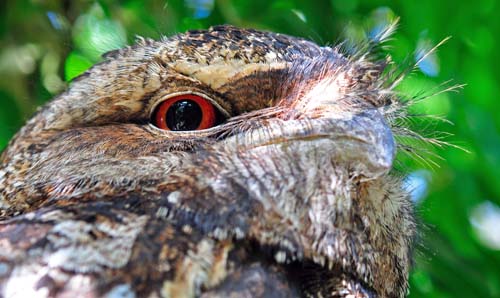 Frogmouth, Cairns Tropical Zoo
You can also buy bags of pellets and hand feed the kangaroos. There are also a number of koalas here that can be held and photographed, for an extra charge.
Another great thing about parks like this are that they are set in natural surroundings, so there is always plenty of free ranging animals from the local bush and forest. For example, the cafe is a great little spot, and there might be kingfishers, turtles and water dragons around you.
Search this website and google:

---