Mesilau
Sabah, Borneo, Malaysia.
A quiet and beautiful highland resort, with stunning highland rainforest and birds. This is the place to see the world's largest pitcher plant.
personal experience
I visited and stayed here for three days some time around 2014'ish.
access
About 45 minutes drive from Mt. Kinabalu HQ is another resort on the edge of the park, called Mesilau. If you get there with a taxi from Kinabalu HQ it will cost about 85 ringitt or $30, although you can do it much cheaper by getting a bus to the closest town Ranau, then a taxi from there. However, bear in mind that Mesilau is off the main road, and in a pretty quiet area. Once you are out there, there is only a small shop for supplies (not much) and one restaurant, but that sense of isolation is pretty nice. The restaurant, while expensive by Malaysian standards, I thought was good value because of it's beautiful view. When I was there the resort was empty, it was just great. I suspect it doesn't get that busy, except maybe with the occasional corporate or educational group . It also does offer an alternative way up the mountain; a much longer and tougher one for the crazy people..
accommodation
The accommodation is again, like the National Park accommodation centres at Kinabalu HQ and Poring, very expensive. Unlike those other two areas, because this centre is well off the main road, there are no other directly nearby options. But staying right here is a magical, quiet place. It is located at about 1900 metres, so it is much higher than even Kinabalu HQ.
Tree Fern, at high altitude Malaysian Borneo (Damon Ramsey)
Walks
One of the reasons this spot is not as popular as Kinabalu HQ is because there are fewer possibilities for walks. There are two main walks, one has to be with a guide (to see several species of pitcher plants, including the largest one). The other walk goes through the forest, across the creek, and ends out at the restaurant. Like HQ (and most rainforest areas), you will tend to find more birds around the main area, such as around the various lodges.
Birding...
I didn't find the birding that great: you can see everything here, and much more, at Kinabalu HQ. There were certainly calls in the morning, and I saw the most obvious birds, such as the endemic Borneon Singing Thrush, (a black bird which bounces around underneath the buildings)...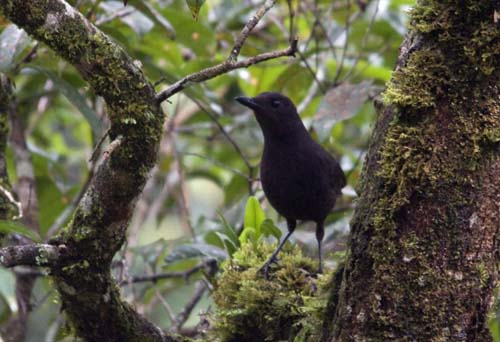 ...Indigo Flycatchers, White throated Fantails, and flocks of Chestnut-headed Laughing-thrushes...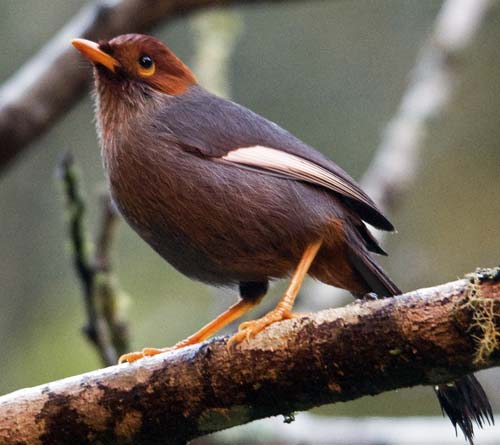 Chestnut-headed Laughing-thrush (Damon Ramsey)
plants
It is perhaps the unique and pretty montane vegetation communities and endemic plant species you come here for. You can see some of the kinds of plants that you could only otherwise see clmbing Mt. Kinabalu; but here, you can take your time and get some photographs.
This is the best place to see the Nepenthes rajah in its natural habitat, the largest pitcher plant in the world. You need to have a guide and they take you there, and it is only a twenty minute walk until you start seeing some of them.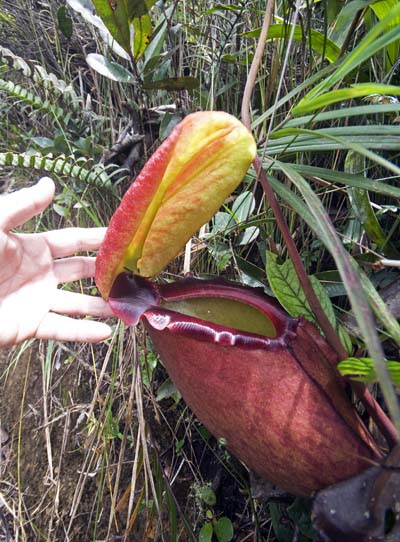 Search this website and google:

---