search google and this website:
Villa Carmen Lodge,
Manu Reserve, Peru
Another incredible Peruvian rainforest lodge...
personal experience
I stayed here for 4 days in late 2017. 
the lodge 
This lodge is one of three run by the Amazon Conservation Association. The other two are Waychega and Los Amigos, the former of which I visited. As with the other station, the service and food here is great.
There are single rooms with bathrooms, and also dorm rooms. The former are obviously quite a bit more expensive than shared accommodation, but the rooms are large and beautiful.
As of 2017, there were 6 rooms. They are large and nicely designed. One wall is a screen, allowing views out to the forest and a swampy area. You won't relax in your room for long as you will probably see some small birds flitting outside your room. If you try to take a photograph through  the screen it will be out of focus, so you will be constantly scurrying out to get shots.
The car park is located at the student and administration area. At the lab there is Wifi, but it is very limited.
As usual with the lodges in Peru, the food is excellent, being healthy, fresh, and always a rotating variety. This place had particularly good juices. Coffee and potable water is available most times.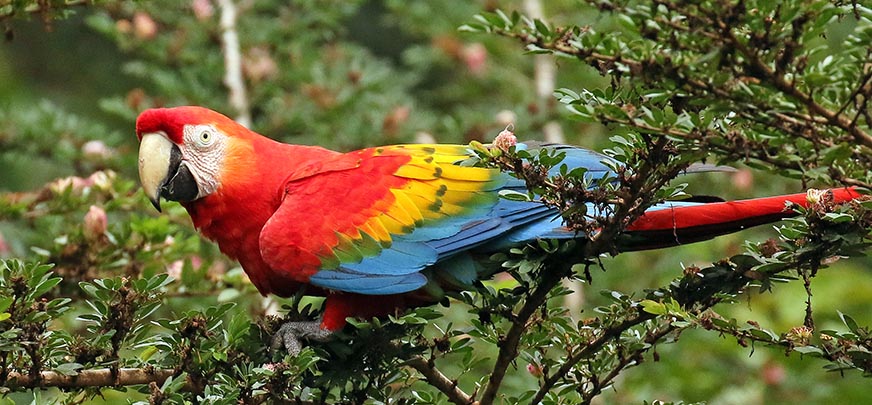 Scarlet Macaw
tracks
There is a very large range of tracks (over 25 miles according to the website).
The trails I enjoyed the most were a series of shorter ones going from the lodge and to the main river behind the lodge.
The trails are well signposted with numbers. You can get a map at the office near the students dormitory. At first, it is difficult to find where the tracks begin, so I started on track six (trocha 6), and connected with other tracks and returned to the lodge to see where they started. Many begin behind the student accommodation and sports field.
Some of the longer tracks that go slightly longer or further away are not well maintained, with many bamboo falls, meaning you have to clamber or crawl for a few metres. This can be annoying if it is wet or there are spike bamboos present.
Across the river is where the best developed rainforest is located. There are very long and arduous trails that go through the rainforest. I did not bother going far, as the birding was easier on the shorter tracks around the lodge. For the keener birder with target rainforest species or keen hikers, there may be good reasons to explore the rainforest. (You can order boxed lunch in advance from the restaurant for this).
However it was worth visiting the other side of the river just for a short tine, as to get across the river, you have to use an interesting contraption. This is a small wooden cart, with seats, hanging off a pulley. The passengers pull the structure across themselves. It is an interesting experience when by one self. Be careful to not let the car going flying off or knock you into the river. You get great if slightly hair-raising views from the crate.
nature & wildlife 
There is a wide range of habitats within just a few hundred metres around the lodge.
Just down from the restaurant are a series of lakes with lots of noisy wildlife. At the lodge, and on the trails, there are lakes, gardens, secondary rainforest, bamboo forest, grassland, small creeks, and large rivers. This means there is a also a good range of wildlife here, particularly birds and amphibians.
Around the lodge there are fruit feeding stations and nectar hummingbird hangers. When I was there the latter were not being filled up (as I was the only tourist there for most of my time). They probably get filled when there are groups here.
The fruit didn't seem to attract a lot while I was there. The most spectacular visitors included a couple of Macaws. Their constant presence and behaviour suggested they were rescued animals that had been human raised at some point.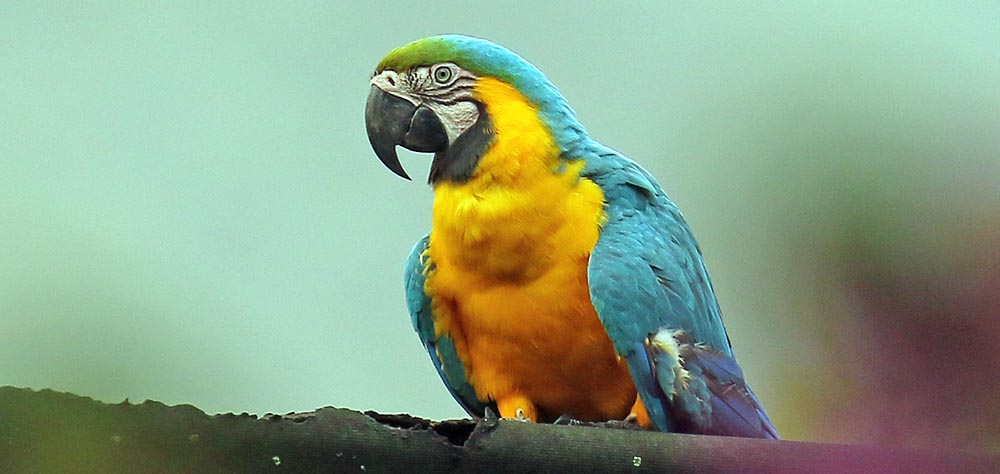 Blue and Yellow Macaw
Around the accommodation there were some good birds. I found some of the best birding on the small semi-forest and gardens section between the restaurant and the accommodation...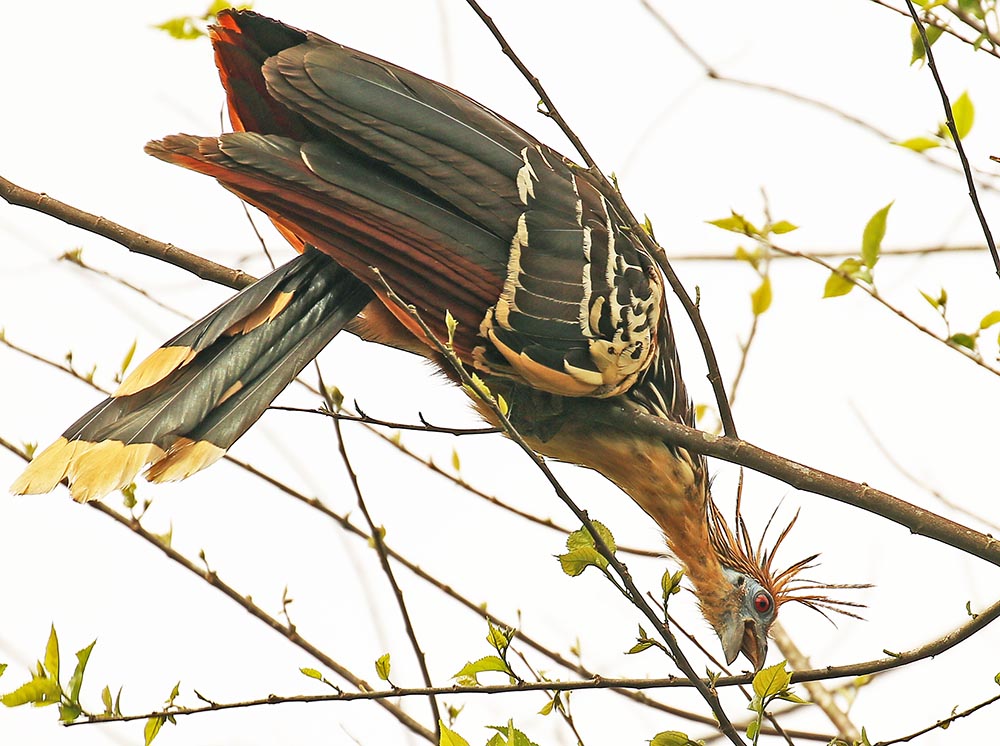 the leaf-eating Hoatzin
I didn't do too much spotlighting here, but I think it would be rewarding for small stuff, like moths and frogs. In my one hour on one night of spotlighting I saw several species of these animals.
There are often frogs in the cabin and sometimes even in the toilet bowl!
access and cost
This lodge is part of the Amazon Conservation Association (ACA). They manage three lodges. I stayed here and at Waychega. I wish I had enough time to stay at Los Amigos, but this is much further down the river and takes time to get to and back.
In 2017, the cost is roughly U$200 a night, including all meals.  
This is one of a number of lodges on the Manu road from Cusco in the Andes down to the Amazon. In theory you could get a public bus from Cusco to Pillcopata. 
Or you can hire your own transport in Cusco, or you can ask for the ACA to arrange it for you. A private car will take about 7 - 8 hours to get to Villa Carmen.
Updates
Well it looks like my first trip after the virus will be the Great Barrier Reef (where I started!) with Coral Expeditions.....I hope. If you can't go travelling until everything settles down, then until then, here I am doing online
guided walks for Noble Caledonia and online lectures for Silversea.
---
---