Ashmore Reef
Australia
The remote Ashmore Reef is right on the edge of Australia's maritime territory near Indonesia and is home to thousands of breeding seabirds...
personal experience
I have been visiting this reef since mid 2022 on expedition ships. As of the end of 2023 season, I have been here about ten times.

the flat coral cay islands of ashmore
Ashmore
Ashmore is located off north-western Australia in the Timor Sea. It is closer to Indonesia than Australia, being about 100 kilometres south of Rote, and 600 kilometres north of Broome.
The total area is about 580 square kilometres.  It is made up of four sand coral cay islands. These islands include: Splittgerber, East, Middle, and West. The latter island is where expedition ships are allowed to visit the northern beach to see bird breeding colonies. The rest of the island and reef area is off limits.
The territory was declared a nature reserve in 1983. It is part of the "North-west Marine Parks Network", which includes another dozen protected areas, including marine areas of the Kimberley coast, Eighty Mile beach, Montebello islands, Ningaloo, and Shark Bay.
Fisherman from the area known as the Dutch East Indies, and what is now included in the country of Indonesia, have been visiting the area for the last 400 years. Given this history, and the closer proximity to Indonesia than Australia, Ashmore is within a 50,000 square kilometre area in the Timor Sea known as the MOU (Memorandum of Understanding) Box 1974, that allows traditional Indonesian fishing. The catch usually includes Trochus (Top Shells), abalone, sponges, and trepang. The latter are Sea Cucumbers, and Ashmore has 45 recorded species. Their collection and drying along the northern Austalian coast, result in them being considered Australia's very first industry. As Ashmore Reef is one of the first stops for fisherman from Indonesia, it is patrolled by Border Force, Australia's border security agency. They always have at least one boat stationed out there.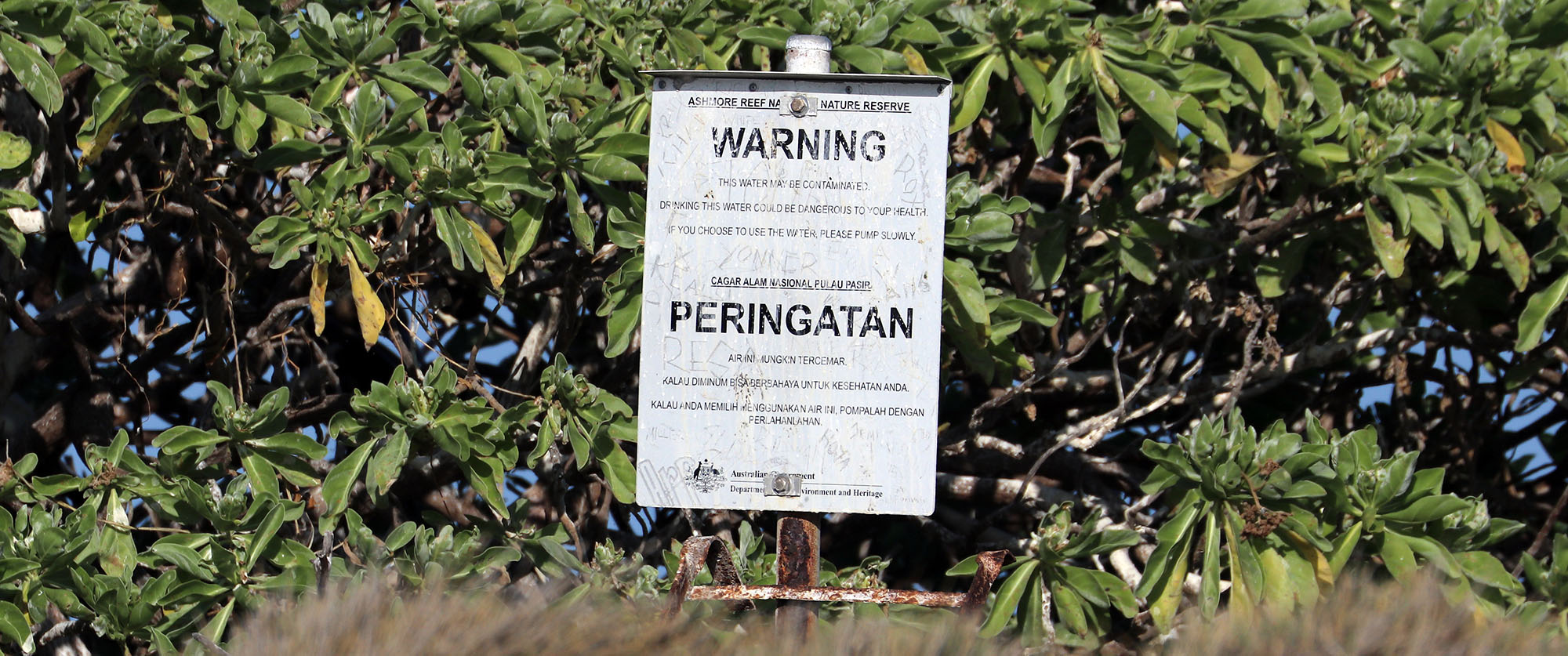 sign in English and Bahasa warning visitors about not drinking the water
the marine habitats including coral reefs
Ashmore includes deeper water, large bare sandy areas, sea grass meadows, and coral reefs.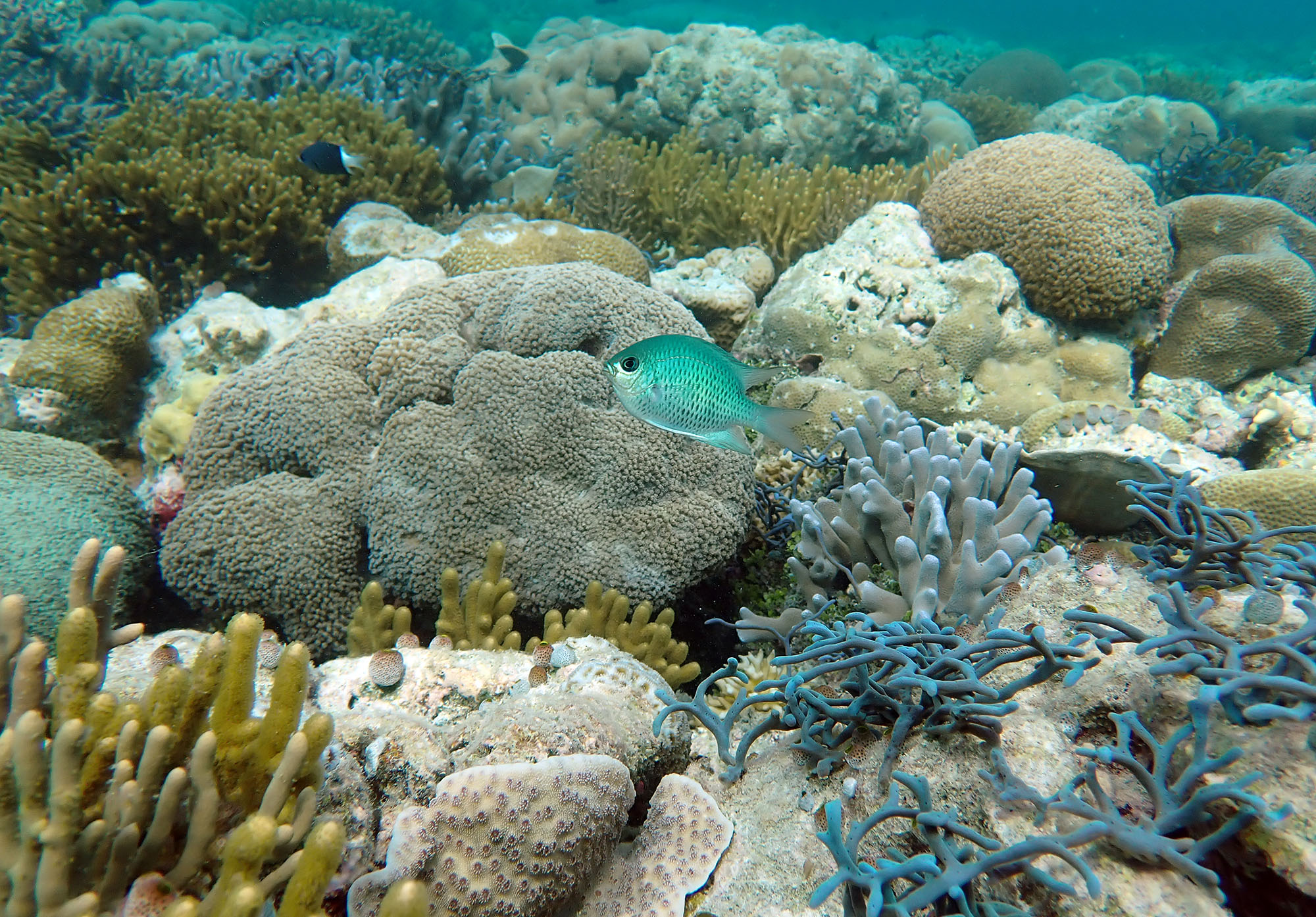 the coral reef at Ashmore (image by Damon Ramsey)
The area used to be famous for it's diversity and abundance of sea snakes, with 14 species recorded, but this appears to no longer be the case. These days, you may not see sea snakes around Ashmore, however, you have a good chance of seeing sea snakes on the open ocean as you cross from Australia to get there.
Along the larger areas of open sand lagoon, there are patches of coral reefs. Commercial recreational snorkelling is limited to certain areas. The coral reefs I have visited appear healthy, with lots of colour and fish. The fish include some larger species that would be fished out in other areas near human populations.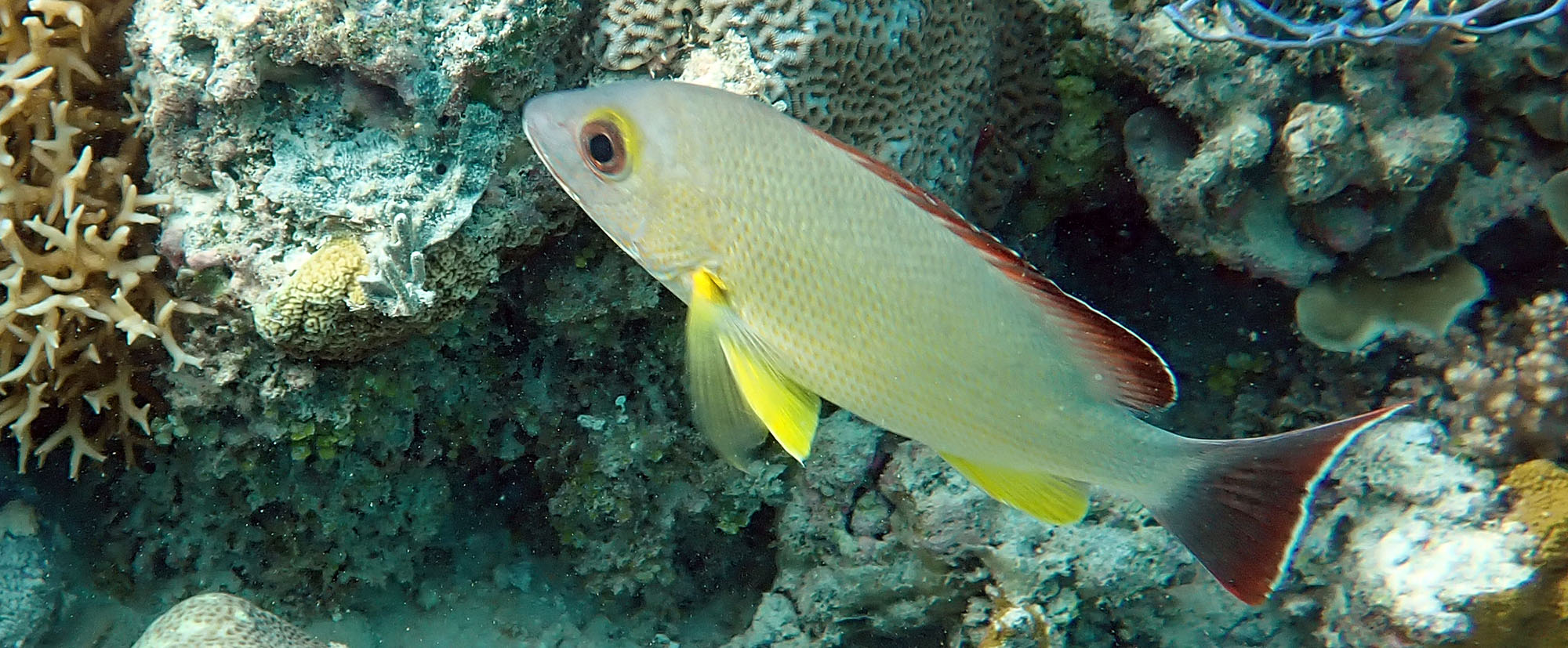 Black-tailed Snapper
Striped Sweetlips (image by Damon Ramsey, Ashmore Reef)
Turtles appear common in the shallows, and there have been nesting tracks on the beach of West Island every time I have visited.
the birds
Like other remote sand cays on reefs off north-western Australia, such as the Lacepede and Adele islands, there are large colonies of breeding seabirds at Ashmore. It has been estimated there is up to 50,000 breeding pairs of a range of species. This abundance allows the watching of sea bird behaviour through the cycles of breeding; courting adults, nesting, young birds, and hunting. The bird species include: 

Common/Brown and Black/Lesser Noddies

Mother and young Lesser Frigatebird (image by Damon Ramsey, Ashmore Reef)
Sooty Terns - probably the most abundant species here
access
Ashmore Reef is right on the edge of Australia's maritime zone and therefore remote. Border Force are based here to keep watch. Therefore it is a difficult place to visit. However, several expedition ships currently visit the area during the dry season while doing their Kimberley season to fulfil cabotage requirements. While they are there, they usually make a zodiac cruise to the island. The anchorage and approach is restricted so the drive in can be long and due to the open ocean, it can be wet! You will usually get about half an hour cruising along the actual sand island where the birds nest; the area allowed is quite small, so this is plenty of time.
Search this website and google:

---