Horizontal Waterfalls
Kimberley coast, north-west Australia.

The "Horizontal Waterfalls" are one of the most famous places along the Kimberley coast.

personal experience...
I have visited these areas on 6 different ships since 2004, and continue to be sent to the area every 'dry' season. The 'horizontal horrors' is almost always included in ship itineraries.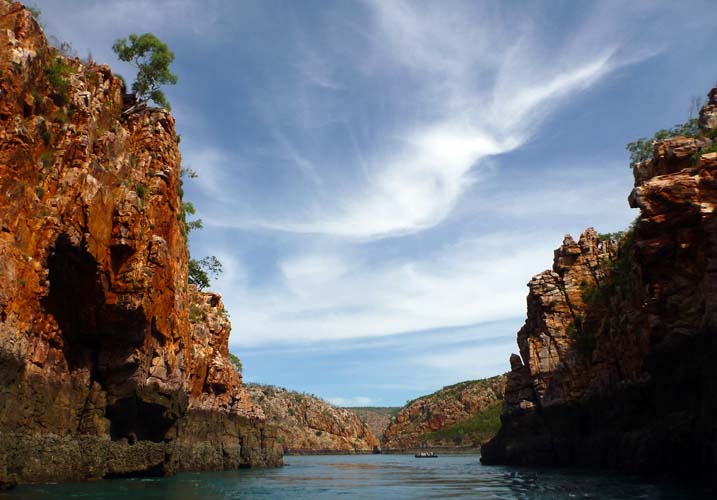 even when the flows are not fast, the gaps are still very scenic (Damon Ramsey)
the tides of the Horizontal Falls...
The coast of the Kimberley and the north-west of Australia has the highest tides on the continent.
In this region, the difference between low and high tide may be up to 10 metres. In many areas the water is funnelled through bays and channels to make for fast flows.
At Talbot Bay several arms of the McLarty Range separate basins. However, there are two gaps separating three basins, where the water is squeezed through in bigger tides to create rapids. The first 'outer', seaward or 'northern gap' is about 20 metres wide. About 300 metres past this is the second southerly more landward 'inner gap', which is only about 12 metres wide. When a large amount of water from the outside is being squeezed through a small gap, the water in the emptying outer basin may get backed up.
While they are not 'waterfalls' in the traditional sense, during larger tides, the drop of water level as one bay fills the other may be several metres. During the flow of the tide, water may run in to one basin through the first gap, and through the smaller inner gap into the third and final basin. When the tide turns, the flow reverses.
The basins are narrow but long, being only a few hundred metres wide, but several kilometres long. Both basins expose sand and mud banks at low tide.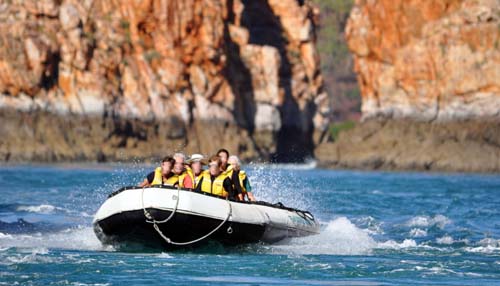 threats
There are several potential threats to the area of the Horizontal Falls. Every few years it is suggested that the falls should used as a power source, although nothing is pending. The second issue comes from the recent exploration by Pegasus Minerals to mine copper next to the falls.

access
There are several companies that 'ride' the rapids here. Most companies that offer cruises along the Kimberley coast come here as part of their itinerary.  You can also get flights there and back in a day from Broome. Aerial views provide allows a unique and clearer perspective on how the land is arranged and how the water flows. 

the Horizontal Waterfalls from above (Damon Ramsey)
Either way it is an expensive option. If you want to maximize the 'fun' on the flow, you need to check the timing of the monthly 'king' tides and book your trip accordingly.
Outside these falls is the scenic Talbot Bay, an area of spectacular geological scenery.

Search this website and google:

---