Chambers Wildlife Rainforest Lodge
Atherton Tablelands, North Queensland, Australia.
My personal experience...
I used to guide wildlife groups to this lodge half a dozen times a year up until about 2001. The owner, John Chambers, saved my ass a few times, including the time I was leading a group of drunk Russians....but that's another story.
I have since returned with a few school and wildlife groups and by myself to get photographs for the Ecosystem Guides book "Rainforest of tropical Australia", and to get footage for a series of documentaries.  I haven't been there since February of 2013. Along with Possum Valley, it is still one of the best value wildlife rainforest accommodations in Australia...

Nature experience and Wildlife viewing
There is a trail around the property, but you'll spend most of your time around the central porch area, or on the porches of your accommodation.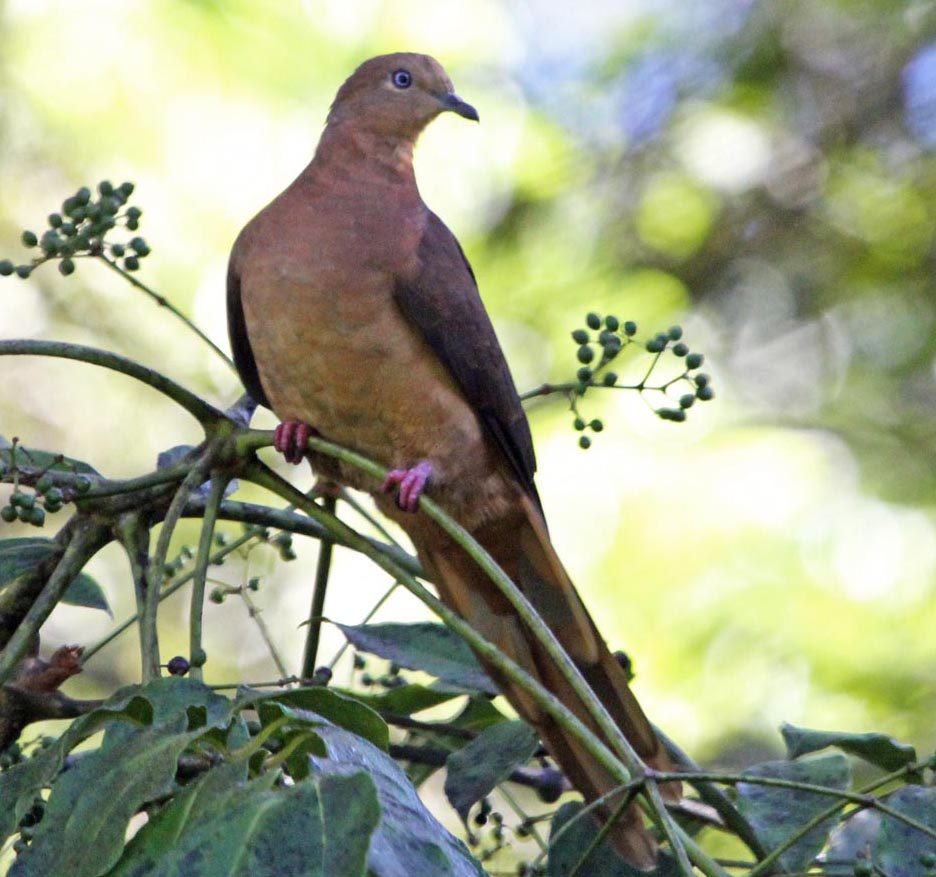 Birds...
This is a great place for birds. Sit on the central porch in the morning and will see lots of species. The birds on the edge of the forest during the morning may include: including Brush Turkey, Lewin's Honeyeater, Victoria's Riflebird, Golden Whistler, Bower's shrike-thrush, Boobook, Eastern Whipbird, Cuckoo Dove, Crimson Rosella, King Parrots, Laughing Kookaburra, Grey Fantail, Tooth-billed Bowerbird and many others.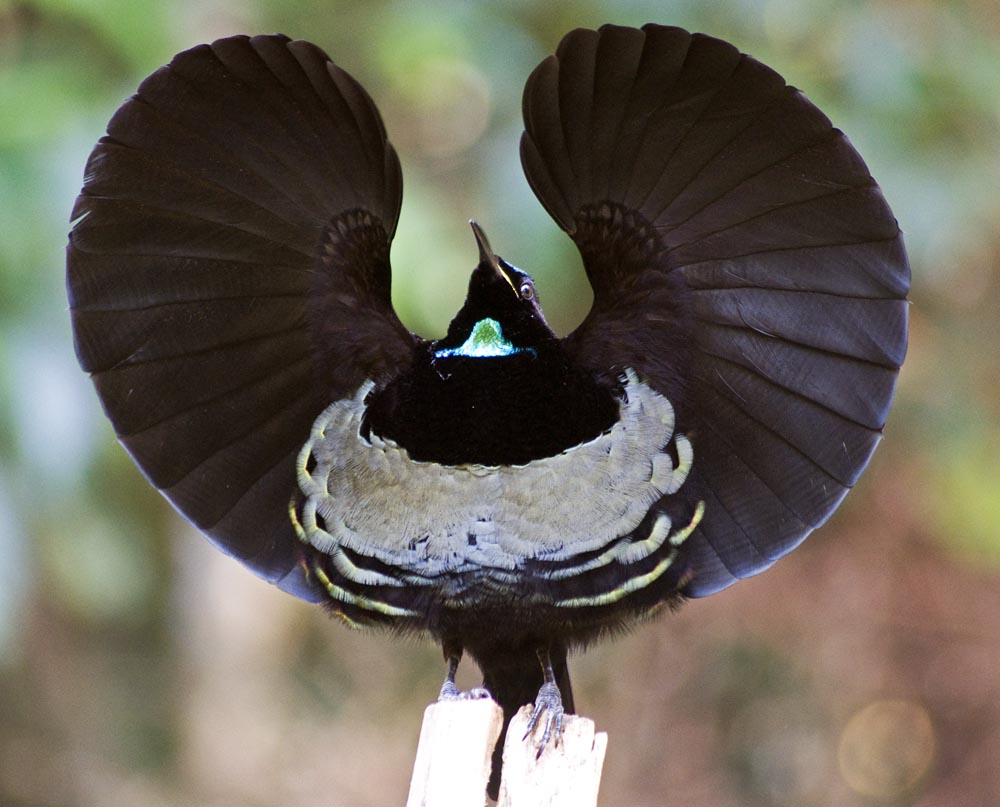 Riflebird displaying at Chambers Lodge (image by Damon Ramsey)
If the bird feeders are used, they attract Lewin's Honeyeaters, Macleay's Honeyeater and Victoria's Riflebird. Because of the different 'shifts' of birds as the day progresses, birding can be rewarding right up until late morning. Some of the birding highlights include displays by bowerbirds and birds of paradise. During the spring, the Tooth-billed Bowerbird rips off and uses laurel leaves for display stages. The Victoria's Riflebird, a type of Bird of Paradise, may display. John has set up a pole in a central area that they sometimes use if they are feeling in a sexy mood. I filmed a Riflebird displaying for my rainforest documentary series, and the segment can be watched here on my you tube channel. 

Mammals...
The afternoon is usually quieter, but it is at this time that rainforest wallabies called Red-legged Pademelons start to gather. Every night when there are guests, the owner John Chambers gives talks on the pademelon behaviours.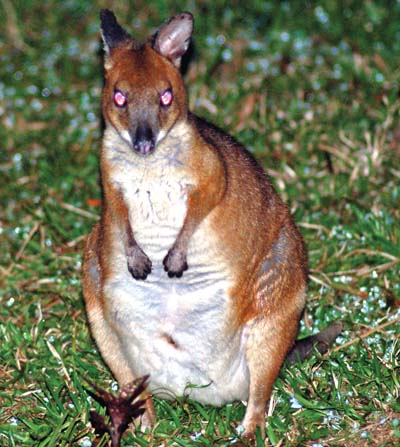 Red-legged pademelons gather at Chambers Lodge (Damon Ramsey)
Afterwards there is the option of going down with one of the family to a shelter and some trees where they wipe some honey on a tree. If you are lucky and patient, you should may see a sugar glider or two land quietly on the tree trunk and start laping at the honey. At this point you can get quite close for photographs.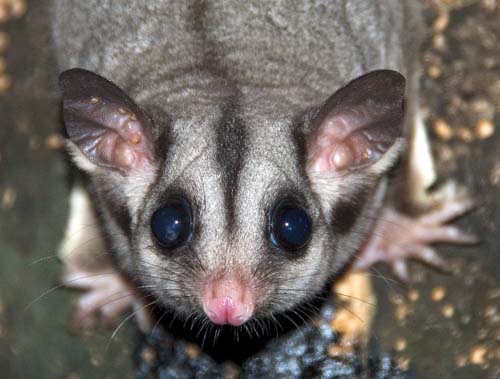 Sugar Glider on a tree trunk at Chambers Lodge (Damon Ramsey)
Location and access
Chambers Lodge is located in the Atherton Tablelands behnd Cairns, North Queensland, Australia. To get there, head south from Cairns on the main highway, then turn at the Giles highway. Drive past Lake Barrine, and continue to Lake Eacham. On the way out of Lake Eacham is small dirt road with some wallaby statues. Follow this track for about 5 minutes (yes, it is 2WDrive accessible). All up from Cairns, the drive can be done in about one hour and twenty minutes, but it is best to leave two hours to enjoy the drive and make some stops.
The location of Chambers is also convenient as it central to many of the best mid-altitude sites of the Atherton Tablelands. The property itself is right on the edge of the Lake Eacham area, and then a further ten minute drives for sites such as the Cathedral Fig, Lake Barrine and the Curtain Fig.
While there are kitchen facilities in the lodges, there is no restuarant or bar here. The closest town is Yungaburra, about a 15 minute drive, where are cafes and shops. There is also a service station about 10 minutes drive from the lodge at the Lake Eacham turn off.

Chambers website
John Chambers has made a massive website (for which I have contributed a few pics and information):
www.rainforest-australia.com. And part of that website includes a section where you can enquire about Chambers Lodge rainforest accommodation.


---
A lot of the information and photographs for my rainforest book:
"Rainforest of tropical Australia"
were from this lodge
Search this website and google:

---