NEOTROPICAL
Tropical & Subtropical Moist Broadleaf Forest (Rainforest)
The rainforests of tropical South and Central America are the most species diverse ecosystems in the world.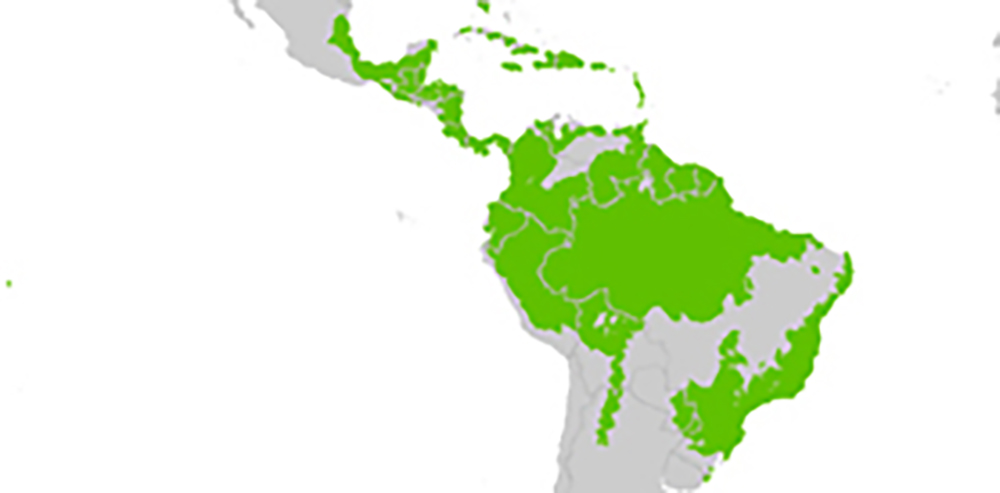 Map of Neotropical Moist Forest (Public Domain, https://commons.wikimedia.org/w/index.php?curid=1550301)
The rainforest of the Neotropics covers a huge geographical area, from southern Brazil north to southern Mexico. Within that area, it also varies in form and species composition as it grows from sea-level in the lowlands of the Amazon, to the cloud forest in the Andes.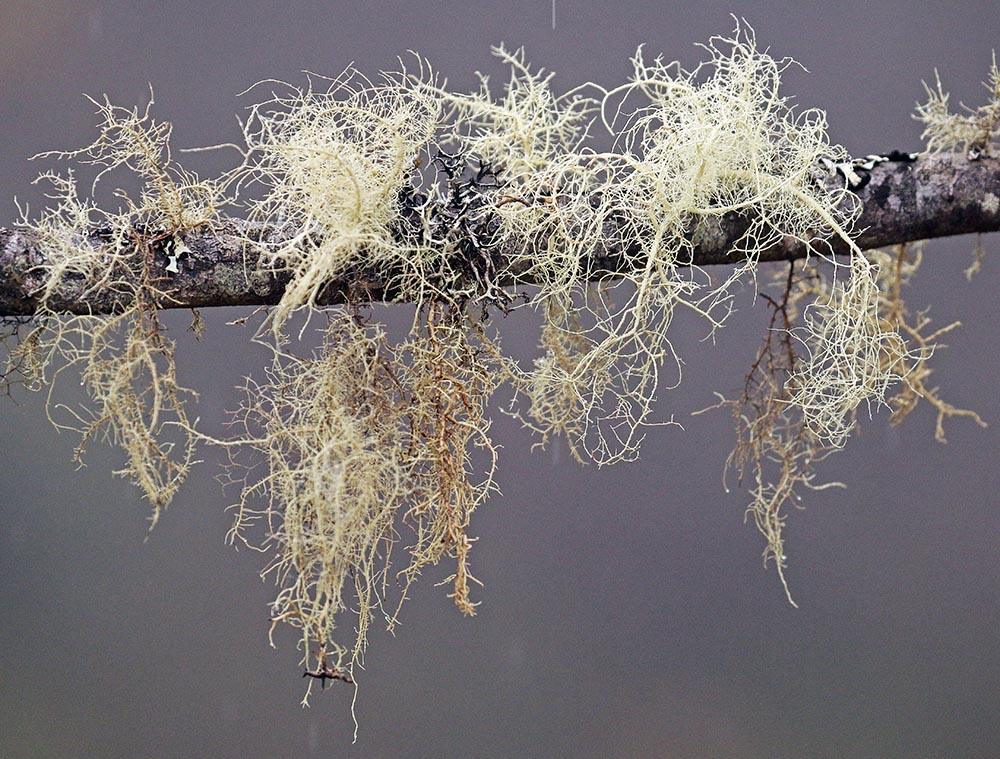 (Waychega Lodge, Peru)
 At the very limit of rainforest growth in the mountains, the trees grow stunted. The higher altitude rainforest has a lot of lichens and moss covering the trees. The forest is misty and quiet. As one travels down in altitude, the trees grow taller, and the ease of birding peaks at the mid-altitude rainforest.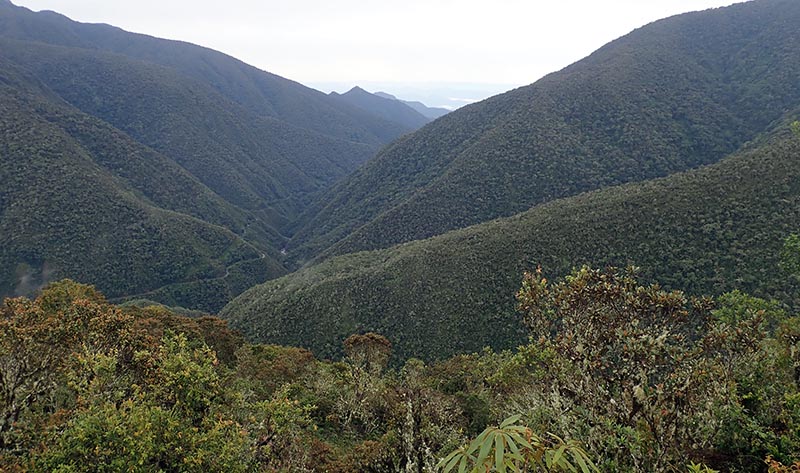 (Waychega Lodge, Peru)
A view from the cloud forest looking down into the rainforest of the mountains and valleys, on the Manu road from the top of the Andes down to the Amazon river.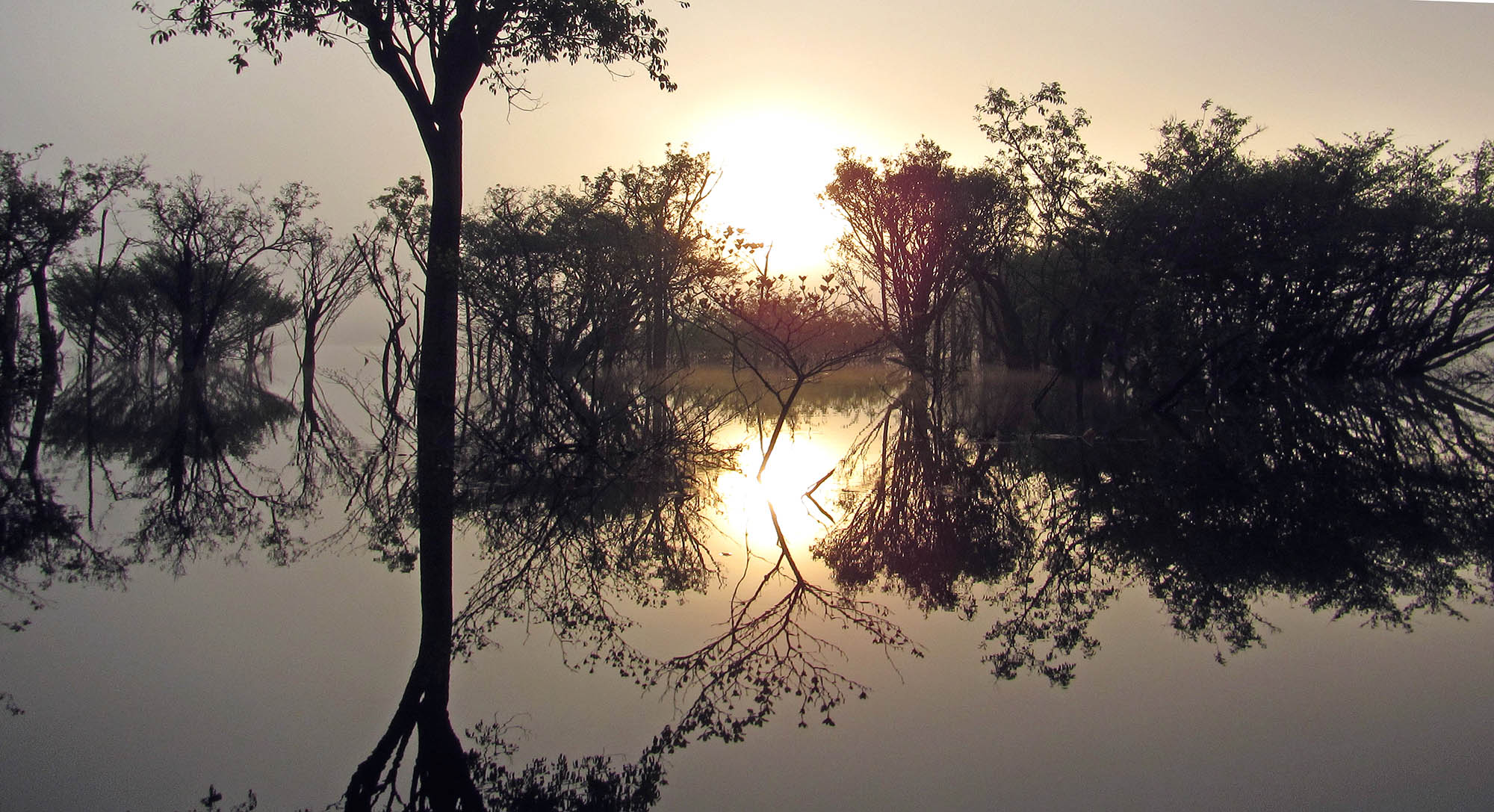 the seasonally flooded forests of the Amazon
Much of the rainforest in the lowlands of the Amazon is seasonally flooded. After heavy rain the overflow of water from the main rivers and tributaries creates several hundred thousand square kilometres of 'flooded forest'. These flooded forests represent between 3-4% of the Amazon basin. The water may rise up to 15 metres, and flow 20 kilometres in from the main rivers.
They are generally categorized into the Varzea and the Igapo. The former is created by the muddy waters of main white water rivers, the latter by the clearer 'black water'. The Varzea flooding comes and goes quickly, while the Igapo forest may remain flooded for half of the year. The former are nutrient rich waters, flowing from the Andes, and thus have higher productivity. The white water flooded Varzea also have higher diversity of species, while the black water Igapo floodplains are less diverse, dominated by a few species of Legume. On this website, these flooded forests overlap with the more open Neotropical freshwater wetlands.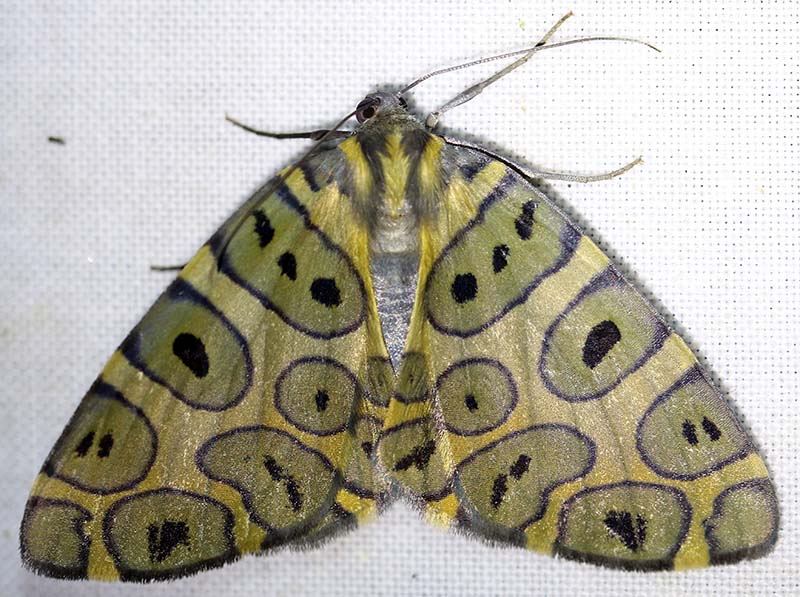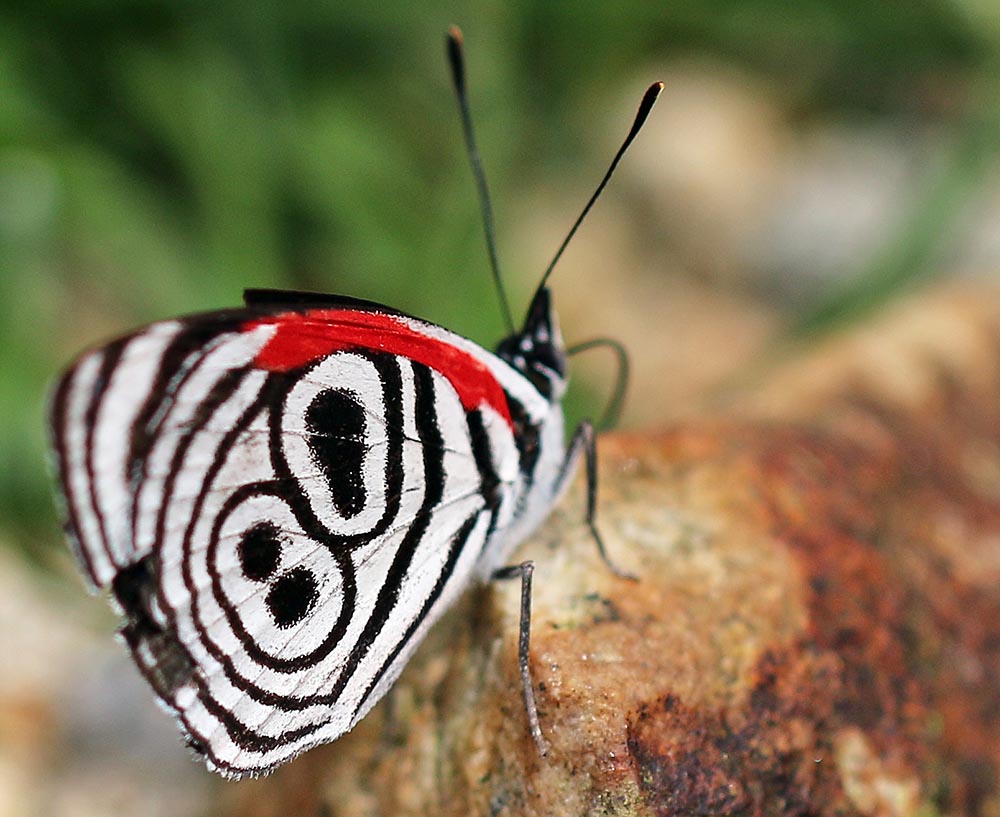 Diaethria, 'Eighty-eight Butterfly' (Manu road, Peru).
(Yarina, Rio Napo, Ecuador)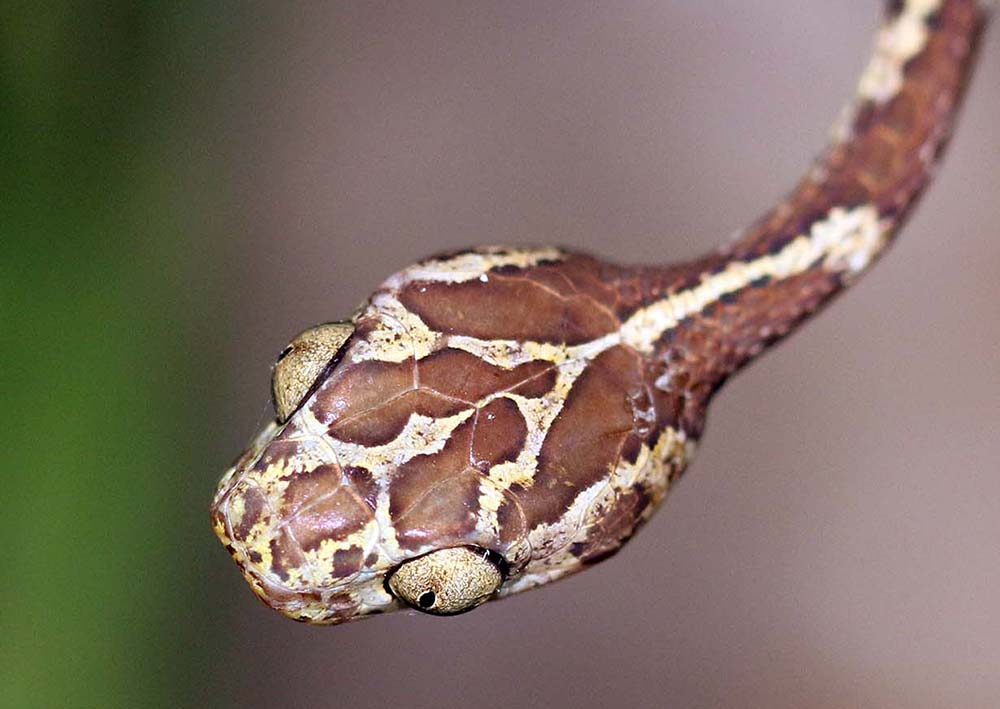 Yarina Lodge, Ecuador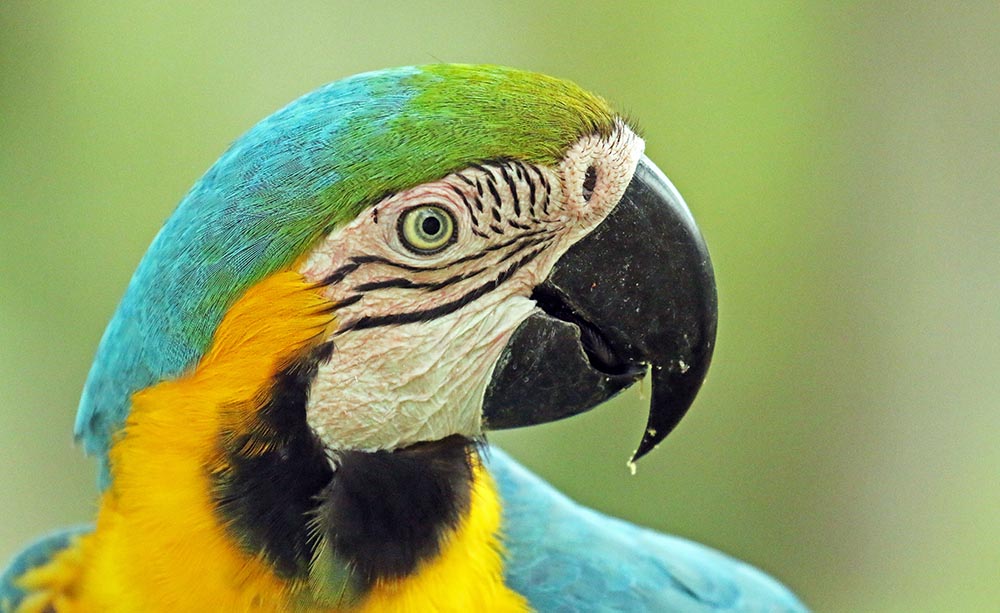 Hummingbird (Wildsumaco Lodge, Ecuador)
Places to experience the tropical American rainforest
There are so many great places (and lodges) to explore the rainforest in the tropical Americas...
In Peru there is: Amazonia Lodge, Cock of the Rock Lodge. Machu Picchu, Manu National Park & Biosphere Reserve, Manu Paradise Lodge, Villa Carmen Lodge, and Wayqecha Lodge in the cloud forest,  
In Ecuador: Angel Paz bird reserve, Refugio Paz de Las Aves and Tandayapa Bird Lodge in the western Andes cloud forest, Yarina Lodge in the Amazon, and Wildsumaco Lodge.
In Colombia: Amacayacu National Park in the Amazon.
And in the biggest country in South America, Brazil, there is: Antonios Jungle Lodge in the Amazon, and scenic Iguazu Falls.
Search this website and google:

---