Daintree




North Queensland, Australia



personal experience
I used to work as a guide based in North Queensland, and I visited the Daintree over a hundred times on day trips, education and school groups, and birdwatching and wildlife tours. I lot of my photographs in my first book (on the tropical rainforest of Australia) were taken there.
the region
The name 'Daintree' is used to refer to several different areas, including the Daintree River, a small town, a national park, and the general region. The latter is often used to describe much of the area north from the Daintree River to just south of the Bloomfield Valley, however the actual 'Daintree National Park' is slightly different to this general perception and covers a large area south of the Daintree River. It is divided into several sections, the two largest being the 'Mossman Gorge section' and the 'Cape Tribulation section', with the Daintree River roughly in between the two.

There is a range of things to do in daintree region. One of my favourite spots for photographs and filming is the Daintree Discovery Centre.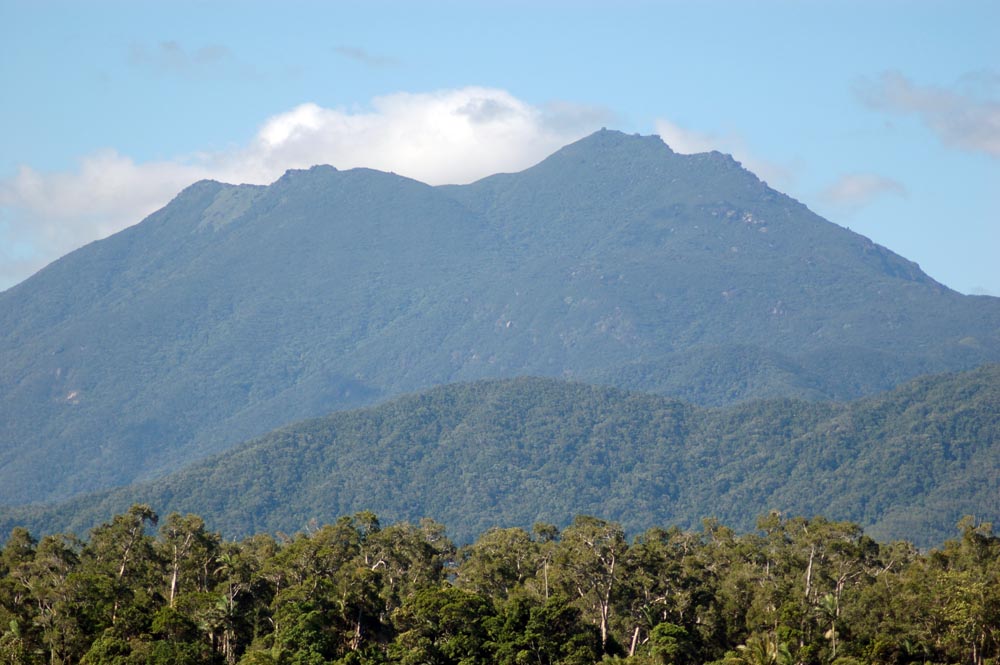 Thornton Peak, the highest mountain in the Daintree region.
exploring the area...
The area is dominated mainly by one road, the Cape Tribulation road.
access
It takes about 3 hours to drive from Cairns to the Daintree River. You follow the Captain Cook highway north. The coastal section of this road between the northern suburbs of Cairns and Port Douglas is stunning. Once the road continues past the Daintree River, it becomes the Cape Tribulation road. This road is now sealed all the way. It takes about an hour to get to Cape Tribulation.
accommodation
There are many accommodation possibilities in the Daintree reion. There are cheaper backpackers up near Cape Tribulation itself. There are various lodges along the Cape Tribulation road. If you are getting dropped off, and do not have your own transport, then I suggest you stay closer to Cape Tribulation.
Search this website and google:

---
For more info on the tropical rainforest of the Daintree and parts of Australia: