White Island

New Zealand
New Zealand's most active volcano!
Personal experience
I have been lucky enough to cruise around or land on White Island most years between 2005 to 2015, on board 4 different ships. However, landing can be tricky here, and can only occur with permission. 

UPDATE: 2019: the island has exploded, killing people, and landing is not longer allowed. I wrote this page many years before this incident. I have not seen the island since before this last explosion, so I am presume the birds and plants I have written about and photographed below, are now gone...

General background
White Island is a volcanic island located in the Bay of Plenty, about 50 kilometres off Whakatane on the North Island of New Zealand. It is currently some 2.7 kilometres long and 1.5 kilometres wide. However, extensive and regular volcanic activity has changed the size and shape of the island. The highest peak is Mt. Gisborne and stands at some 320 metres high. However, the actual island is only the tip: if you count the total mass underwater, it is a volcano about a kilometre and a half tall.
White Island is New Zealand's only active volcano island, and is also its most consistently active volcano. Since 1826 there has been over 30 significant eruptions. Two (perhaps three) craters comprise the island; the older of the two is in the north-west, while the younger and still active volcano is on the south side. This latter crater is the obvious one; much of the wall has collapsed and continues to be eroded by swell. It is through this collapsed wall that passing ships can peer into the active area, and a tour company can land and access the island. White island is an obvious active island. From some distance one can still smell sulphur and on most days there is steam coming from continuously made vents. At various times there is a large hot water lake in the crater, with streams winding down from the body of water to the ocean. The beaches are made up of black volcanic sand.
the steaming lake on White Island, 2010 (Damon Ramsey)
Humans have had an important association with the island in pre-history times. Maori visited there to collect sea birds and their eggs. English Explorer James Cook in the Endeavour sailed past the island in 1769. He named it White Island due to the dense white clouds of 'mist' around it, although he apparently did not recognize that this was steam and the island was in fact a volcano. The first European recorded to actually set foot on the island was Reverend Henry Williams in 1826. The island has had a long history of private ownership, starting in the 1830's.
Just as the island's animals and plants have been wiped clean from the islands violent activity, so too have humans been regularly forced off the island. For much of its history early last century, sulphur was extracted, but the volcanic activity on the island has been determined much of this human activity on the island. Miners first started in 1885, but were interrupted that year by a small eruption.  They resumed in 1898 but were forced off in 1900 by another eruption. Another company started up after this and was forced of by another eruption and mud flows in 1911. Miners were then forced off again in 1914. In 1924 another company started, only to be wound down because of the depression in the 1930's.
Today once can see the remains of a jetty and building that were destroyed. The rock and dirt has filled up the building so much that when one stands on the ground inside, you are actually on the second floor. In 1953 the island was declared a Private Scenic Reserve. During the late 1970's and early 1980's, the island recorded some of it's most extensive volcanic activity. During this time 100,000 cubic metres of rock were thrown out, two new craters were created and much of the forest cover was destroyed once again. The most recent eruption was in the year 2000. Fortunately, the tour company that visits the island could not land for several days prior due to rough weather, so no one was harmed.
Today, there are many different detection devices in place. Machines measure earth movements and heat. There is a camera monitoring the island, which can be accessed on the world wide web.
When I was there in early 2013 it was the most spectacular I had seen it. Where the lake once was, it was covered in mud, and regularly throwing this up in the air with violent burps...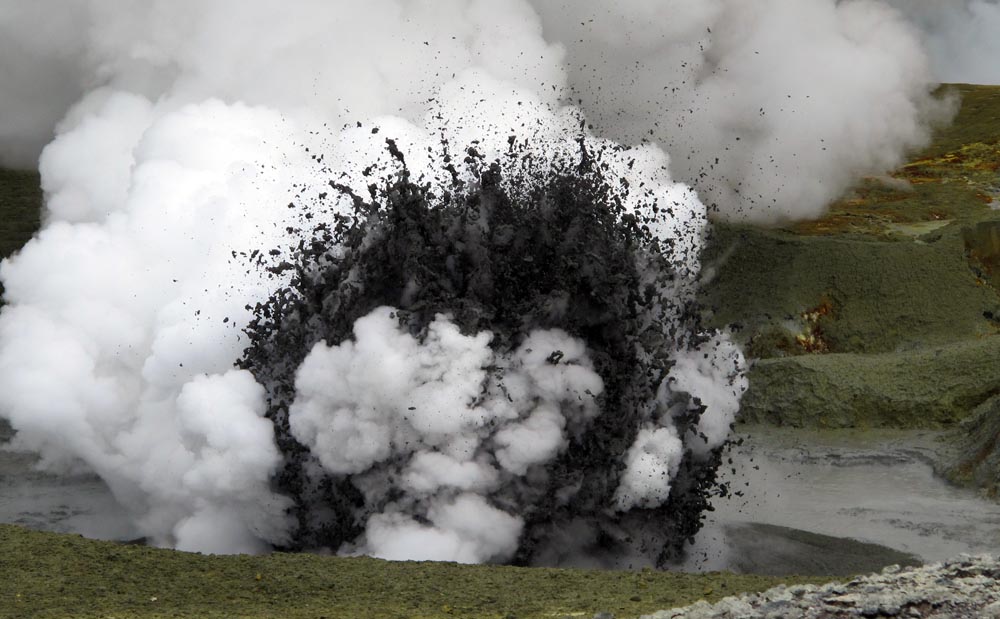 White Island going off in New Zealand (Damon Ramsey)
access
It might surprise many people that the island is privately owned, but it is subject to the laws of the Reserves act 1977, so people can not land on the island without permission, and you are not allowed to remove anything from the island.
Today the island is a tourist destination. However, it is carefully regulated and only set numbers are allowed on. The privately owned island has an arrangement with one single tour company. They depart from the mainland and land on the island with tour guides that have been specifically trained. There is a very old jetty, and landing also occurs on the black sand beach. There is often quite a swell coming in, so many landings are called off. There are also helicopter flights out to the island. Safety helmets and enclosed footwear must be worn. Gasmasks are also given out and used when the sulphur smoke becomes too harsh on the throat.
nature and wildlife
White Island is currently is home to thousands of Australasian Gannets, one of the largest breeding colonies of this species in New Zealand.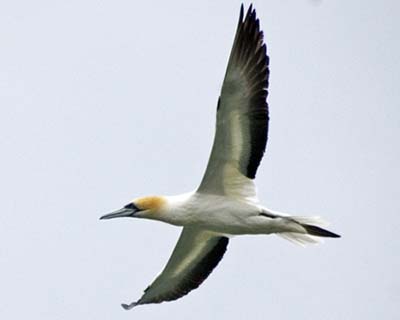 Australasian Gannet (Damon Ramsey)
There are also Grey-faced Petrels breeding here. I have photographed them when they have landed on ships cruising past.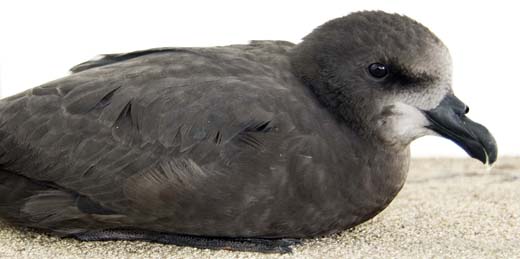 Grey-faced Petrel (Damon Ramsey)
Because of the constant irregular interruptions, new craters and lakes are formed and destroyed, and the forest is wiped clean, then grows back, only to be wiped clean again. Due to this regular volcanic activity, White Island provides an interesting biological study in island colonization. In many ways, it is the New Zealand equivalent to Indonesia's Krakatoa. After a major explosion, much of the flora and fauna is killed or dispersed. After such disturbance, plants and animals slowly start to re-colonize the damaged areas. One of the most common plants to do this is known as the 'Ice Plant', better known as 'Pigface' around other parts of the Pacific. It is a small herb with succulent like leaves and pink flowers. The well known New Zealand Christmas Tree or Pohutukawa has also colonized the island and makes up much of the native forest. Besides sea birds, passerines have settled on the island, and when there has been no disturbance for a time, European sparrows and Chaffinch populate the island. The Polynesian Rat or Kiore is also found here. 
---
For other accessible (and dangerous) volcanoes, check out Yassur on Tanna Island, Rabaul, Gunung Bromo and Krakatau.

Search this website and google:

---