Wineglass Bay
Tasmania.
personal experience...
I have visited Tasmania previously as a guide for land based wildlife groups and on expedition and cruise ships, including stops at Wineglass Bay.  After North Queensland, Tasmania is the second best nature and widlife region in Australia.
Geography and History
Wineglass Bay is one of the more famous 'beautiful' beaches of the world. It is often assumed to be called 'wineglass' due to the circlar shape of a glass and the clear water contained within, but it has also been suggested the name came from the colour of blood and guts resulting from previous whaling activities. Lovely!

Access
Despite the fame of Wineglass Bay beach, it is perhaps surprising that you can not actually drive to it. Maybe this is part of its appeal; you have to work to get there. The walk leaves from Coles Bay, passes up over a ridge with great views, and takes about an hour and a half to get to the beach (or longer with stops).

---
Thinking of travelling again after everything settles down? One of the companies I work for as a guide and lecturer is Silversea Expeditions.
Wildlife & Nature
The walk passes through various habitats. in the Spring, there may be loads of Kunzea flowering, and when this happening the first half of the track is covered in bushes with white flowers which are buzzing with various insects. On the way up you go past several eucalypts with 'scribbles' made by moth larvae.
The views from the ridge, about halfway along the walk, are great. They look down over the white sand of Wineglass Bay. On the way up, there are also great views of the rounded granite walls. Down towards the beach, the walk passes through Casuarina forest.
an avenue through the Casuarina forest (Damon Ramsey)
There is often an individual Bennets wallaby on the beach. It bounces along between backpacks looking for a food handout.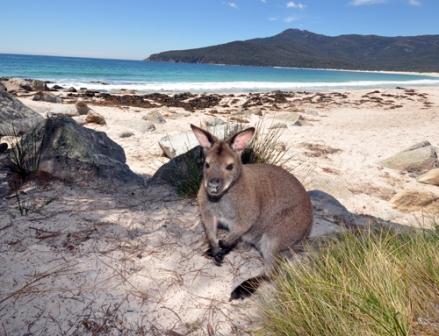 Bennet's Wallaby (Damon Ramsey)
The beach is fine and white in colour. There are dunes behind the beach, and at the other end of the beach, there is backwater which is tea-stained from Leptospermum 'tea tree'. There are often Pacific Gulls and Pied Oystercatchers on the beach, and there are sometimes nests of the latter birds on the beach.
Pied Oystercatcher (Damon Ramsey)
Oystercatchers can only survive on beaches without cars and dogs, as their nest is just a scrape in the sand; luckily Wineglass Bay doesn't have any of these (Damon Ramsey).
On the day I was last there, recent wild weather meant there was much seaweed washed up, as well as dozens of 'blue bottles' (this is the Australian name for bright blue stinging animals known elsewhere as "Portuguese Man'o war").
watch out! blue bottles can still sting even when washed up dead on the beach...(Damon Ramsey)
Other beautiful and interesting beaches include Pink Beach, (Indonesia) and The Boulders (South Africa).