Naturalist Guide


Damon Ramsey



Damon Ramsey (that's me) works through Ecosystem Guides as a naturalist guide or destination guide. Previously I have escorted and led tours around Australia, worked as a guide for educational groups, doumentary film crews, birdwatching tours, wildlife tours, zoo groups, overnight hikes, 4WDrive safaris, rock art safaris, great barrier reef cruises, cape york coastal expeditions, etc.  For my work history, click here.
These days I spend most of my time working as a naturalist guide on expedition ships. I am usually booked about two years in advance, but trips do drop out, so availability may change. You can check out my future schedule.
In terms of handy qualifications, I have:
- an Outdoor Guiding certification,
- Biology Degree BSc (majoring in zoology)
- Senior First Aid
- Coxswain's ticket (a commercial skipper's ticket for driving zodiacs and glass bottom boats).
- STCW 2010 (including security tickets)
- Seamans Medical
- IAATO, Antarctic guide test and certificate, 2019.
- AECO, Arctic guide test and certificate, 2019.
- LR (light rigid bus license)
- DA (driver's authorization)
For more details on my qualifications.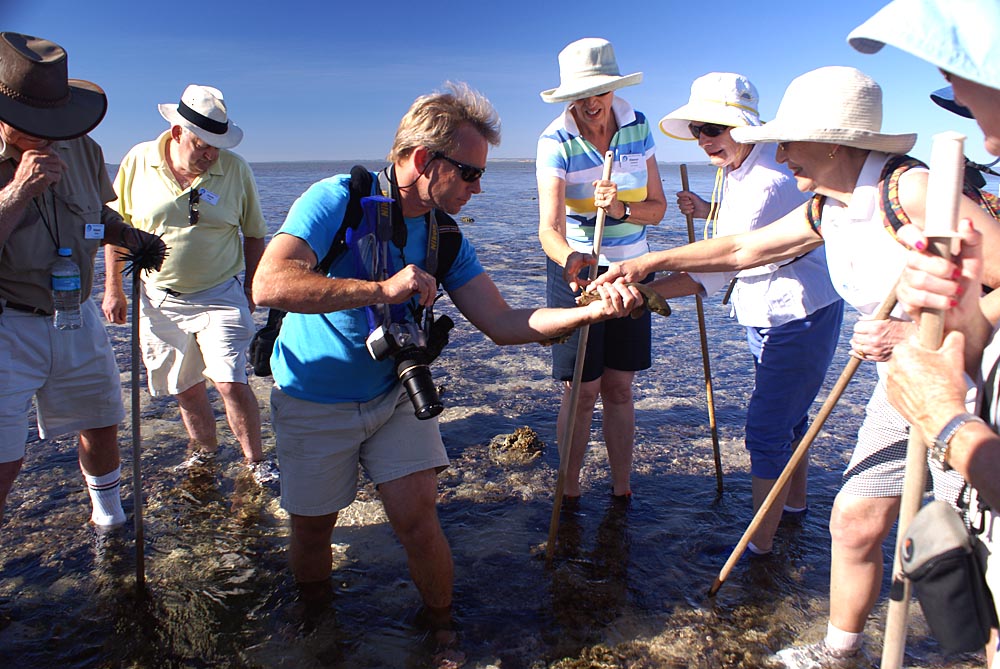 That's me, Damon Ramsey; trying to get people to stroke my sea cucumber. (Photograph by Jamie Anderson)
Search this website and google:

---