Donations
of 'Ecosystem Guides' books
Ecosystem Guides is a small business, but it is not about making money for it's own sake. I try to donate my time, images, books and videos to various educational institutions, information and community centres, and ecotourism companies...
(Please note; I have no copies left of my books.)
"Ecosystem Guides" books (and the previous "Ecosystem Manuals") have been made to the various individuals, organizations and businesses. The following lists some of those.
(U.S.A). Society Expeditions, Bamboo Centre, Nature Travel Specialists (NTS), Classic escapes, Zegrams expeditions, Smithsonian (Australian agent), Celebrity Cruises (Mercury library), Spirit of Oceanus (ship library), William and Jefferson College, USA, American Institute of Foreign Study, English office, Odessa Kilpatrick Elementary School, USA, CSU college, Daintree conservation fund (New York based), Golden gate Audubon
(U.K), American Institute of Foreign Study, English office, Caledonian Sky (ships library)
(Papua New Guinea), Various villages, Witu Island (school).
(Solomon Islands). Uepi Resort
(New Zealand). Dunedin Museum, Mark Steadman (teacher)
(Australia) Redlands Sceggs, Danebank School, Australian wild/eco escapes, General Travel Australia, Serendipity Journeys, Byron Bay Homestead, Wild Discovery, Wilcannia Central School, Tambourine Rainforest Skywalk, Mission Beach Info centre, Horizons Hotel, Altitude One40, Coral Sea Kayaking, Reef Endeavour library,  Coral Princess Cruises, Oceanic Discoverer library, Coral Princess library, Coral Princess Cruises, Coral Princess 2 library, Frankland Islands Cruise and Dive, Quicksilver office, The Adventure Company Australia, Tropical Horizons, Tropic Wings, R'nR tours, Down Under Tours, JCU library, Dr. Heather Zeppel (Ecotourism, JCU), TAFE library, Lizard Island Resort, Chambers Rainforest apartments (library and room copies), Tree roo café, Kingfisher Lodge library, Malanda information Centre,  Silky oaks Lodge, Daintree River Cruise Centre, Mangrove Zoo, Daintree Eco-Lodge, Coconut Beach Rainforest Resort, Daintree Discovery Centre, Dragonfly Café, Daintree Hideaway, Cape Tribulation Beach House, Bat House.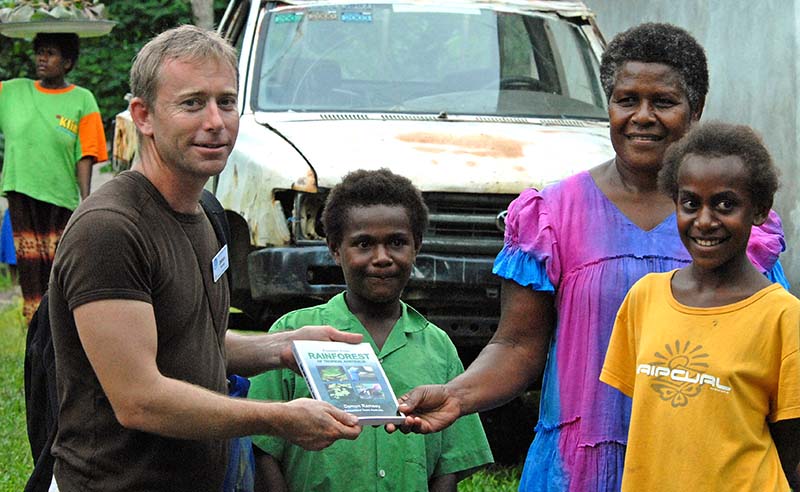 A village in PNG: I'm sure they would rather some money, but too bad, they just get my book! (photo by Jamie Anderson)
Updates
Well it looks like my first trip after the virus will be the Great Barrier Reef (where I started!) with Coral Expeditions.....I hope. If you can't go travelling until everything settles down, then until then, here I am doing online
guided walks for Noble Caledonia and online lectures for Silversea.
---
---