where to see wildlife in


Niue
personal experience...
I have visited this country several times on expedition ships. However, due to it's isolation and exposure to swell, we haven't always landed.
general...
Niue is a self governing state in the South Pacific in free association with New Zealand. There is only some 1200 people living on the main island, and it has a negative population growth rate. Most people from Niue live in New Zealand.
It is only 260 square kilometres in size. It is sometimes referred to as the "rock of the South Pacific".  The island is comprised of steep limestone cliffs.
almost the entire coast of Niue is made up of steep limestone cliffs (Damon Ramsey)
things to do...
On the island there are just a couple of beaches. There are several small bays in the limestone walls that are nice places to swim. There is also a Cheesefruit/Morinda/Noni farm. Most places require transport to get to.
The last time I was here in 2015, conditions were the best I have ever seen, and we had the chance to snorkel on the outside of the island. On either side of the main jetty, the coral drops off and is composed of great gullies and bommies. The fish life is diverse and colourful, 
spotted boxfish (Damon Ramsey)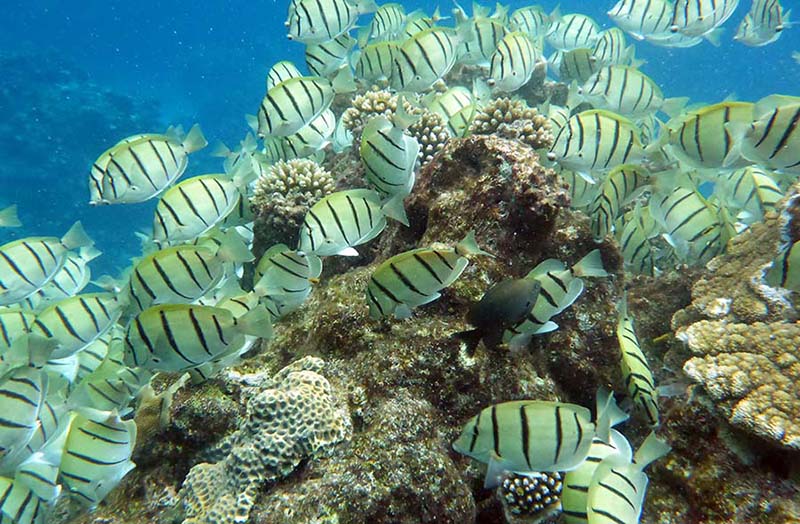 school of convict tang (Damon Ramsey)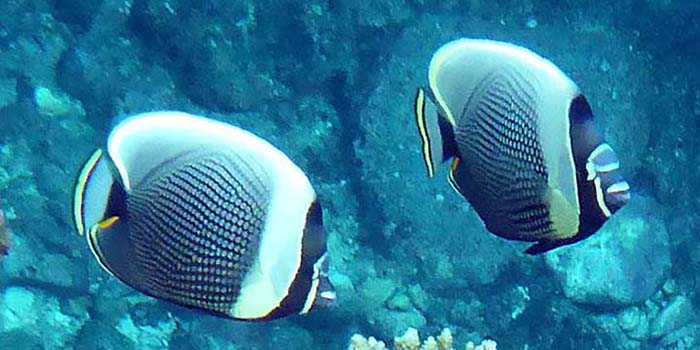 reticulated butterflyfish (Damon Ramsey)
and includes larger life such as reef sharks and rays...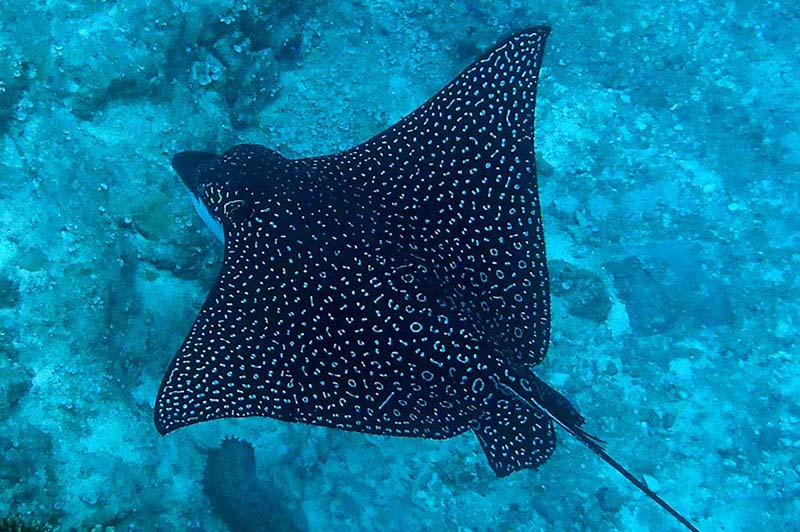 spotted eagle ray (Damon Ramsey)
and of course various invertebrates..
unidentified sea urchin (Damon Ramsey)
sea kraits
The most famous aspect of this reef are the number of sea kraits. If you stand on the main cement jetty near town, you will see kraits a couple of times an hour at least. If you snorkel for an hour or two, you should see at least a couple of sea kraits. These are slimmer than true sea snakes, and may be inquisitive, but they are not aggressive.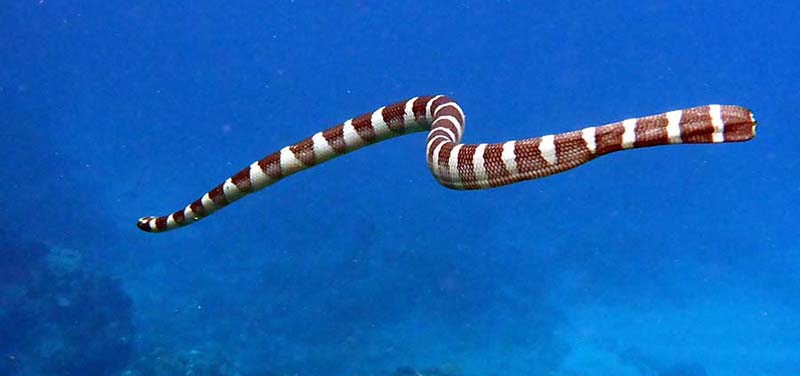 a sea krait (Damon Ramsey)
---
Thinking of travelling again after everything settles down? The first expedition I am booked to work on after the virus is Micronesia, New Guinea & Indonesia in 2021 with Silversea. Meanwhile I am giving a lecture on the Sunshine Coast (Australia) on the "Sounds of suburban south-east Queensland".