where to find wildlife in


Papua New Guinea

personal experience
I have worked as a guide, lecturer and boat driver with 4 different expedition companies in New Guinea, including Papua New Guinea, starting from about 2006.
New Guinea the island
New Guinea is the third largest island in the world, or second if you don't consider Australia as an island. It is the largest island found wholly within the tropics.
New Guinea and Australia are part of the same continental shelf, which has huge implications for the flora and fauna for both regions. During times of ice age, when sea levels are lower, the land masses are connected, which allows constant interchange. The result is a shared fauna and flora between the savanna and rainforest habitats of both land masses. But there are some huge and basic differences. As New Guinea is created from activity on the edge of the plates, it has many mountains, with many of these being much taller than anything in the generally flatter Australia. And these mountains, and much of the land and rivers, is therefore relatively new.
Historically, the island of New Guinea has been ruled by various nations, including Germany, Holland and Australia. Today, politically, the island of New Guinea is split in half between two different countries. The eastern half is independent Papua New Guinea (PNG for short). The western half is part of Indonesia. This was once known as Irian Jaya, but it is now called Papua, and is made up of two provinces, Papua and West Papua (all a bit confusing with so many overlapping and similar terms).
The biggest rainforest birds in the world are found in New Guinea - the cassowaries. (Image by Damon Ramsey)
about PNG
Papua New Guinea is the country that comprises the eastern half of the island of New Guinea. Papua New Guinea was an Australian colony (a colony of a former colony!) until 1975. Therefore there are still many connections between PNG and Australia, particularly Queensland, and including flights. However, it is quite different from Australia. Because of the dynamics between tribal groups and the very different social rules, westerners consider their political system corrupt. For a traveller, general day to day operations take a long while. Despite it's natural wealth (rich soils, high rainfall and valuable minerals), it is a poorly developed country, with limited transport and infrastucture. But, unlike many other developing countries in Asia, it doesn't have the advantage of being cheap to travel around. Therefore, unfortunately, it is an expensive and difficult country to explore independently. 
One of the factors that has contributed to it's very different social system, (but also makes it an appealing from a cultural tourism point of view), is the long isolation of the region. This makes the country retain it's cultural richness more than most others in the Pacific that have been 'watered' down by increasing western influence and globalization. Even today, there are more languages here than in any other similar size area in the world. Village "Sing-sings", or cultural displays through song and dance, are still common, and vary immensely from one island to another.
travel in New Guinea
Travel around New Guinea can be a challenge. Although it is perhaps not quite as dangerous as most Australian probably think, due to reports in the media, you have to be careful, especially in larger settlements. And even though this is a developing country, the costs for a traveller are not as cheap as they are in most countries in neighbouring south-east Asia. Therefore, many people opt to go on organized land tours, or on cruise or expedition ships (see below under 'who to go with...')
Native birds as pets a common in villages in Papua New Guinea (image by Damon Ramsey)
where to go...
There are several interesting places to explore in Papua New Guinea.
I think my favourite spot so far is the Sepik River, if you can do an overnight stop (not just a 'day visit'). The Sepik river is unusual in New Guinea, as it is realtively flat floodplain, wheareas most of the rest of the island is typically mountainous.
The Bismarcks, the islands of New Britian and New Ireland offer very steep bright green rainforest slopes right along the edge of blue water. Much of the island of New Guinea is volcanically active, and one of the most exciting places to visit if you are geologically inclined, is Rabaul Harbour, the biggest port in the Bismarcks. There is great coral reefs and snorkelling to be had throughout the Bismarcks, as well as the south coast outside Tufi Fiords, and on remote islands, such as Tuam.
Off the north coast of Papua New Guinea is a little known island known as Alim. This has a great colony of Red-footed Boobies and White Terns.
If you are in the town of Alotau, the capital of the Milne Bay province and a common entry point, there is an interesting little tour you can take to Damewewe Caves where you see the bats and giant spiders. Also in the south east are the D'Entrecaustax islands, including the Dei Dei Hot Springs on Ferguson Island.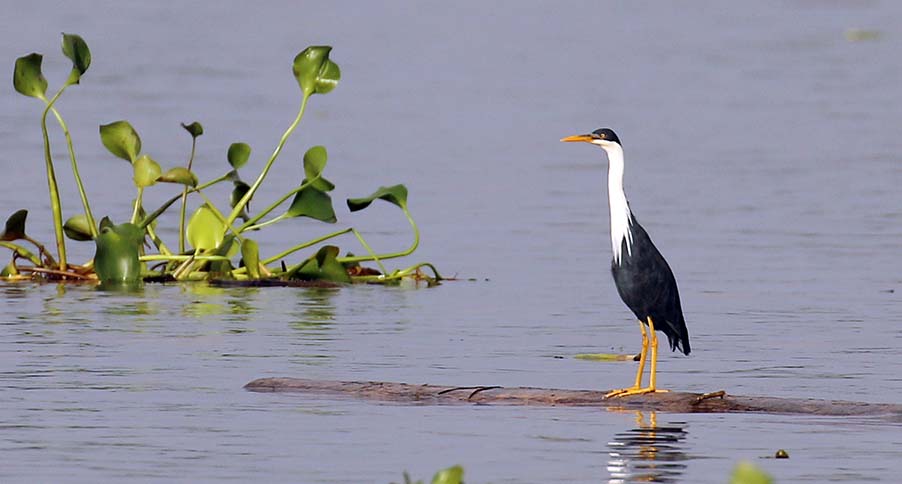 A Pied Heron on the Sepik River (image by Damon Ramsey)
who to go with...?
There are a few tour companies that do Papua New Guinea.
One of the nicest, safest and most efficient ways to explore some of the country, if you have the money, is by expedition ships, including Coral Princess Cruises, Silver Sea and Noble Caledonia. I have worked for all of these companies in New Guinea. However, while they have snorkel set ups and occasional nature walks and zodiac cruises, they are not specifically focused on seeing loads of wildlife.
For birders, North Queensland based Phil Gregory conducts tours there every year with his company Sicklebill Safaris 
---
Thinking of travelling again after everything settles down? One of the first expeditions I am booked to work on is the NZ sub-Antarctics with Silversea Expeditions and Australia with Coral Expeditions. And here is a shortened version of one of my lectures in a warmer part of the world.