INDO-MALAYAN Tropical & Subtropical Moist Broadleaf Forest
birds
The beautiful and diverse birds of the tropical Asian jungle...

Family Phasianidae
Pavo muticus, 'Green Peafowl' (Cambodia). Disjunct population: found on the south-east Asian mainland, and Java.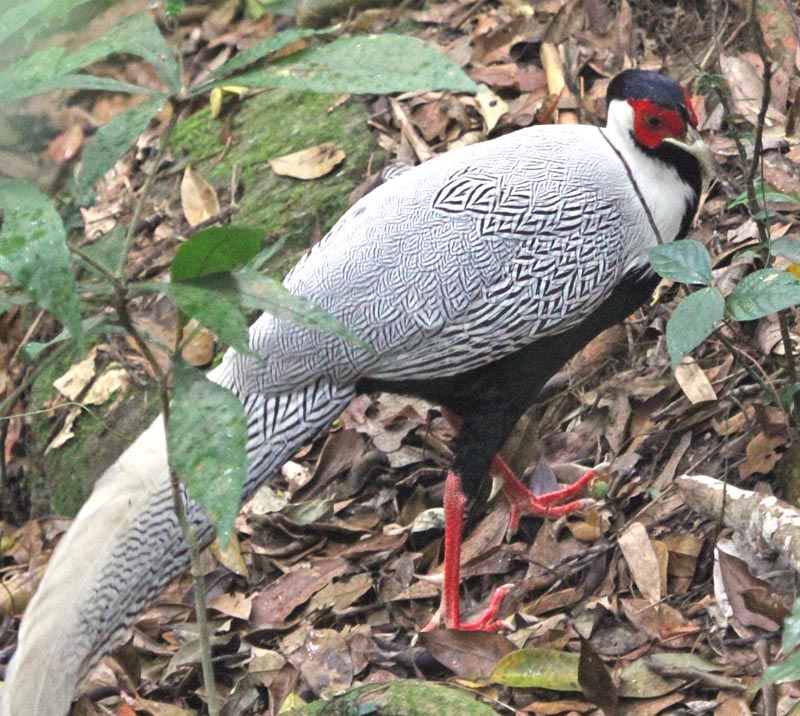 Lophura nycthemera, 'Silver Pheasant' (Khao Yai National Park, Thailand). Found in mostly montane forest on south-east Asian mainland, north into southern China.

Family Columbidae: Pigeons
Columba torringtoniae, 'Sri Lanka Wood Pigeon'. Endemic to Sri Lanka (Horton Plains). Endemic to montane forest of Sri Lanka.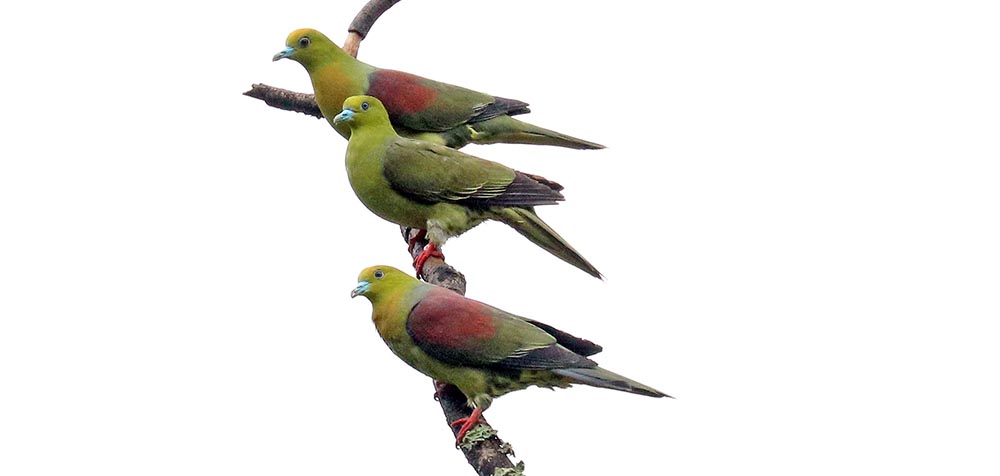 Treron sphenurus, 'Wedge-tailed Green Pigeon' males (Lampelri Gardens, Bhutan). Found in mountain rainforests on the south-east Asian mainland. 

Treron curvirostra, 'Thick-billed Pigeon' (Keosemia, Cambodia).
Macropygia unchall, 'Barred Cuckoo-Dove',  (Jigme Dorji National Park, Bhutan). Distinctive iridescent neck.
Chalcophaps indica, 'Emerald Dove', (Kithugala, Sri Lanka). Found throughout tropical Asia.

Phapitreron spp.

 ' Brown Dove'
The four species of pigeon in this genus are all endemic to the Philippines.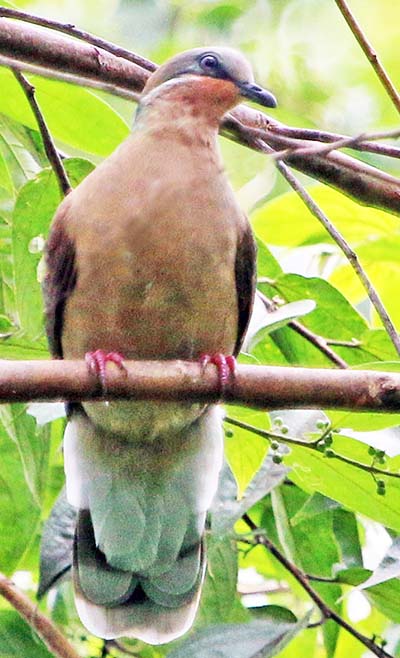 Phapitreron leucotis, 'White-eared Brown Dove', (Subic Bay, Philippines). Endemic to the Philippines.
Ducula aenea, 'Green Imperial Pigeon' (Sri Lanka). Widespread in forest and forest edge, especially on islands, throughout tropical Asia, from India to islands off western New Guinea. 

Family Cuculidae: Cuckoos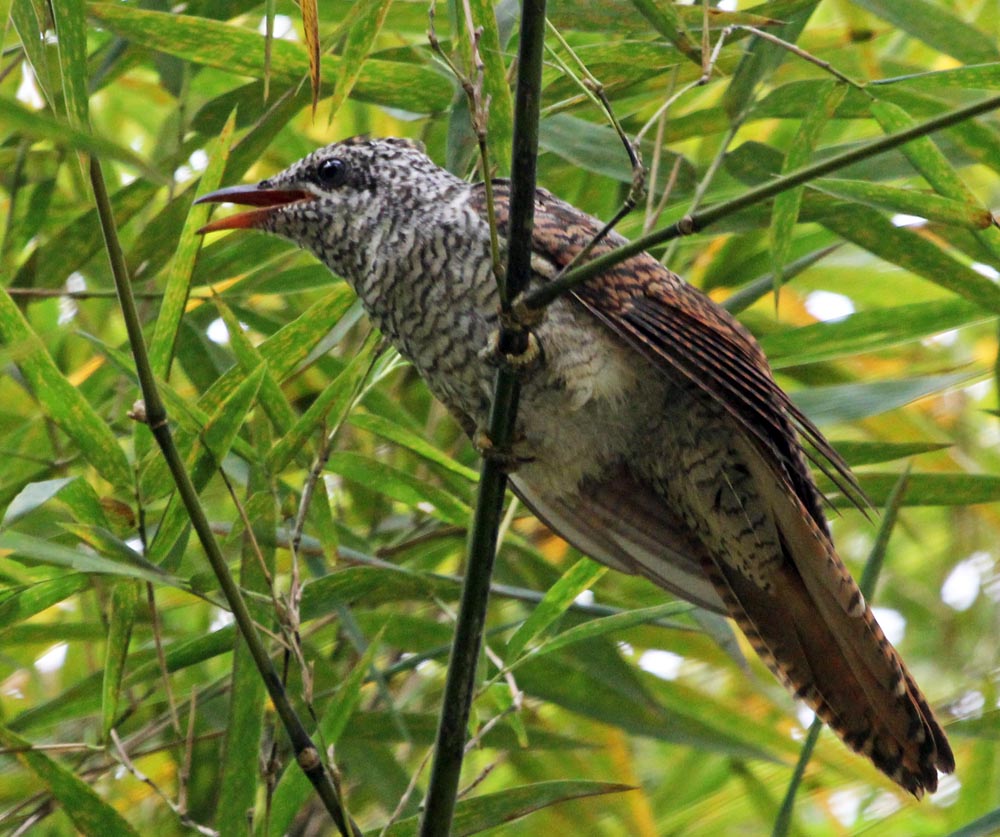 Cuculus optatus, 'Oriental Cuckoo'. (Khao Sok National Park, Thailand).

Family Podargidae: Frogmouths
Batrachostomus moniliger, 'Sri lankan/Ceylon Frogmouth' (Kithugal, Sri Lanka). Found in western Ghats of India and Sri Lanka.

Family Rallidae: Rails, Gallinules, Coots 
Gallirallus torquatus, 'Barred Rail'. Found in understory of coastal rainforest on small islands in the Philippines and Sulawesi. 
Family Accipitridae: Eagles & Hawks
Nisaetus cirrhatus, 'Changeable/Crested Hawk-Eagle' (Kinabatangan River, Malaysia). As common name suggests, the colour and patterns vary. One of most distinctive features is the crest, however, not all individuals have this; (don't forget it's called 'changeable'). They are a commonly seen bird of prey and occur in many habitats, including the edge of the rainforest. There are many sub-species (or even species n a complex) across tropical Asia.
Haliastur indus, 'Brahminy Kite' (Kithugala, Sri Lanka).
Family Strigidae: Typical Owls
Ketupa ketupu, 'Buffy Fish Owl' (Kinabatangan River, Borneo, Malaysia).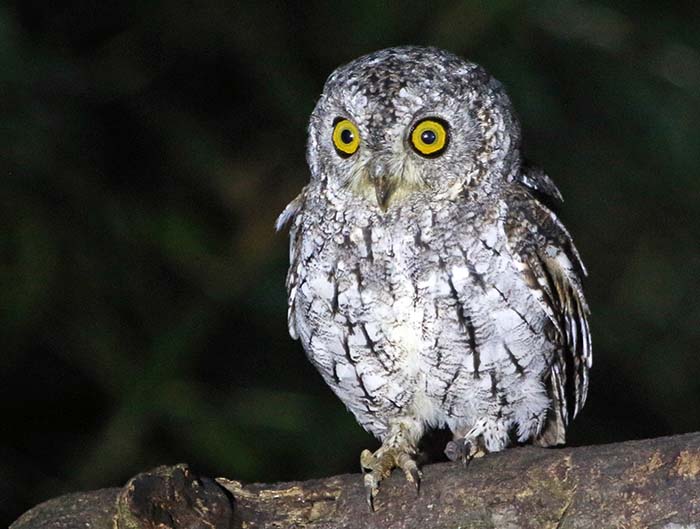 Otus sunia, 'Oriental Scops Owl' (Kaeng Krachan, Thailand).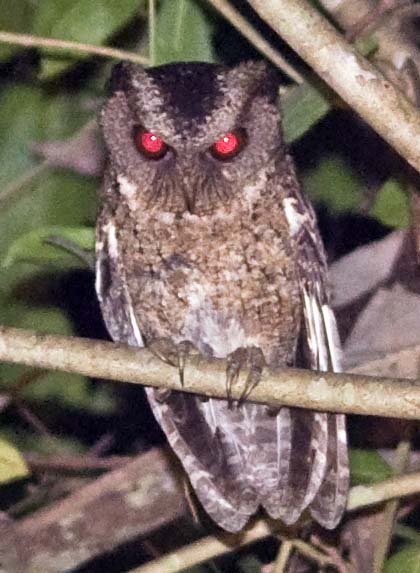 Otus megalotis, 'Philippine Scops Owl' (Nuts Huts, Bohol, Philippines).

---
Thinking of travelling again after everything settles down? The first expedition I am booked to work on after the virus is Micronesia, New Guinea & Indonesia in 2021 with Silversea. Meanwhile I am giving a lecture on the Sunshine Coast (Australia) on the "Sounds of suburban south-east Queensland".