search google and this website:
AFROTROPICAL Heathland Fynbos
places
Avian Leisure, Cape Town, South Africa.
A small Bed and Breakfast in Cape Town for birdwatchers. I stayed here for 3 days in March 2018.
Avian Leisure is a small home apartment based accommodation in the hills above Simons Town, just out of Cape Town. There are two lots of rooms; the slightly more expensive one has two bedrooms and views of the ocean from a large veranda. The other one is a single bedroom (still very large!) with side access to the pretty gardens and the sea views from a park bench.
One of the best bird viewings are the mobs of Cape Sugarbirds, a species endemic to southern South Africa. In fact, this is a family that is endemic to southern Africa. These sort of look like a giant long-tailed sunbird, however, when they are seen side by side, they are much bigger.  They look more like a Australasian honeyeater, and were indeed put in this group a long time ago. However, it has since been established they belong to neither family, and are in their very own family and not related to any of the previous. They start to become more common in the lowlands around the cape in winter, when they follow the flowering Proteas down to the coast, and crowd the feeders at the lodge... Because are there so many sugarbirds here, there is plenty of chance to watch their behaviours, including their competition and their amazing flights with their long floppy tails.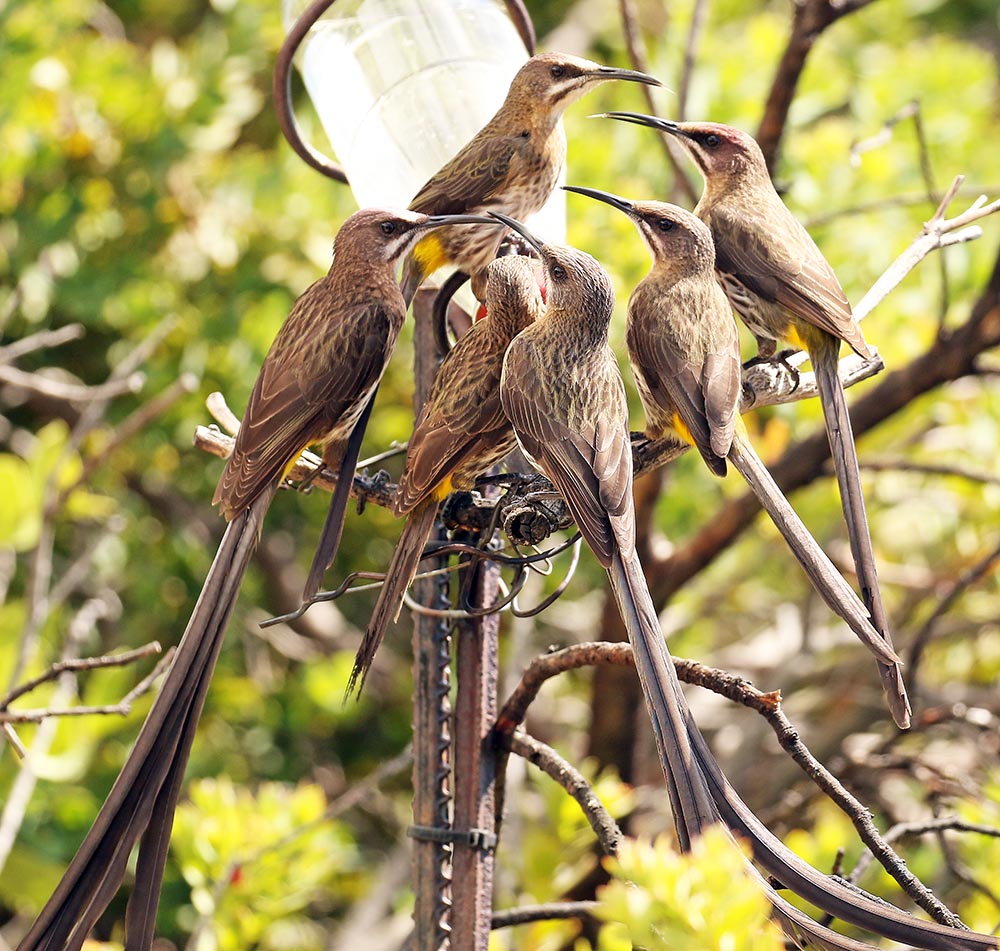 (Avian Leisure)
There are other species of birds that visit the feeders and walking around the gardens and streets will also produce lots of flowers, insects, some lizards and other birds.
Another highlight is to get great views of Porcupine. These creatures are much bigger than people assume, larger than the equivalents such as Eurasian/American hedgehog and Australasian echidnas. The owners put out a bowl of vegetables at dusk, and throughout the first half of the night a large spiny fellow waddles up out of the bush (where the hell does he sleep?)  and grabs one or two pieces at a time, waddles back in the bush to munch on it. With a decent flash you should be able to get some good shots as he passes just a few metres away.
It is best to rent a car, and then you can avoid organising transfers and have freedom to come and go as you please. If you don't have a car, which I did not at the time, then transfers can be organised from 40 to 70 US dollars with various local operators. You will also have to walk up and down a very steep hill to get dining and shopping options, but it is a pleasant walk through urban areas with nice flowers and birds.
Cape Town, South Africa
I spent a few weeks in Cape Town in March and April 2018, for work, meetings, training, and time off.
All the way down at the end of Africa, where the Atlantic and the Indian Ocean meet, is Cape Town. For those travelling through tropical Africa, this can be a peaceful and developed change to the rest of the continent.
Southern South Africa constitutes it's very own floral biogeographical region, due mainly to the Fynbos vegetation. There is an extremely high diversity of plants. There are many endemic plant (and animal) species. The fynbos can be seen in many places, including the Table Mountain National Park right in Cape Town.
Included in the city and surroundings are many great sites, including the Kirstenbosch Botanical Gardens, The Boulders for African Penguins, and Avian Leisure for birds.
Within the city centre itself are the "Company Gardens", which include a museum. There are also loads of squirrels happy to take a handout. These are introduced American Grey squirrels, and there is even a white one...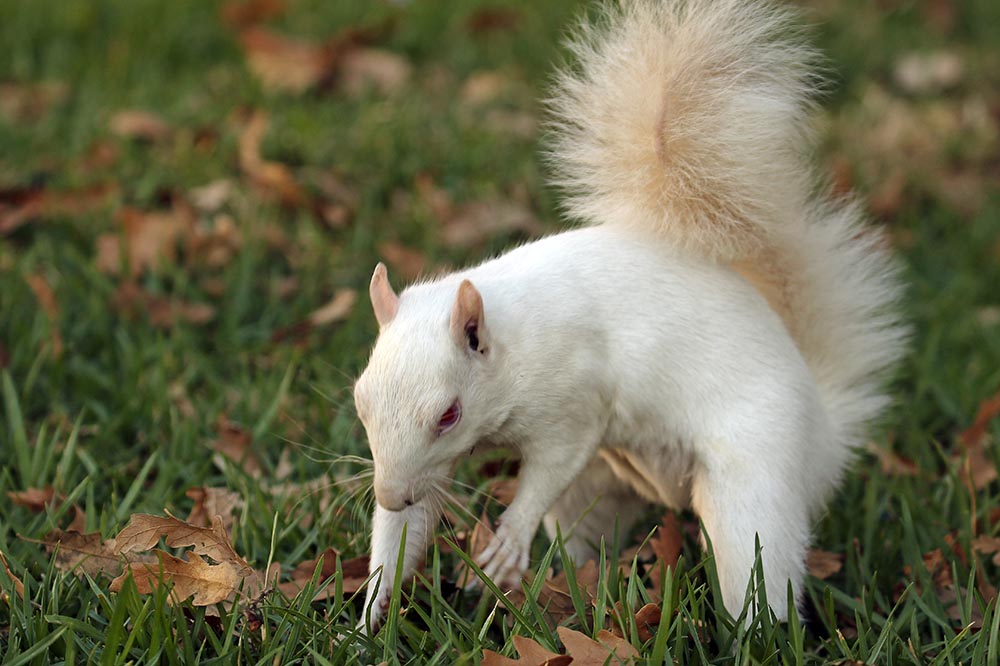 The dominating feature of the city is of course the Table Mountain. This comprises a national park, with many trails up to the plateau. These walks are quite steep, and it can can get very hot, and then very cold! You can also get a a very scenic cable car up to the top.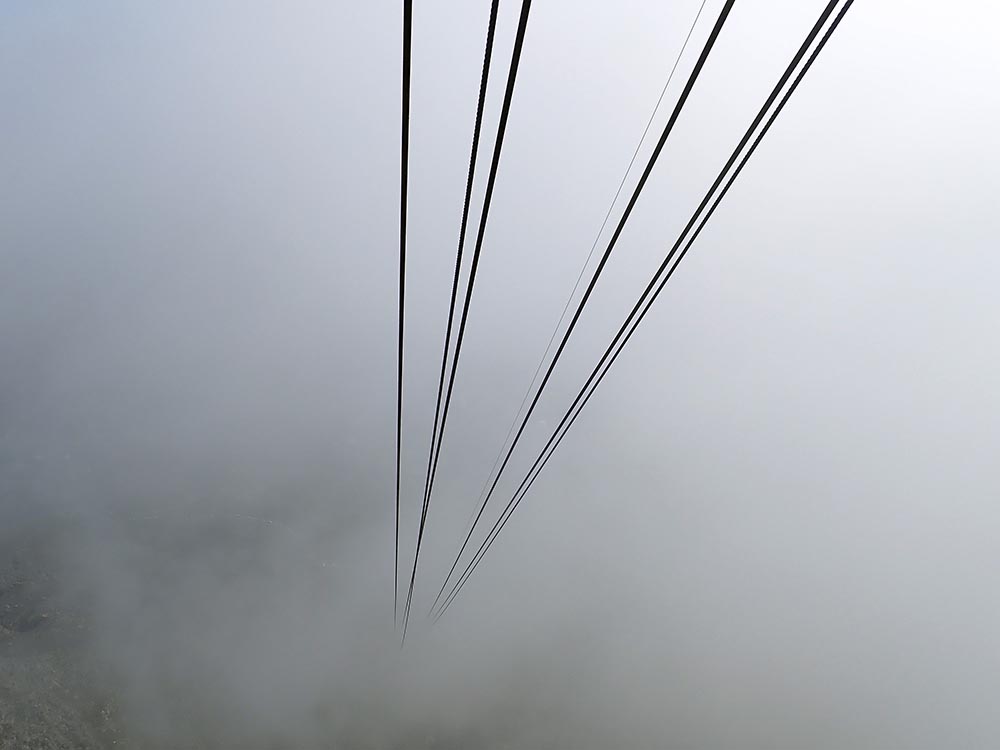 To get to the cable car you can either drive (parking is difficult) or get the good value "City Sightseeing" double-decker red buses, which do a loop around Cape Town with corny commentary, but convenient stops. Once at the top, there are plants and flowers to see, and heaps of hyrax.
Kirstenbosch Botanical Gardens, Cape Town, South Africa
The world famous botanical gardens are huge and packed with native plants. I spent a number of days exploring the gardens in autumn 2018.
Unlike most botanical gardens I visit, this one actually showcases plants that are native to the region, rather than lots of exotics. Thus, there are many good specialised sections within the gardens, including a Protea garden. There is a wonderful 'scratch 'n sniff' area, where there are many plants that have interesting smelling leaves and/or flowers...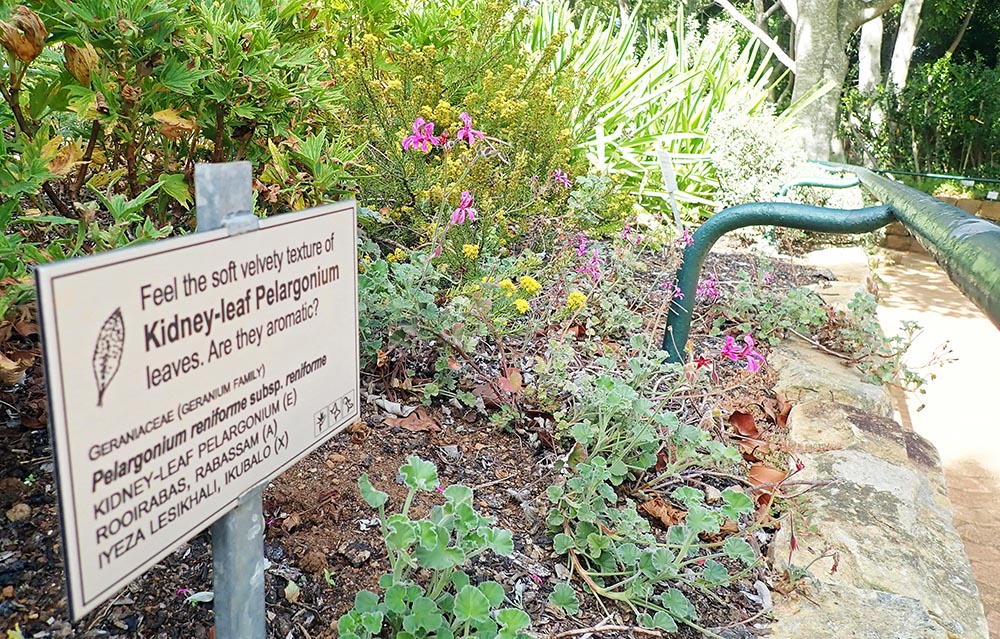 the interactive 'smelling garden' at Kirstenbosch is fun for the nose!
There is a great shop with what I think is the best natural history book shop in Africa, a short 'canopy' walkway, and a cafe at the front with good wifi.  
As there are so many plants in flower, this obviously attracts lots of nice insects, and of course there are some birds to be seen, including some 'Cape' endemics.
If you are thinking of staying near the gardens, there is a nice guest house in the area, called Klein Bosheuwel. The backyard has a bird feeder, and is just a five minute walk from one of the garden entrances. This place also includes free entry into the gardens. When I was there the charge into the gardens was the equivalent to U$5. If you are staying at the nearby guest house, you can use their membership card.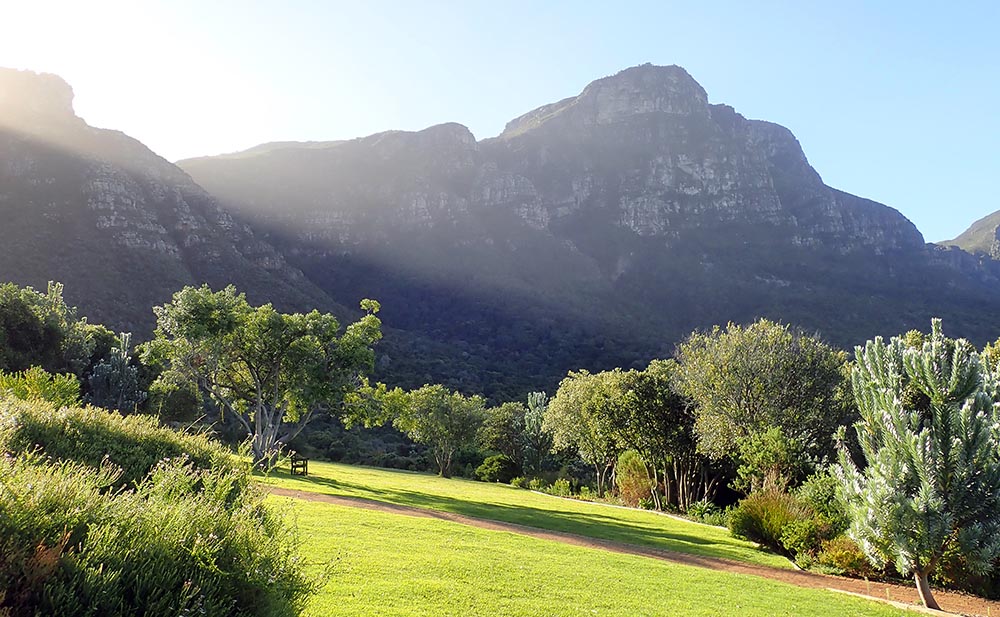 ---
---