Australia
personal experience:
I am based in Australia. I have lived in 4 different states/territories, and worked in all states and most regions as a guide, except for the extreme south-west.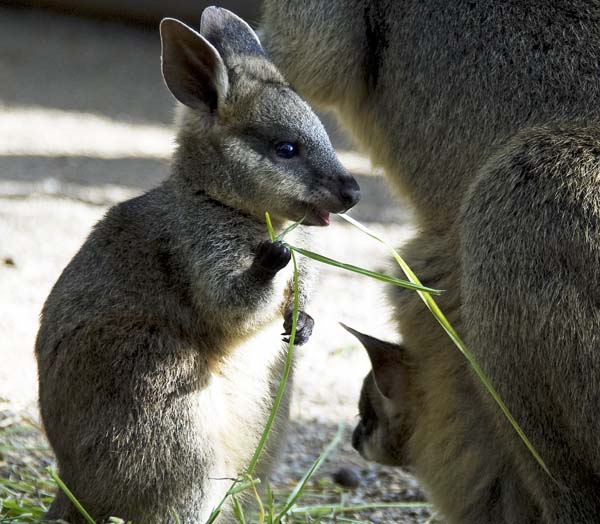 about Australia...
Australia can be viewed in three ways; as an island, as a continent, and as a country. From a biologist's point of view, we often refer to it as the "island continent".
If seen as an island, it is the world's largest (and no, Greenland is not larger; it just looks that way on some of the old fashioned maps that don't accurately transfer the curvature of the Earth to a flat peice of paper).
As a continent, it is the world's smallest.
And as a country it is the sixth biggest in the world (after Russia, Canada, China, the U.S.A. and Brazil).
It covers over 7.6 million square kilometres, and is roughly the size of the continental United States, without the state of Alaska. Like the U.S.A, it is longer than it is tall, but unlike that country (which misses out on the tropic of Cancer), Australia has a third of its land within the tropics.
(Check out this image of an outline of Australia with an outline of the USA, with the upper dashed line representing the tropic of Capricorn going through Australia, and the tropic of Cancer well below Florida)
a very flat, dry country...
Geographically, Australia distinguishes itself by its extreme flatness. It is in fact the flattest of all continents. The biggest range (or a series of ranges) is the 'Great Dividing Range', which separates the wetter eastern coastal slice from the drier western majority of the continent. But these 'ranges' are small by international standards.
Australia is also the world's second driest continent (Antarctica is the driest). In fact, the Mississippi/Missouri river system in the USA drains out more water than comes off the ENTIRE Australian continent.
All of this doesn't affect most Australians, however, as the majoriy of us live along the comparatively wetter, topographically varied east coast.


Travel in Australia
Australia is a very safe place to travel from a cultural point of view. It is politically stable, does not suffer from internal war, few of its citizens would ever consider owning a gun, and it has a high standard of living. But that also means that also means travelling costs are much higher than South-east Asia, and more similar to North America and Europe.
You can go on tours (see below), but if you have time, and you are interetsed in nature, you are probably better heading out on your own. Cars can be hired from all the major centres.
There are loads of places to visit, and many of these places are ideal for experiencing nature and/or wildlife watching.


where to go to experience nature and watch wildlife...
The biggest city in Australia is Sydney. It is not the political capital, but it is the most scenic and visited city on the continent. But even in Sydney there is nature and wildlife to be seen.
Drive up the east coast for 2 or 3 days and you will end up in the tropics. I am based in the tropical north-east because this is where the biological diversity is the highest on the continent. The centre of this region is Cairns.
The Cairns esplanade is famous for its muflats and bird-watching opportunities. There are a number of wildlife parks and zoos in Cairns and the surrounding area, including the excellent Rainforest Habitat, Kuranda Butterfly Sanctuary, Hartleys, and Cairns Tropical Zoo.

In the waters alongside the tropical east coast is of course the Great Barirer Reef, the largest reef system in the world. There are many places to experience the coral reefs and tropical islands to explore. The Whistsundays is one of the more popular spots, with white sand beaches and blue green water, which you can explore by self-sailing, or even cheaper tours you can join as a group. However, the coral gets better the further you go north, and the good stuff gets closer to the coast. North of Cairns is one of the most famous places, called Lizard Island. A less expensive option with great wildlife is just off Cairns, is one of the most interesting stops, combining coral reefs and hundreds of nesting seabirds, an island called Michaelmas Cay.

Just south of Cairns there are many places to visit. Paronella Park is a beautiful mixture of nature and culture, a spanish castle built in the rainforest. Just south of Innisfail is the beautiful and secluded Etty Bay, a great spot to see cassowary, the largest animal in the rainforest.

Up in the Atherton Tablelands there are many excellent places to experience the rainforest and watch birds & other wildlife, such as the Fig Trees (Cathedral Fig and Curtain Fig) and Crater Lakes (Lake Eacham and Lake Barrine). Quite a few of these places are accommodations, my two favourites being Chambers Lodge and Possum Valley.

Further north of Cairns is Port Douglas, Mossman and the Daintree region. Across the Daintree River, there is an interpretative centre called the Daintree Discovery Centre.If you haven't got time to go off exploring and can only do day trips from Cairns, you can still get a taste of the Daintree and the Atherton tableands. There are plenty of day tour options...

At the other end of the country is Tasmania. Due to this island states isolation, and the lack of the introduced wolf (the dingo), there is still a high diversity and abundance of native mammals to be seen. There are also great walking trails, flowers in spring, and many birds, including a dozen endemic species which are relatively easy to find. Greay places to visit that I will detail in the future are the Tasmanian Devil conservation park, Bruny Island, Maria Island, Flinders Island, and Wineglass Bay.
The largest state (by far) in Australia is West Australia (WA). It extends from the tropics in the north, with coral reefs, savanna woodland and monsoon rainforest, across arid environments, and down south to rich flowering grasslands and tall Eucalyptus woodlands and southern ocean coastlines.
My main experiences have focused in the north-west. Most winters I work on ships for a few months along the Kimberley coast, a spectacular area of stark geological beauty and remote beaches. Within the Kimberley there are sites such asMontgomery Reef and Prince Frederick Harbour.

what to look for..
Australia comprises a very distinct biogeographical realm that easily distinguishes itself from the Earth's other great biological regions that roughly correlate with the other continents.
And despite Australia's reputation, it is also safe from a biological point of view. It has no native land based predators capable of eating normal humans (there are no native tigers, lions, wolves or bears).
In fact, Australia is a land of quite benign wildlife. It is most famous for its marsupials: such as koalas, kangaroos and wallabies.


who to go with...
For much travel in Australia, you are really better off striking out and exploring on your own.
However, there are some inaccessible areas where a tour is a better, (or the only) option. Or you may have limited time and want to be efficient. If you have a bit of money, you can consider expedition cruises, which are fun and comfortable ways to explore. In 2012 there are several companies I am again working with that explore some of the more beautiful and remote parts of Australia, including:

Coral Princess Cruises

Orion Cruises (no longer operating; has been sold).