Mt.Kinabalu,
Sabah, Malaysia.


personal experience...
I haven't climbed it yet. Soon. Maybe. I stayed at Kinabalu national park in early 2012, to take photographs and research my upcoming ecosystem guides book: "Tropical Rainforest of south-east Asia".
access...
This is the most famous aspect of Kinabalu National park.
At over 4000 metres, it is the highest mountain in south-east Asia; to get to higher mountains you continue south east to New Guinea, or north west to Nepal. The whole walk usually takes several days in different stages. It is getting more and more expensive, but from what I can hear, you can get a package tour for about 1000 ringit (U$300) in Kota Kinabalu.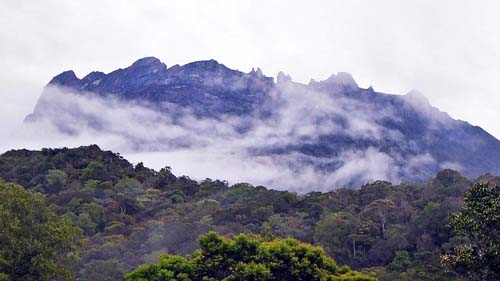 the granite peaks of Mt. Kinabalu are not exposed very often. On this rare clear morning I took the opportunity to snap away before the mist came back in (Damon Ramsey)
As this is such a large national park with many access points, there are other natural areas of interest to visit. The actual Park Headquarters is a highlight in itself with walks, plants, birds and small mammals to enjoy. At higher altitude is Mesilau.  And at lower altitudes there are walks, plants and insects at Poring Hot Springs.
Thinking of doing expedition travel after everything has calmed down? I do a lot of my guiding and lecturing work on Silversea.