Kinabalu National Park,
Sabah, Malaysia
personal experience....
I explored this national park as an independent traveller in 2012. 
the national park...
Kinabalu National Park is a large area that encompasses lowland to highland rainforest and subsequently has a great range of plants, insects, and birds. It is particularly noteworthy for its carnivorous Pitcher plants and highland rainforest birds...
Thinking of doing expedition travel after everything has calmed down? I do a lot of my guiding and lecturing work on Silversea.
where to go....
The park includes a range of sites that can be accessed. First, there is the Mt.Kinabalu peak itself, the highest in south-east Asia. But before that, there is the Kinabalu Park Headquarters, a great place to stay and do shorter walks and higher altitude rainforest birdwatching and botany. Further away from Kota Kinabalu, and even higher up in altitude is the quiet and beautiful Mesilau, where you can see highland birds and the largest pitcher plant in the world. And further away still, but much lower down, is the Poring Hot Springs area, good for insects, a huge waterfall, and the biggest flower in the world, the Rafflesia.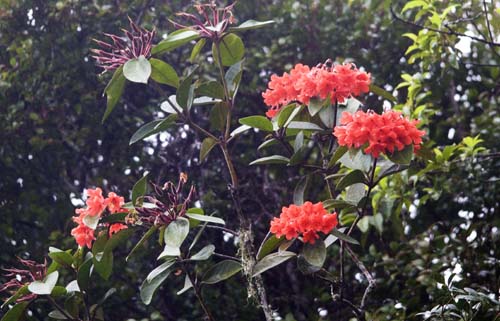 Rhododendrons, Kinabalu (Damon Ramsey)