the Kimberley coast
north-west Australia
personal experience...
I have worked along this coast on 4 different ships for the last decade, as an expedition team member, guest lecturer, boat driver, and last minute you-must-be-desperate expedition leader.

background...
The Kimberley region of north-west Australia is a remote and rugged region. It includes some of the oldest exposed rocks on the planet, up to 1.9 billion years old. The inland is dominated by savanna woodlands and is in many respects similar to such habitats across the rest of monsoonal northern Australia. However, the coast is very different and quite unique in it's spectacular scenery and isolation from people, urbanization and farming. The lack of cattle means no cow shit, no flies and no weeds! It is dominated by rocky cliff escarpment, small beaches, extensive mangroves, and many tiny patches of monsoon rainforest.
places to visit...
There are many iconic spots to visit in the Kimberley, including Kununurra, Lake Argyle, Keep River NP and the Bungle Bungle. But it is the coast that is really special, and includes: the Mermaid Tree, King Cascade, King George River, Berkley River, the Horizontal Falls, Montgomery Reef, Talbot Bay and Prince Frederick Harbour.  Just outside the Kimberley area, but often included on Kimberley coast expedition voyages is the Lacepede Islands, a great bird breeding island.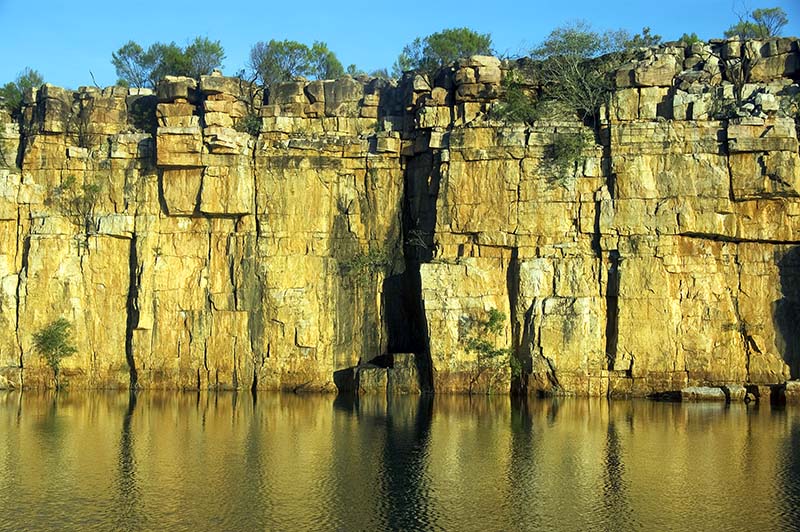 the spectacular cliffs and reflections of the Kimberley coast (Damon Ramsey)