Indonesia
personal experience...
My first big overseas trip, some 25 years ago (a quarter of century!), was backpacking through Indonesia. I have returned to many parts of this huge country for work and travel since, and will continue to do so for the next few years, for research for the upcoming ecosystem guides book "Tropical Rainforest of south-east Asia".
travelling...
Travelling through Indonesia is both easy and hard. There is a distinct 'backpacker' trail through the country. Transport, food and accommodation is very cheap. And there are some great natural and cultural sites...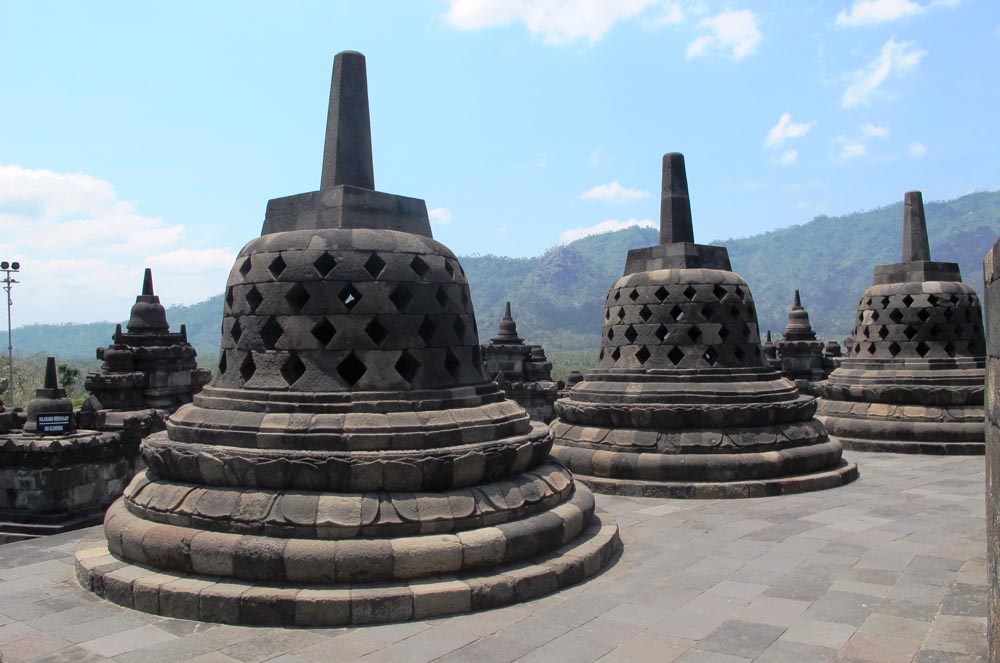 Borobudur (Damon Ramsey)
However, if you are travelling by yourself you will get approached, talked to and hassled a lot. (although this does seem to have reduced in the last few decades). For the nature enthusiast who wants to do some birding, getting immersed in nature can be a challenge with so many people and noise around. Also, as a fairly poor country, much of the wildlife is hunted, caught, traded and eaten, so subsquently the observant naturalist will definitely notice wildlife is much shyer and harder to see than in similar situations in nearby Malayasia.
a leaf monkey leaps across a gap in the trees in Indonesian Borneo (Damon Ramsey)
where to go for nature and Wildlife...
Indonesia is one of the most biologically diverse countries in the world. It is one of the few countries, (along with Mexico and China), that is spread across two different biological zones.
In the north it comprises much of the island of Borneo.  Off the big island of Borneo is the tiny but facinating 'jellyfish lake' island of Kakaban.
The bizarrely shaped Sulawesi has many endemic birds and mammals. In Tangkoko National Park you can find Tarsier and Celebes Black Macaque.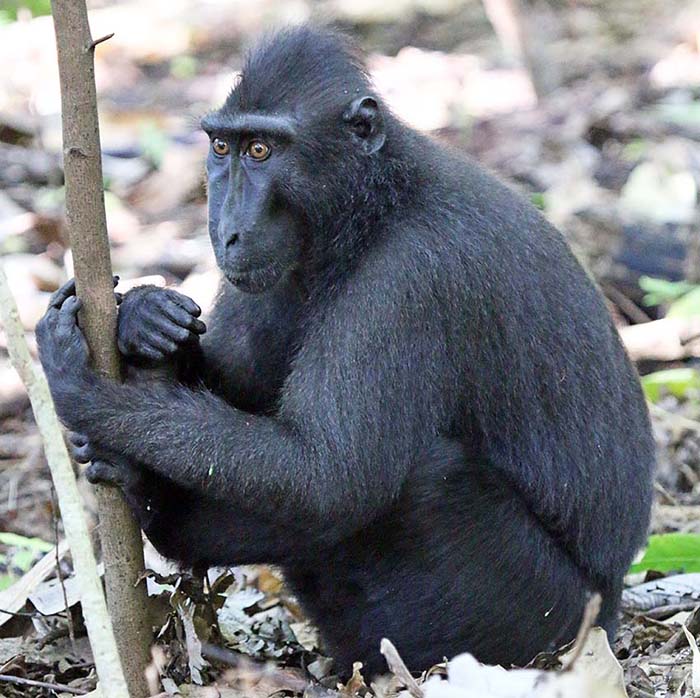 a Celebes Black Macaque gives good glare (Damon Ramsey)
In the west the island of Sumatra stretches along the Malayan peninsula. In the north you can find Sumatran Orangutans and monkeys at Bukit Lawang. 
The island of Java is more or less central, both geographically and politically, with the capital of Jakarta. In between Sumatra and Java is the famous volcanic island of Krakatoa. Java has more volcanoes per square centimetre than anywhere else on Earth. Here, you walk across an ash plain and up the slopes of a volcano called Gunung Bromo. 
East of Java is Bali, and next over is Lombok, where it starts to get drier. Keep traveling east and you will get to the famous island of Komodo and Rinca Island, with their dragons. And with its deep water (and thus currents), and drier monsoon climate, (and thus less run-off), the snorkelling can be very good here, too, such as on Pink Beach. In this region and Sulawesi there are lots of Wallacean endemics. Some of these can be found on the smaller islands such as Satonda Island. 
The islands of Indonesia stretch across the Indo-Pacific to the include the western half of the island of New Guinea, an area known as Papua, which comprises the two official Indonesian provinces of West Papua (the bird's head and Rajah Ampat islands) and Papua (the rest of western New Guinea, including the city of Jayapura and central highlands). One of the most spectacular areas for scenery and isolation, and known for it's marine biological diversity, are the Rajah Ampat islands. Within this area, it is possible to see the 'Red Bird of Paradise' on Gam Island. (Some other wildlife and nature sites of this amazing island are covered in the Papua New Guinea section of this website). Whale Sharks in clear water can be seen at Cenderawasih Bay.