Baan Maka Nature Lodge,
Kaeng Krachan National Park,


Thailand



personal experience
I stayed at this lodge in August 2016 as part of a trip to explore Kaeng Krachan National Park.
the layout of the lodge
The lodge grounds are nice and big, with the chalets, a dam, grassy areas, and the edge of the forest at the restaurant. The latter is probably the best place for birding and wildlife.
The rooms are nice and very good value. The food is good, and there is always plunger coffee available for free!
the restaurant and the fruit feeders
This is where a lot of the action is. The fruit feeding stations start attracting great birds from early on in the morning (when the light is not so great for photography), till late in the morning.
green-eared Barbet at the feeder (Damon Ramsey)
flowerpecker at the fruit station (Damon Ramsey)
the grey-bellied squirrels that come to the fruit feeder station can be recognised by the black tip to their tail (Damon Ramsey)
and then there's the worm bowl!
The restaurant staff also put out worms for some of the other birds. This attracts Laughing Thrush...
and the main attraction, the Blue-winged Pitta (in summer)...
these worms have been caught from the ground, but the Blue-winged Pitta also waits around for the worm bowl. And who wouldn't? (Damon Ramsey)
During the summer season the Blue-winged Pitta can easily be seen from the restaurant. When it gets quiet, it even comes quite close and gets in behind the kitchen. Even the lodge's cat (with a bell) doesn't bother the Pitta.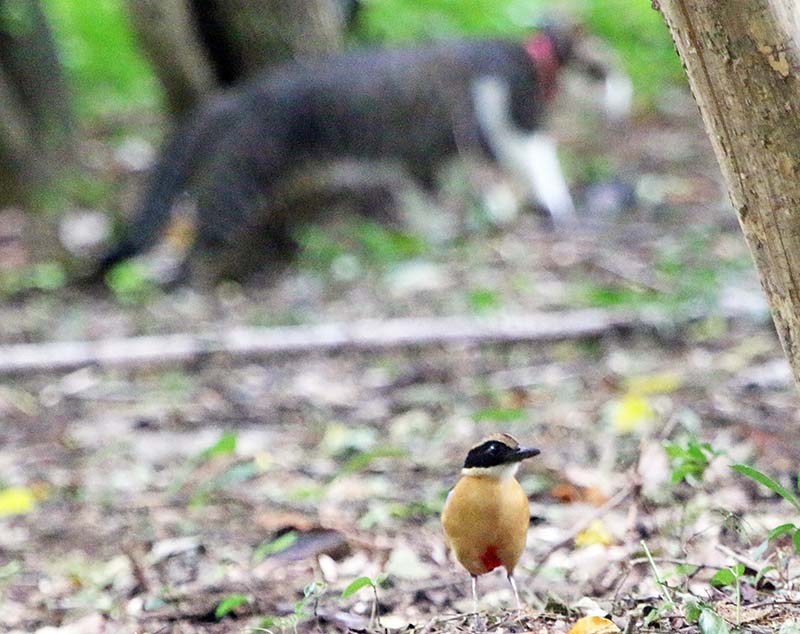 these Pitta are not worried about cats...(Damon Ramsey)
and mammals such a tree shrews also visit the worm bowl...
tree shrew at the worm bowl (Damon Ramsey)
spotlighting...
If you can tear yourself away from the restaurant, you might see other things around the property.
If you go spotlighting at night, you might see an owl (I didn't), but of course there is the same problem that plagues all over the local area, dogs that start barking and carrying on, which scares everything away and really mucks up the ambience. That is 'muck' with an F.
Yellow Moth (Damon Ramsey)
It might also be worth visiting the fruit feeder station. The fruit-piercing moth pictured below was busy with it's schnoz stuck in a banana. 
Fruit-piercing Moth feeeding on banana at fruit station (Damon Ramsey)