Atherton Tablelands Birdwatchers Cabin
North Queensland, Australia
A relatively new and small lodge in beautiful wet sclerophyll forest.
personal experience
I visited this area in April of 2019. Unfortunately I only had an overnight and a few hours there. I would have loved some more time to explore the grounds and the wildlife.
the beautiful wet sclerophyll forest
mammals
There is a variety of nocturnal high altitude mammals present.  Just around the verandah outside the cabin you should have Coppery Brushtail Possums visit you to explore the feeders. There is also evidence of bandicoots. If you spotlight along the entry road at night, you should see Lemuroid Ringtail Possums, and Sugar Gliders and Striped Possums have also been reported here.
Coppery Brushtail Possum
birds
Of course, as suggested by the name, there are plenty of birds here. There are bird feeders just outside the cabin; the hummingbird feeders attracting honeyeaters, and the seed platforms bringing in Pigeons and Firetails.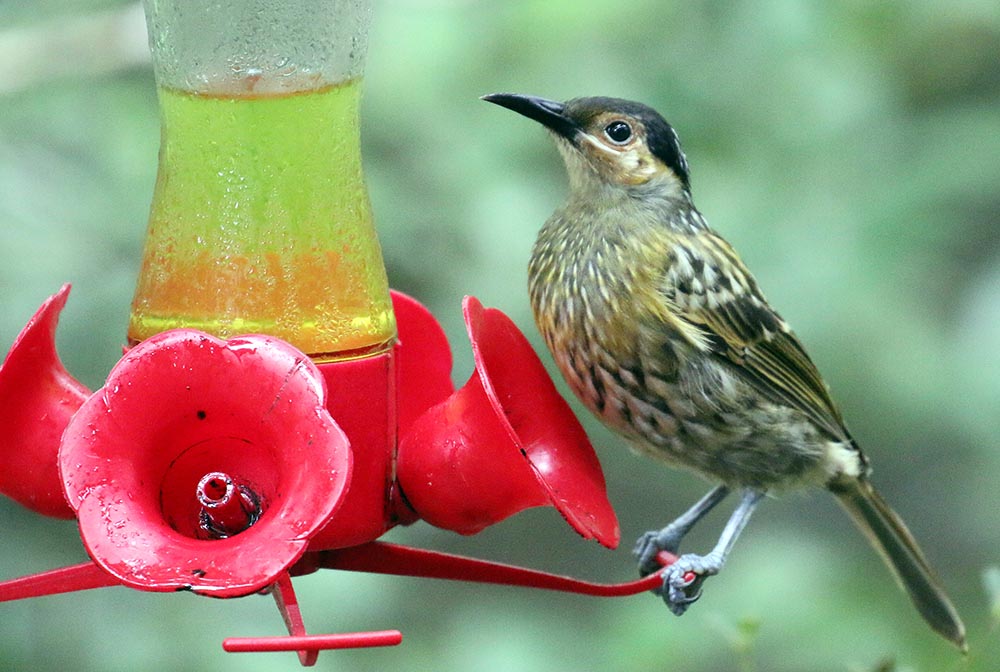 the bird feeders
There are a number of honeyeaters to be seen on the property, including species endemic to North Queensland...
Lewins Honeyeater
Bridled Honeyeater (image by Damon Ramsey)
Macleays Honeyeater
Scarlet Honeyeater
Other birds feed on what the plants provide. This Bowerbird popped up right next to the cabin.
Satin Bowerbird eating ginger fruits (image by Damon Ramsey)
Red-browed Firetail
walks
There are a number of walks. For night-spotting, simply following the entry road back is the best option. You should see the bright silvery eyes of Lemuroid Ringtail Possums. At the moment, there is also a tree where a honeypot sometimes attracts Sugar Gliders.  
There are other longer walks. I only did the loop between the two plank bridges, and unfortunately did not get time to do any of the longer bushwalks. Many of the plants are labelled, which is very handy.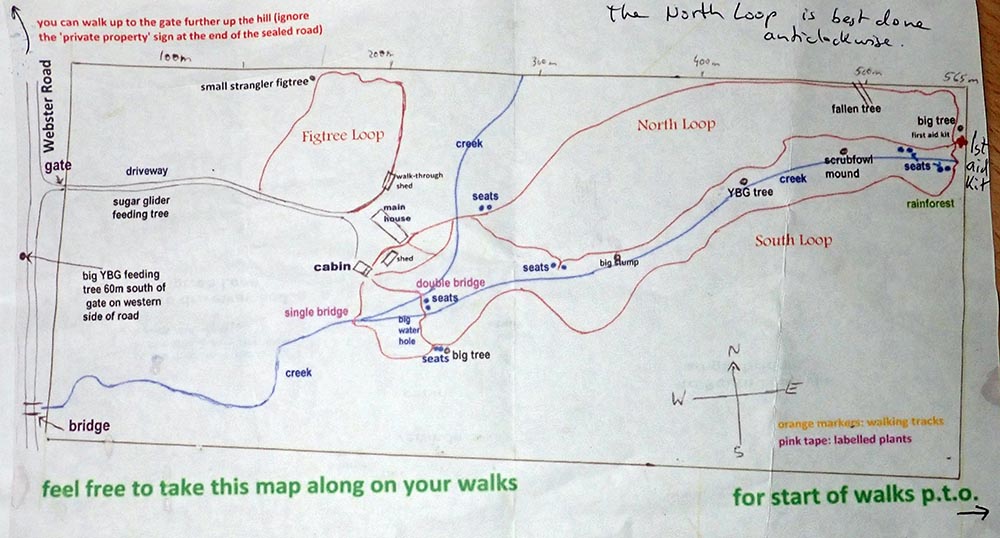 access
It takes about two hours to drive up from Cairns (via the Gilles Highway) up to the Lodge, which is not too far from Hypipamee Crater. This is their website.