Antarctic Peninsula

Antarctica 
The peninsula jutting out from Antarctica, just below South America, is the most accessible part of the iced continent. 
personal experience
I worked the Antarctic peninsula for Silversea in 2018.
the area
This Antarctic Peninsula is by far the most heavily visited part of Antarctica. As the piece that pokes the furthest north, it is also the area with most wildife, and also the place with the most human history and settlement.

There are quite a number of different sites that ship can visit, although most of these sites serve a similar biological or cultural function. 

Despite the common misconception, there is not a high diversity of wildlife here. On a typical trip, you should the three main penguin species...
Perhaps the cutest penguin on the peninsula? The Adelie Penguin.
In fact, there is a bigger range of animals to be seen travelling along the Beagle Channel coming back into port!

However, there is some good concentrations of seabirds, and many colonies.
One of the most exciting aspects of the area is being able to watch behaviours. As the area is a rich feeding ground, you should at some stage observe someone eating someone else...
Leopard Seal tearing apart a penguin
Humpback Whale feeding
Some animals are also breeding while they are down here, so there are always interesting interactions to watch between males and females and between young; just stay out of their way!
access
 There are a lot of ships that go to the Antarctic peninsula. This is the main money maker for many expedition ships. In fact, there are even some companies that only go here and the Arctic! Because of the large amount of visitors, there is an attempt to have the ships and sites rotate by an organization called IAATO. This works reasonably well, and for most days it will feel like you are the only ship. I visited the area with Silversea expeditions.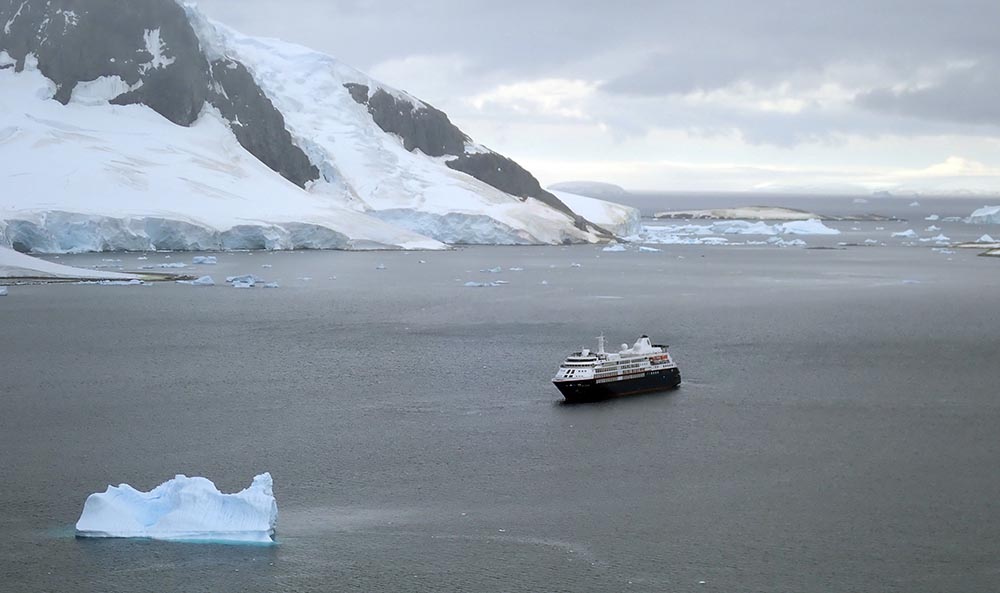 There is a large range of sites to visit around the peninsula...
(Please note: I will add more to this page as I sift through images in late 2019; thank you for your patience!)