Ankarafantsika National Park
Madagascar
Ankarafantsika is one of Madagascar's great national parks, dominated by dry forest with many amazing species of plants and animals...
personal experience
I stayed here for 4nights/5 days in spring of 2018.
access and the area
It takes a day to drive from the capital of Tana to Ankarafantsika National Park. The main 'highway' goes across the largely denuded central highlands, then eventually cuts right the through the middle of the park.
The main National Park centre contains accommodation, a great little restaurant, and the information centre where you have to book your guides. It is also a very good place for wildlife; here I saw snakes, lemurs and many birds. Across the road is the large Lake Ravelobe.
The accommodation at the park heaquarters Gite d'Ampijora is varied. The national park centre includes bungalows near the lake. I would recommend these, if you can book them early enough. Failing that, there are some very simple concrete rooms near the centre. They are not great, but they are cheap, and you won't spend much time in there anyway. Failing that, there are also campgrounds.
 There is a large range of walks, with various lengths and difficulties. There is a map of these walks at the ranger centre. 
map of trails
As with any national park in Madagascar, you have to be accompanied by a guide. They are usually very knowledgeable and know the location of many species. Most of the trails are on sand and rock, and traverse through seasonally dry tropical open woodlands. 

The trails of Ankarafantsika National Park mainly go through dry woodland.
One of the trail choices is an entire circumnavigation of the Ravelobe Lake, which takes several hours. You can also cruise the lake in a small boat. Another long walk ends at an eroded valley called Lavaka of Ankarokaroka. The Pachypodium walk takes you to some sandy ridges where these strange bulbous trees are often in flower. Another walk that starts at the lake takes you to two very tall north-western Baobabs.  
The two North-western Baobabs. For scale, there is Malcom Turner. He is of normal size. But nothing else about him is normal.
mammals
There are several species of lemur that can be seen in the park, and often very close to the centre. When I was there, it seemed that once a day a troop of Coquerel's Sifaka would come dancing through the national park headquarter's grounds. 

Coquerel's Sifaka
As well as Common Brown Lemur.
Common Brown Lemur
There are also nocturnal lemurs here. As with most Madagascan national parks, there is no night spotlighting permitted on the trails in the protected areas, however, some of these species can be seen just around the headquarters at night, and there also the option to go spotlighting on the outside edge of the park area with the local guides upon request. 

Milne Edwards Sportive Lemur
Golden Brown Mouse Lemur
and you might even get lucky and spot a....
Greater Hedgehog Tenrec
birds
There are many species of bird to be seen here, including some right at the national park centre. 
Frances Sparrowhawk
Madagascar Fish Eagle
Madagascar Coucal
Reed Cormorant
Cattle Egret in fancy breeding clothes
Madagascar Malachite Kingfisher
Madagascar Pygmy Kingfisher
the bizarre looking Cuckoo Roller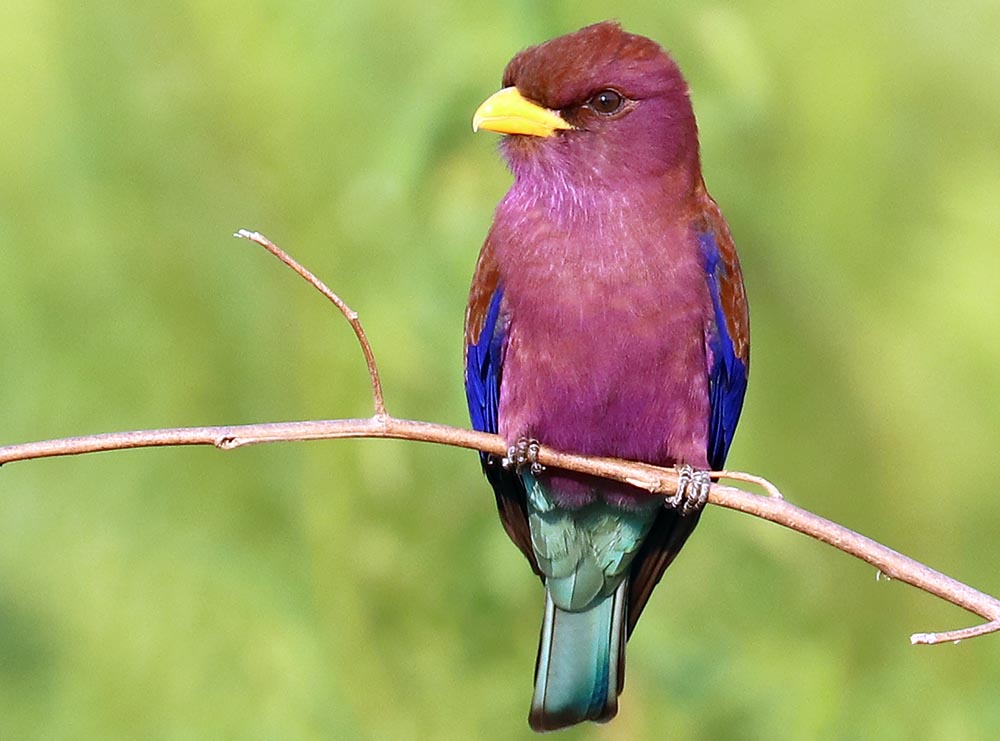 Broad-billed Roller are common around the park headquarters
Red-capped Coua
Crested Coua
Olive (Madagascar) Bee-eater
White-breasted Mesite
Madagascar Hoopoe
Schlegel's Asity
Madagascar Magpie Robin
Madagascar Bulbul
rufous form of the Madagascar Paradise Flycatcher
and the white form of the Madagascar Paradise Flycatcher
Crested Drongo
Souimanga Sunbird
The biggest family of birds in Madagascar are the Vanga. This fascinating group of related birds has exploded into a range of niches, and thus there are many very different looking species.
the spectacular and endemic Sickle-billed Vanga
Madagascar Blue Vanga
Rufous Vanga
reptiles
Madagascar has many reptiles, and for some reason they are easy to see!
The most obvious one in this dry forest is...
Cuvier's Madagascar Swift
Western Plated Lizard.
More subtle, but often spotted by the local guides are the various Geckos...
Henkels Leaf-tailed Gecko is big; about as long as a ruler.
But you don't even have to go into the forest to find geckos, as they also hang around the restaurant walls...
Koch's Gecko
One of the most spectacular species of snake in Madagascar that seems quite common here is the Giant Hognose Snake. It is rather python like in size and movement, but with a distinctive upturned 'hog nose' for digging, for it often eats the eggs of Swift Lizards. 
the Giant Hog-nose Snake (image by Damon Ramsey).
Striped Snake
One of the best places to see the widespread Nile Crocodile in Madagascar is the Ravelobe Lake.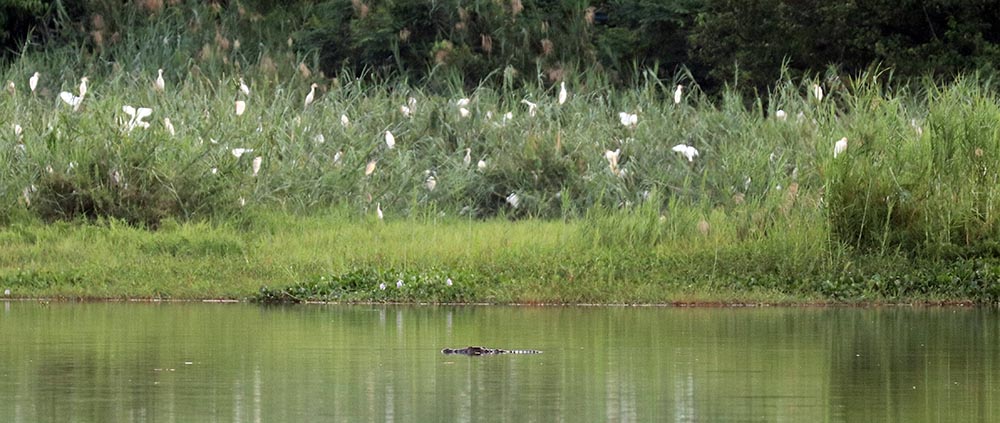 Nile Crocodile
insects
adult form of the Flatid Leaf Insect
plants
Thilachium angustifolium